Oops. All day yesterday, I thought it was Thursday and therefore totally forgot to do my Hump Day Wednesday post. Therefore, since yesterday was Thursday in my mind, today I will pretend it's Wednesday over here at Healthy Chicks. Alas, here is your Hump Day Lesson of the Day: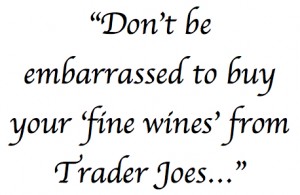 Seriously, their wine selection is pretty darn good, and may I add extremely cheap. Yesterday my sister enjoyed a lovely glass of a Trader Joe's brand California Cabernet. It paired perfectly with our sharp cheddar cheese paired with Onion & Chive seeded crackers. Yum. 
That being said, you should feel embarrassed accidentally spilling your roommate's wine glass and getting red wine all over your white chairs. Oops, my bad. Guess I'm more of a light weight than I thought. 
So, Happy Hump Day (Just pretend it is for me, OK?)