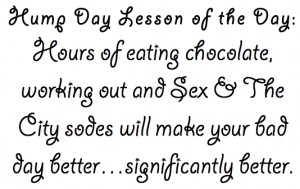 Seriously…seriously. I am real, live proof – yes, even though you can't actually see me – that this remedy works time and time and again. Yesterday in particular it worked perfectly. You see, I had a lot on my mind so instead of panicking or sulking, I booked it to the gym for some intense cross training followed by steam room (the workout part). Hello, endorphins! I was feeling goooood. 
Then my roommate came home, who is going through some very tough times right now. So instead of "talking about it" and making her even more upset, I suggested my #1 cure – Sex and the City 'sodes! Within a few minutes, she was smiling and laughing again, and my mind was off all the bad things and on to "What is Carrie wearing?" and "How does Samantha do that?" (The Sex & The City segment) 
After a couple hours of that, and some homemade dinner, I dabbled in some dark chocolate chips. Can you say yum? These puppies enhance my mood the second they enter my mouth…every single time. So go ahead, eat some chocolate; it won't kill ya! (The chocolate bit). 
Alas, after all of that, three of my roommates decided to end our semi-blah night with some Core Fusion: Body Sculpt to beat out any leftover negative energy that was in us. We put the TV on mute, blasted some workout tunes and hardcore sculpted it up. Let's just say my butt is feelin' it this morning and I feel AMAZING. (workout part 2)
What do you do to kick a bad mood? Any fun tips? Oh, and HAPPY Hump Day ladies!


P.S. While you are at it, be sure to check out my cookbook "Healthy Chicks in the Kitchen" that's now for sale online. You can preview it here!