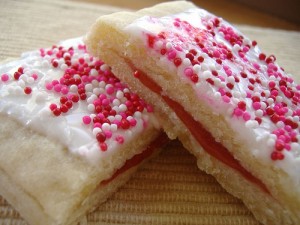 [source]
Have one too many of these today? You're not screwed just yet…
Yesterday was one of those days where my diet was absolutely out of whack. I ate like I was hungover: careless, confused and thoughtless. It seemed I had absolutely no sense or control over what I was eating; I simply moseyed my way through the day munching and daydreaming away. You see, I slept over the Boy's house the night before and we sorta overstayed our morning in bed. (Hey, it was cold out!) So by the time I left to rush for a meeting, I didn't even think to eat breakfast. [mistake #1: skipping breakfast, only the most important meal of the day] I mean, what do boy's have anyway? Probably just OJ and sugary cereal. No thanks.
As my tummy grumbled and my hunger pangs got the best of me, I couldn't help but resist diving into frothy coffees and some kind of carrot-cake tasting dessert balls that were served on a platter once I got to the meeting. [mistake #2 & #3 : waiting until your stomach is growling to eat/ eating sugary things first thing in the morning, hence craving sugar all day] All I know is they tasted like heaven and had chocolate chips in them. How is a hungry girl supposed to turn that down? When a few minutes later our hostess brought out warm, homemade cherry-stuffed pop tarts with frosting and pretty sprinkles, I simply had to have one…(or two).
Come 2 p.m. I was now craving lunch-y food, but really had no track of time since I didn't really have a "real" breakfast at all. That's when the woman of the house brought out delectable calzones…TWO types: ham &  feta and spinach & mozzarella. My eyes grew with delight. I HAD to have one…just one. Really, I'm not supposed to eat them because wheat makes me bloated and I stick to a gluten-free diet, but what could just one do? After a few bites, one led to two which  led to three. I had lost all control. [mistake #4 and #5: losing control/eating foods that you know will make you feel blah]
Soon enough, I was stuffed, groggy and irritable. I could no longer focus on anything being said in the meeting, and I was antsy as hell. That is so not me. Another healthy chick at the meeting was feeling the exact same way. "I know I haven't been eating right because I don't feel as good as I normally do." All that yummy, pretty food got the best of us.
Was I guilty? No. Did I beat myself up for my not-so-smart choices? No. I don't let food make me feel guilty anymore. I'm a healthy chick, and one day of whacky eating isn't going to do anything to my body. But I can say I definitely learned something: eating has sooooooooo much impact on how you feel throughout the day. Not only did I physically feel bloated, but I didn't have that healthy glow I normally do, I felt exhausted, and my focus was no where to be found. I wasn't feeling me at all. No wonder I stick to healthy, clean, wholesome eating and make it a point to eat breakfast, I thought to myself. Forget what it does for your body/weight; how about what it does for your entire mindset? Now that's something to think about.
I was completely dreading my 3.5 mile treadmill run (mandatory for my half marathon training) while riding the T on my way home..half asleep with my bloated stomach. How the hell am I going to muster up the energy? But I thought, I will not quit! I will turn this whacky day around! When I got home, I immediately chugged a few bottles of water – something I had slacked on all day – and ate a healthy snack of veggies and hummus and some calcium-packed cheese.
I then chugged some more water, threw on my workout clothes and hit the gym. I ran the most incredible 3.5 miles of my life, and was dripping in sweat when I finished. Bye-bye toxins and helllllooo Healthy Chick! I was back. Dinner was then a veggie packed salad with tuna and dill with balsamic dressing…and of course LOTS of water. Soon enough, I felt amazing. I turned my day around with just a few smart choices!
So next time you lose control (whether it's with your workout routine, diet, or any part of life) know that you can turn it around at any time. Just 'cause you make a few little "mistakes" doesn't mean you have to throw the whole day out the window. The day is yours. Own it.