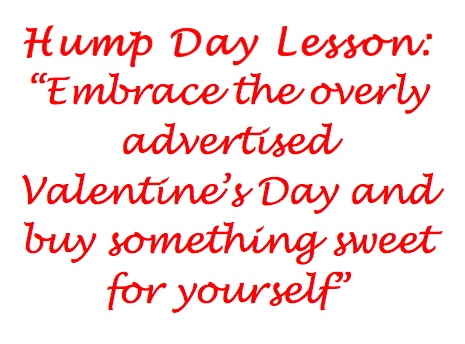 Let's be honest: some people loath Valentine's Day, and some people love it. Single ladies usually hate the damn day (I know, as I was one of them for 23 straight years). I even cried in 5th grade because the boy I had a crush on gave a Valentine to my best friend and not me. Then in college I had to watch all of my roommates get serenaded with balloons, roses, and fancy dinners as I sat there alone. Valentine's day SUCKED BALLS and let me tell you all that advertising and lovey dovey stuff in the stores didn't help one bit. Seriously…what are they trying to do to the singles out there?
This will be the first Valentine's Day I'll celebrate with a boy…who I actually really like. Gee, I feel like I'm in Elementary School all over again. While I am super duper ecstatic, I still feel for all those V-Day haters. C'mon I was one of them for my entire life…a gal doesn't forget. BUT luckily I've discovered a way for BOTH singles and couples to enjoy the red & white day of love. Love shmuv. This has nothing to do with boyfriends or dates or whatnot. Instead, 'tis the day to buy yourself something fabulous, and let me tell you ladies the stores are in on it this year.
While out shopping this week, I've seen tons of promoting giving the gift of love to yourself. Victoria's Secret has sweet sexy undies sales, and I ran into a few spas giving away discount massages, while perusing online (when I should have been getting stuff done – oops). Baked goods for yourself? Um, I'M IN. In fact, I plan to bake a whole bunch of cupcakes and cute things for my roomies this year to show how much I freakin' love them.
So single ladies, go out and embrace your singlehood with sweet gifts on youreslf – instead of blowing loads of cash on a boy. And couple-ers enjoy the day together, but make sure you buy a few sweet gifts for yourself as well. (Think: sexy lingerie, a pretty new dress, drop-dead-gorgeous heels). While last year I was a huge hypocrite and stayed in wearing black, this year I wished I had bought myself a fabulous bottle of wine, and then pampered myself with a red hot mani-pedi.
XoXo,