It's no doubt carbs make you happy. That's probably why my two years spent on the South Beach Diet led to many mood swings and blah days. No carbs = less smiles. The scientific reasoning behind it is that carbohydrates raise our serotonin levels (something women are lacking anyway) and in turn makes us feel good, less irritable and of course less moody.
So when I woke up this morning feeling a little poopy, I knew it was going to be a carby breakfast. Not just any carby breakfast though. No. It had to be my ALL TIME favorite carby breakfast, and that my friends is good ol' fashioned pancakes.
I made gluten free pancakes due to my wheat sensitivity from Cherrybrook Kitchen boxed mix. The first time I whipped up these babies, I was a bit hesitant. Can gluten free pancakes really be that good? Well, I must say that they were just as good if not better, and my family couldn't agree more! I then changed up the recipe a tad…
For 7 pancakes (3 for now, 4 for later):
-1 c. pancake mix
-about 2 tsp. canola oil or equivalent in applesauce
-3/4 c. vanilla almond milk, unsweetened
Top with: sliced banana, cinnamon, butter & agave syrup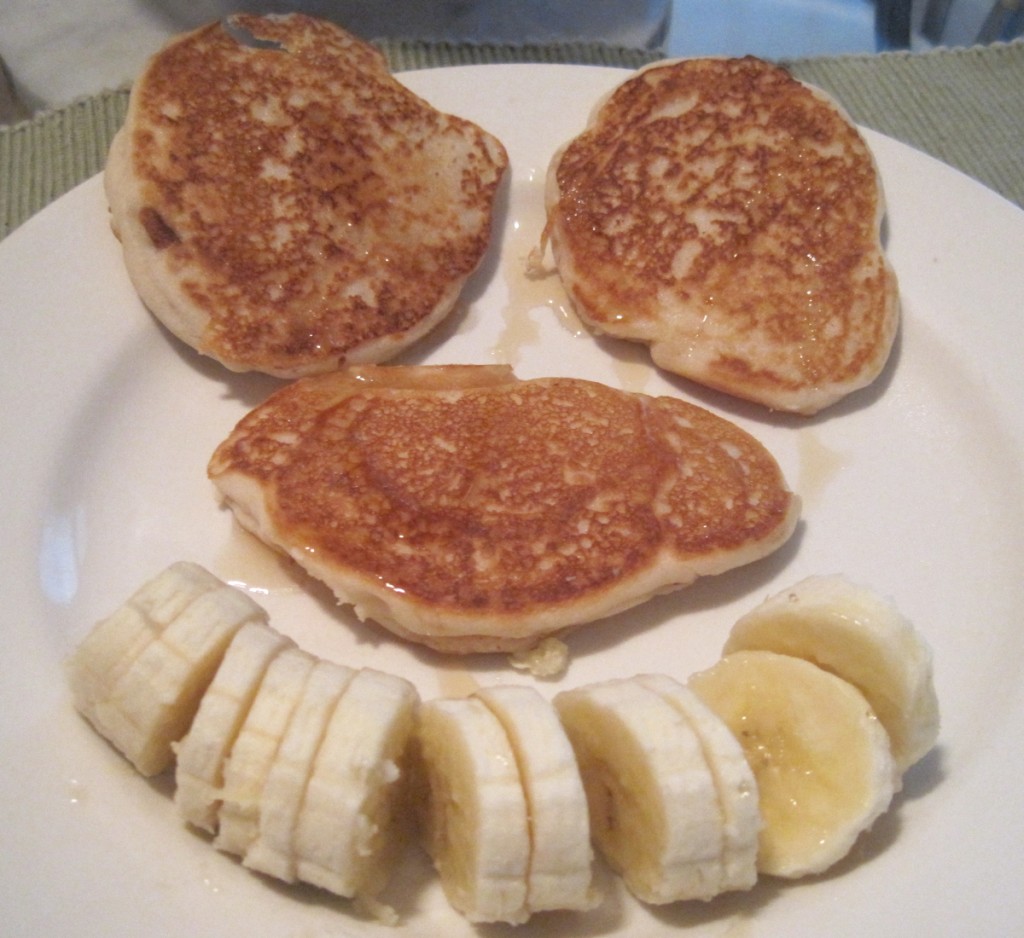 I'm already feeling better. I mean c'mon, how could these pretty little fluffy bites not make you smile…even just a little?
I also had a carby dinner last night because I'm training for a half marathon, and well it's no secret that runners need to up their carb intake. Since I've never been one to carboload, I've been especially cautious these past few months to get my fair share of carbohydrates in…squeezing them into breakfast, lunch and dinner. My favorites include quinoa, fresh fruit, Ezekiel toast, brown rice, brown rice pasta, and the list goes on and on…
Last night I decided on one of my all time favorite combos: Chicken & Broccoli Spaghetti with Garlic & Parmesan.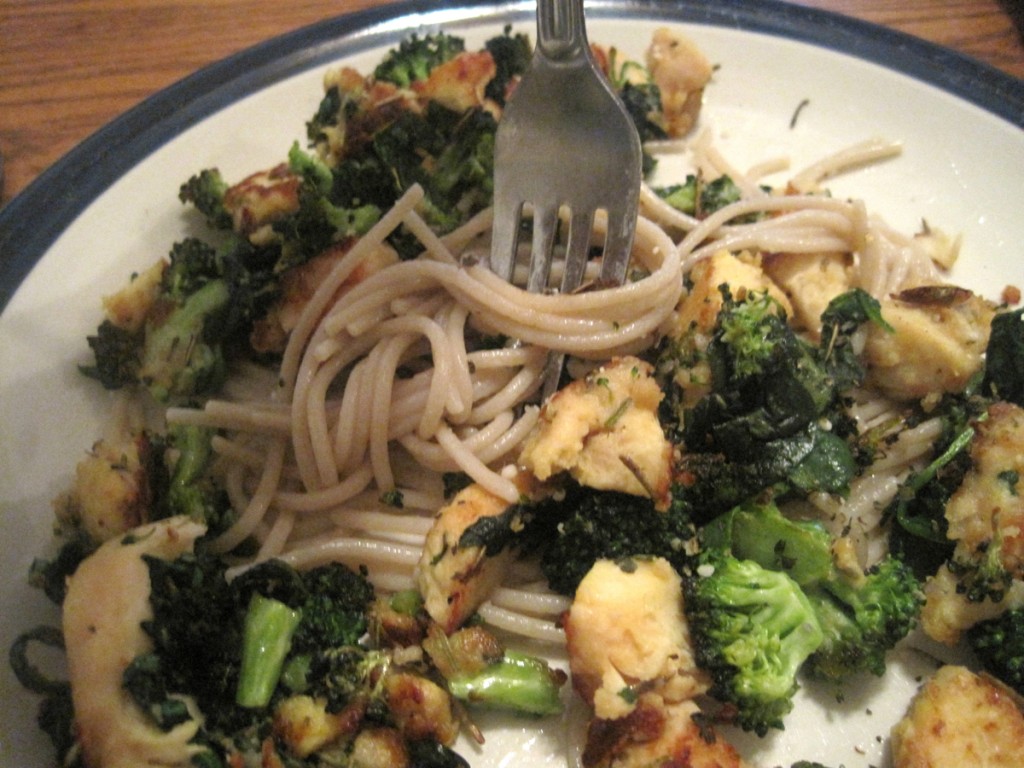 What Ya Need:
-1/2 c. brown rice or whole grain spaghetti
-2 TB olive oil
-2 TB parmesan cheese
-leftover cooked & seasoned chicken, cut into small pieces (I used my leftover Poppin' Game Day chicken tenders that I had frozen)
-1/2 c. broccoli, cooked
-1/2 c. baby spinach
-1 clove garlic, crushed
-1 TB basil
-salt & pepper
1. Cook pasta according to directions. In the meantime, heat a skillet with olive oil and cook the broccoli doused in garlic. Once the broccoli is mostly cooked, add in the spinach and stir.
2. Then add in chicken chunks, and more olive oil if needed. Mix everything together well.
3. Once pasta is cooked, drain and place onto a large plate. Top with the chicken/veggie mixture and add in basil and parmesan cheese.
What are your favorite feel-good carby meals?
Oh, and if you've got any friends planning their weddings or are just looking for something fun to do in Boston this weekend with your girls, I suggest you check out the Boston Bridal Bash at the Hyatt Regency Boston this Sunday! Two tickets for $15 if you buy by tomorrow…