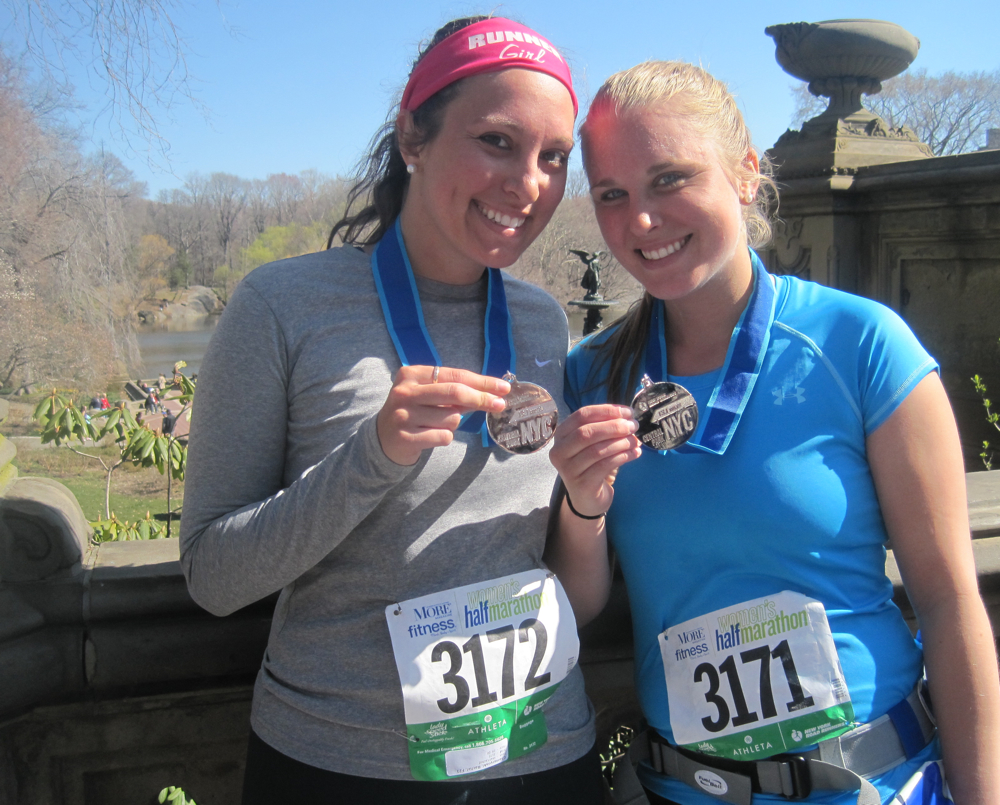 me & my sister Krista
When I saw the sign "New Year's Resolution: Check somewhere between mile 12 and mile 13 during the More / Fitness Women's Half Marathon, I couldn't help but tear up a bit. All of the sudden memories from years/months/weeks ago rushed to my mind. They were so real, so crystal clear. The time I couldn't run a mile on my 16th birthday, so I gave up and walked home. The time I cried on the first 5K I ran with my dad because I couldn't believe we were only half way. The time I ran my heart out for the first time after the death of my grandmother. I felt as though I could run forever.
Then the most vivid memory of all: the time I wrote down that I would run a half marathon this year on January 1, 2011 as my New Year's Resolution. Some thought I was crazy, but I knew in my heart that I could do it and that I would do it.
Three months, 60+ training runs, a couple doubts and a whole lot of sweat and anticipation later, I suddenly found myself standing at the start line at 8 a.m. in Central Park Sunday morning. Holy crap. That sign said it all. I did it. I really did it.
I have to say: running 13.1 miles with close to 10,000 other powerful women was one of the proudest moments in my life. The feeling is indescribable, really. I felt joy, hope, accomplishment, strength, bliss, and disbelief. A good family friend described it well. "What you guys just did is a huge milestone." And that it truly is.
You know the rush you got when you graduated from college, fell in love, got your first job or got married? I imagine the feeling is something very similar to that. It's the feeling of accomplishment and completion. That what you've been working toward all of this time has finally paid off.
I won't lie: there were times during the training where I thought, "I can't do this" and plenty of mornings where I'd rather stay in bed than hop out for yet another 6-mile run. But crossing the finish line and putting that More / Fitness Magazine Half Marathon medal around my neck made it all worth it.
I continue to get plenty of questions and comments about the race. How did you do it? Was it hard? You are crazy! Did your legs hurt? Was the course tough? You are amazing! I don't even really know how to answer these questions because the second I crossed the start line and pressed play on my iPod's "Half Marathon Baby!" playlist, I zoned out.
Really, I did. How did I do it? I moved my legs. Was it hard? Once I got my groove on, no but the hill on mile 4 and mile 9 kinda sucked. I guess I am a little crazy, but I like it. My legs didn't hurt until I stopped running but now they feel like I got ran over, and I can't tell you if the course was tough because it was my first half marathon. Although I have read on twitter and through other people's blogs that this particular half marathon was quite challenging and rather hilly, so I'm super proud of myself for sticking through! Oh, and I guess I am pretty amazing. And so are my sister, cousin, and friend who ran it too. 13.1 miles is pretty damn amazing if you ask me.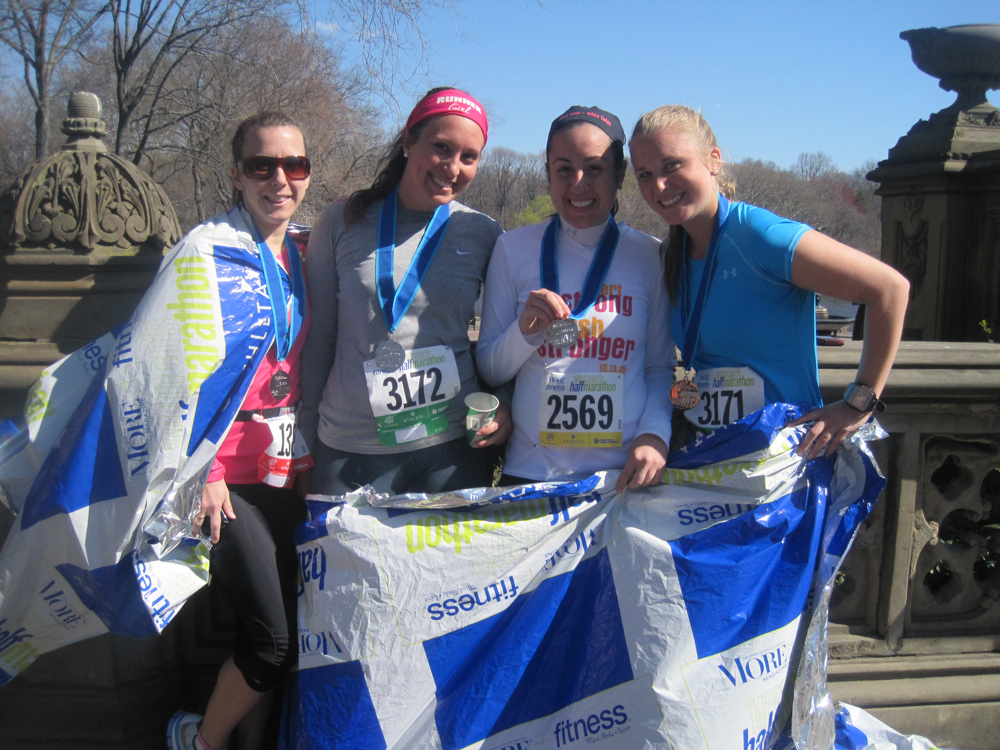 The best part? Crossing the finish line with a smile. I didn't try to push my limits or "beat" a particular time or person (although I reallllllllyyyy wanted to do it under 2 hours and 10 minutes). The fact that I crossed the finish line strong, powerful and with a smile meant enough. Oh, and I did beat my goal. According to my watch, I finished in 2:08:47, although the official results say I did it in 2:09:10. Regardless I did it under 130 minutes, baby!
The second best part? After the race, we munched on apples, bagels and anything we could get our hands on, showered up and then head over to Serendipity for a post-race treat.  I had never been, so I was in for quite the treat. First of all, their menu was insane – nearly bigger than me.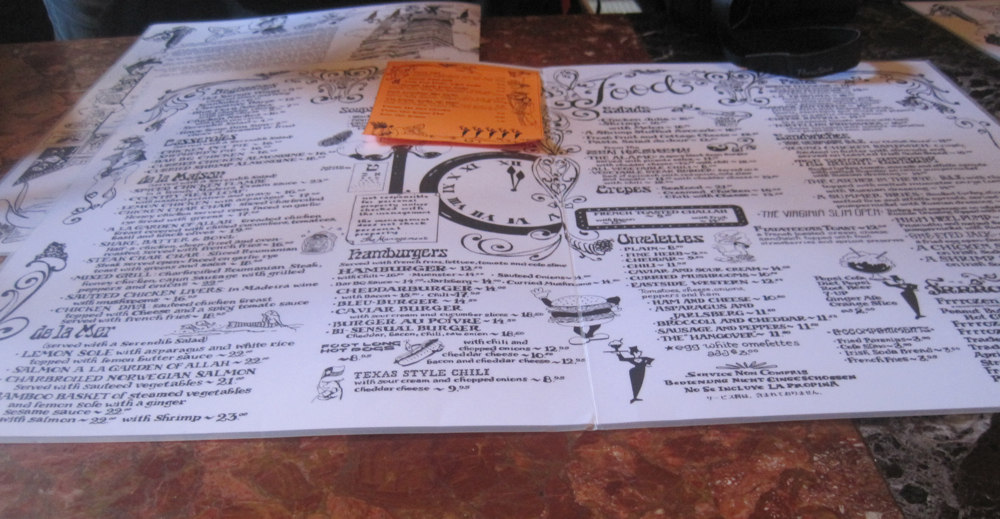 Needless to say, we pigged out! Nachos, French fries, sandwiches with melted Muenster cheese,  ice cream sundaes, and of course: I had to get a cappuccino. It was absolutely delicious. Did we go a little overboard? Eh, maybe. But, we totally deserved it. We ran 13.1 freakin' miles, after all. We deserve that sundae. With an extra cherry on top!