Usually, I don't agree with diets. I simply hate the word. D-I-E-T. Blah. It sounds scary. There's the Cabbage Soup Diet, the Celebrity Diet, the South Beach Diet, and the Grapefruit Diet, and all of them are failures in my book. But when a diet has to do with a lifestyle and way of eating rather than an extreme method to lose 10 pounds fast, I tend to be a fan.
I've always been one to believe in healthy eating as a lifestyle as opposed to a weight-loss method, and believe it or not it all started on my trip to Italy a few years ago. I remember before I embarked on my journey abroad, I was scared to death I'd gain a bajilion pounds while there. Endless amounts of greasy pasta every day? What's a girl to do? Well, when I arrived in the beautiful region of Reggio Calabria, Italy, I realized that was far from the truth.
Turns out, the part of the country I was in (near the boot, by Sicily) followed a Mediterranean Diet, that is a diet packed with fruits, vegetables, beans, nuts, wholesome grains, fish and olive oil with room for a little dairy and red wine too! OK, I won't lie: While I was in Italy I may have had just a tad more than a little dairy 'n' wine however (how can a girl resist all that cheese and red wine?) but I did mostly stick to this eating pattern. A month's worth of savory pasta dishes, wholesome bread dipped in olive oil, fresh fruit and gelato later, I was feeling the best I've felt in years. Oh, and I lost five pounds without even trying. And guess what the best part was? I didn't even have to "go on a diet" to do so.
So what is this Mediterranean Diet I speak so highly of? Well, seeing as though May is National Mediterranean Diet Month, I felt this discussion would be fitting. I was lucky enough to get in touch with the fine people over at Oldways and the Mediterranean Food Alliance (you know, the health-minded, non-profit company that actually created the original Mediterranean Food Pyramid) so I thought I'd leave the rest up to the experts.
For starters, let's take a look at this well-known Med Diet food pyramid that promotes a lifestyle filled with good health. Now doesn't that sound lovely?
[source]
As you can see, the bulk of your meals would come from wholesome grains, olive oil (in replace of butter or fatty margarines), fruits, veggies, beans, nuts, legumes, seeds herbs and spices. Here's a more detailed look at the Med Diet go-to foods: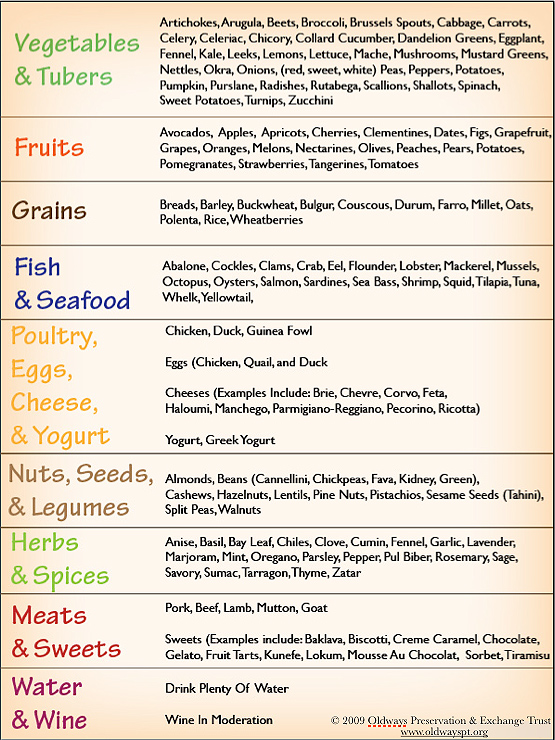 [source]
It's funny because I (and many of you) never give too much thought of what kind of "diet" you follow. But it turns out I follow the Mediterranean Diet Pyramid pretty much to a tee (give or take a few too many pieces of cheese or one too many pieces of chocolate here and there). But that is life, after all. We can't be perfect all of the time. But if you ask me, this is the way of eating I hope to continue with, as well as ingrain in my kids. It's healthy living to the max.
Ready to get yourself going on a new, Mediterranean way of eating? Why not try some of these tasty recipes out for starters?
What kind of "diet" do you follow? Do you consider yourself someone who lives the Mediterranean lifestyle? Why do you choose to eat the way you do? One lucky commenter will win a FREE signed copy of "The Oldways Table" recipe book. Bonus points for following Oldways and the Mediterranean Food Alliance on Facebook or Twitter.