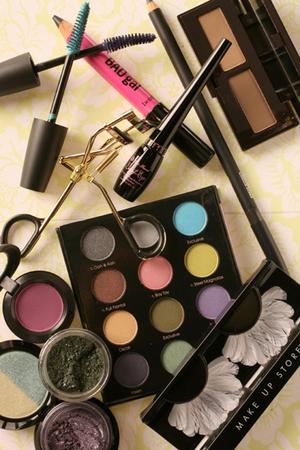 [source]
Happy Wednesday ladies, and congrats on making it half way through the day. Now time for our weekly Hump Day Lesson of the day! This week we're going to talk makeup. I know, I know, makeup on a healthy living website? Get outta' here! You know nothing about fashion! Well that may be true, but hold up just one second there; shopping for the right makeup has a lot more to do with your health than you may first think.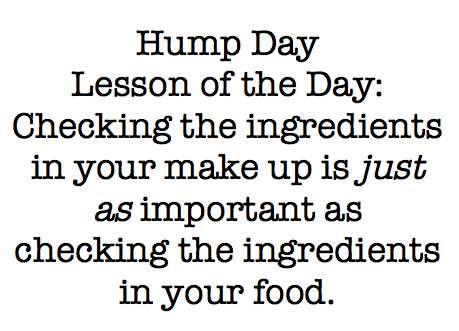 If you've been reading my blog for a while now, you know that I'm a firm believer in reading labels. No, not the labels on designer jeans, but labels on your food. Well lately, I've been almost just as serious as reading labels on my cosmetics.
It all started last week when I began breaking out like whoa. Seriously, my face is a disaster right now. I'm blaming it partially on stress, because as we know stressful times can cause for beauty disasters, but I'm blaming the other portion on my makeup.
When was the last time you read the labels of your perfume, concealer or powder? Until the other day, I never had; I just never thought of it I guess. But once I took a look at my concealer, I was shocked at the number of ingredients in it, not to mention many of which I couldn't even pronounce. Scary. I also noticed the constant reappearance of the word paraben, and I knew it wasn't a good thing.
Not only are parabens linked to cancer and hormone disruption, but they also can lead to skin irritation. Right then, a lightbulb went off for me. Since I am Ms. Sensitive Skin, I really don't think I should be using products containing toxins and irritants, especially those that could be detrimental to my health. No thank you.
Luckily, Skin Deep has put together a cosmetic database so you can easily browse safe, chemical-free cosmetics like Burt's Bees and Body Organic. Think of it as the Whole Foods of makeup and cosmetics: all healthy things in one spot.
Needless to say, after a little research, my makeup bag got a makeover. (I also washed my brushes – can't hurt!) I figure if I feed my body with clean, good-for-you food, why not do the same for my skin?
When was the last time you checked your makeup labels? Are the ingredients in your cosmetics important to you? What are some of your favorite products?