TGIF! I want to jump up and down and do cartwheels I'm so excited (though I don't know how to do cartwheels). 'Tis finally the start of my weekend, and I have lots planned. For starters, I'm going to watch The Boy's softball game tonight. Last week they lost 26 to 4 but I'm hoping I'll pull the goodluck charm thing on them and bring in their first win! I'll at least bring out my best cheerleading skills. Then it's ladies' night by the waterfront, followed by a day of shopping and yapping away at my "Healthy Chicks" booth at Shop & Talk tomorrow.
My weekend comes to an end with going out to dinner with The Boy's family, followed by watching his step sister swim at Harvard for the Special Olympics. Talk about a packed weekend…I hope I can fit everything in. I most definitely know I'll need a few doses of caffeine aka extra large iced-coffees to keep me "on" all weekend.
Alright, enough about my weekend. It's Friday and that means it's time for my weekly Friday Faves. Here's what's got me giddy this week:
1. Arts 'n' Crafts: I was never really a fan of arts 'n' crafts growing up. Actually, scratch that. I was a fan; I was just terribly bad at it. My color-blind genes led me to color a tree trunk green and the leaves brown in 2nd grade art class, and in college I decided it'd be a good idea to paint my entire room bright pink which turned into one hot mess. However, lately I've been embracing my inner artist! I started designing and printing my own greeting cards/ post cards and even created the most adorable little wooden spoon ornaments.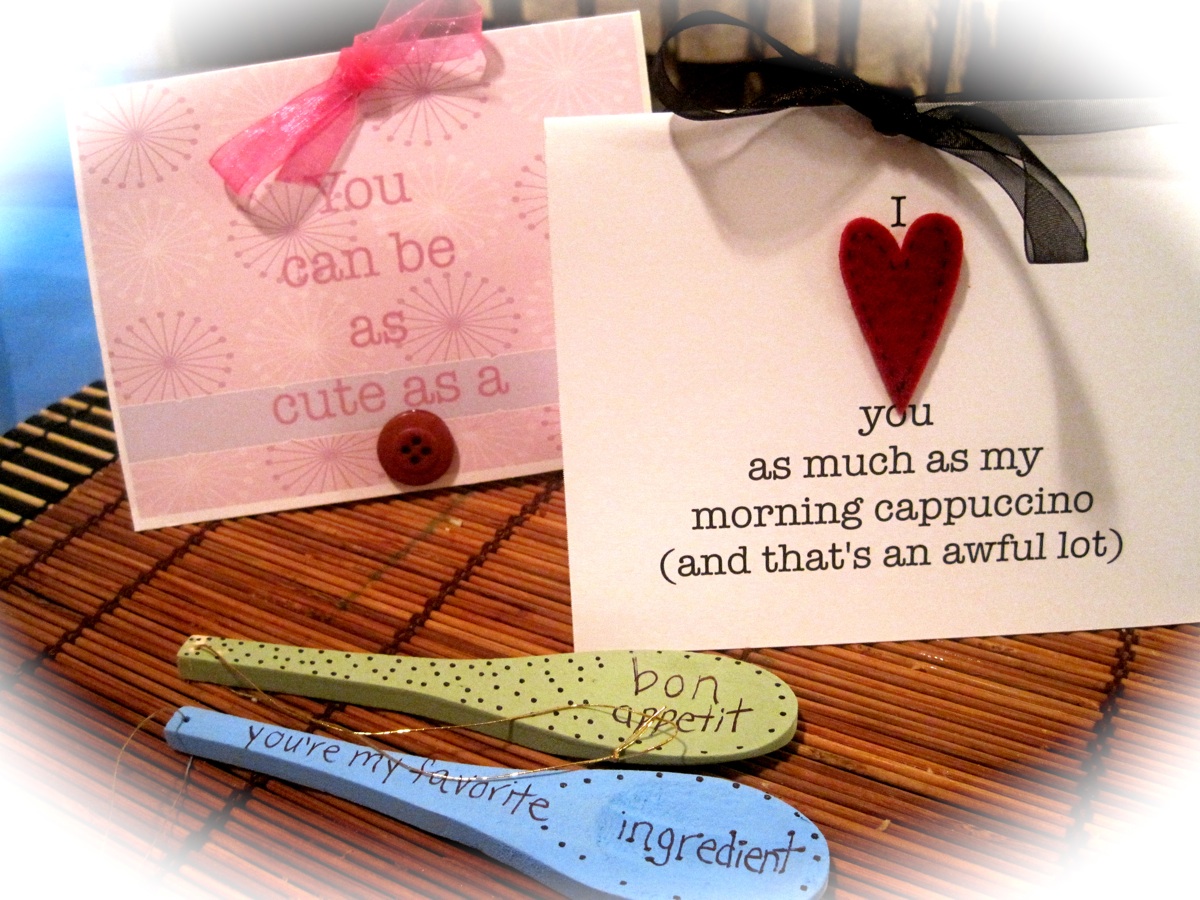 [sure it's no Hallmark, but I'm gettin' there]
2. Pesto: I can't get enough of this green miracle spread. I've been adding it to everything lately, from mixing it with olive oil for a fabulous salad dressing to spreading it onto my turkey wraps. This week I took the lazy girl's way out and bought pesto at Trader Joe's. However, I much rather prefer making my own, since it's super easy and you can control how much oil and cheese goes into it. All you need is olive oil, parmesan cheese, fresh basil, walnuts, garlic, and some salt & pepper. I like to add more basil and less cheese than called for in the typical recipe. For starters, here's a basic recipe from Eating Well magazine.
3. Laughing my Face Off: Last night I went to my second comedy show ever in Boston, and  hands down had one of the best nights in a while. My girlfriend bought me a ticket (what a great date), we both got dressed up and then headed over to The Comedy Studio in Harvard Square. My friend ordered a beer, I ordered a vodka-seltzer con splash of cran and the laughter began. Oh, we also ordered fried wontons and beer teriyaki (whoops). Oh well, a girl's gotta live.
I have to say it was a phenomenal show, and I was genuinely laughing at each and every comedian's act. Sure, some were better than other's  but I not once had to do the whole "fake laugh"/"pretend you're texting" bit. These people were legit. One of my top three by far was actually a friend of the girl I went with: David Fogelman. Not only did he have me crying of laughter, but he was real which I liked most about him. I will most definitely be seeing some more comedy acts in the future in this lovely city of Boston!
4. The Snooze Button: I know, it's bad. I've learned to love the snooze button, something I never took advantage of before. You see, I'm still getting used to my new phone – Crackberry lover goes Droid Pro – but one thing I love about my Droid is how easy it is to shut off that darn alarm in the morning. Yesterday I snoozed for an entire 20 minutes. But whatever; as long as I'm not late for work I can snooze however long I want.
What are you jumping up and down over this week? I'd love to hear your current obsessions – please share!