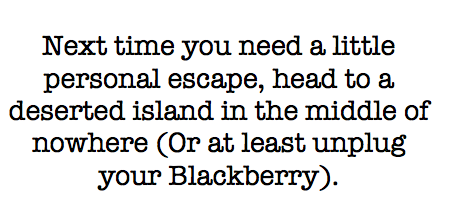 Good afternoon all! Sorry I have been MIA for the past few days. As I mentioned in Friday's blog post, I was off to Bumpkin Island, one of Boston's Harbor Islands, for the long weekend. Despite the hundreds of ticks, poison-ivy coated pathways, composting toilets and ZERO running water, I truly did have a blast. I lucked out with just a few little mosquito bites and a pretty sweet tan.
And as bad as I'm making it sound, I miss the camping trip way. Sure, it felt good to take a real shower and go out for calamari and Merlot for my birthday last night, but there's just something inexplainable about getting away. Not only did I get to see seven different sets of fireworks right on the ocean, eat homemade turkey burgers with feta over the fire and spend time with some amazing people (The Boy included), but it also gave me a chance to disconnect…from everything.
I never thought it'd be so refreshing to simply unplug and enjoy. No smart phones, no TV, no Mac, no blogging, no Starbuck's iced coffee and limited makeup. What at first sounded like a nightmare ended up being a pretty phenomenal experience. It helped me let go and escape, something I'm sure many of us can appreciate from time to time.
I hope you all have a brilliant day and can muster up a little time to unplug yourself. I'm not suggesting you go as far as camping in the middle of the woods sans showering for four days, but hey, it can't hurt.
[if this isn't unplugging, I don't know what is]
What do you do when you need to "unplug" from life?
XoXo,