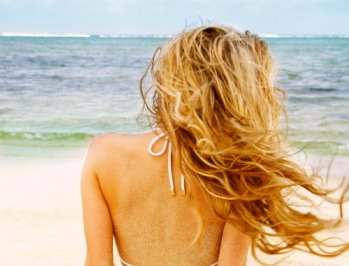 [source]
Beach hair may just be the way to go in this sultry weather…
Happy Friday chickies! Hope you're all getting pumped for the weekend, and staying as cool as possible. I saw on the news yesterday that there are little things we can do to keep our sweaty & muggy abodes cooler (and conserve energy) like closing the blinds, putting up blankets to cover  large windows, and keeping the thermostat around 70, 71. Hey, it can't hurt. But something tells me in this kind of heat there's little we can do to really make a difference other than jacking up the AC. What do all of you do to stay cool in this brutal weather?
Anyway, it's Friday so let's get to it with this week's Friday Favorites:
1. Picnic in the Park: The other day my best friend and I packed up a lunch and headed over to the Boston Common for a picnic in the park. I packed a large salad composed of spinach, mixed greens, tomatoes, cucumber, fresh mozzarella, tuna, red wine vinegar and olive oil. It was so nice to catch up with my friend, gossip, and people-watch the afternoon away.
2. White Cheddar Corn Puffs: Have you ever had Pirate's Booty, you know the cheesy, delicious popcorn bites? Well I've found something that comes pretty darn close: Trader Joe's White Cheddar Corn Puffs. I bought a bag the other day and have become completely obsessed. They are light, cheesy, melt-in-your-mouth puffs, making them the perfect snack for any time of day. At only 140 calories and 5 grams of fat for a 2.5 cup serving, this is one guilt-free snack not to miss!
3. Beach Hair: Usually I straighten the sh*t out of my hair every day, but lately I've been going for the au naturale look, a wavy "beach hair" look if you will. At times, it can turn into a knotty, wavy nest but with a little leave-in conditioner and the right touch, it's been coming out pretty decent if I do say so myself. Lately I've been loving It's a 10 Miracle Leave in Conditioner, a product my mom suggested I try from her salon.
I just find straightening my hair to death so pointless in this humidity, as it only takes 10 minutes before the frizzies start to breed. What can I say; I just wasn't blessed with naturally beautiful hair and I envy those girls that can pull it off! How do you do it?
What have you been loving this week? How are you staying cool in this sultry weather?