Yesterday, while perusing the aisles of my favorite place on Earth (Trader Joe's), I was this close to purchasing yet another bag of their Asparagus Risotto that I love so much. Then I thought, why not attempt to make my own risotto? It's something I've never done before, and I was definitely up for a cooking challenge. So I did what any girl standing in the middle of a grocery aisle would do: I Googled "homemade risotto recipes." It took only a few minutes to find this recipe for "Sage Risotto with Fresh Mozzarella & Prosciutto" from Cooking Light.
With a little brainstorming and tweaking, I came up with my own risotto recipe that incorporates more veggies & ingredients that I love to cook with. I must say: my first risotto challenge was a success. I think I just may have created heaven. Hope you enjoy!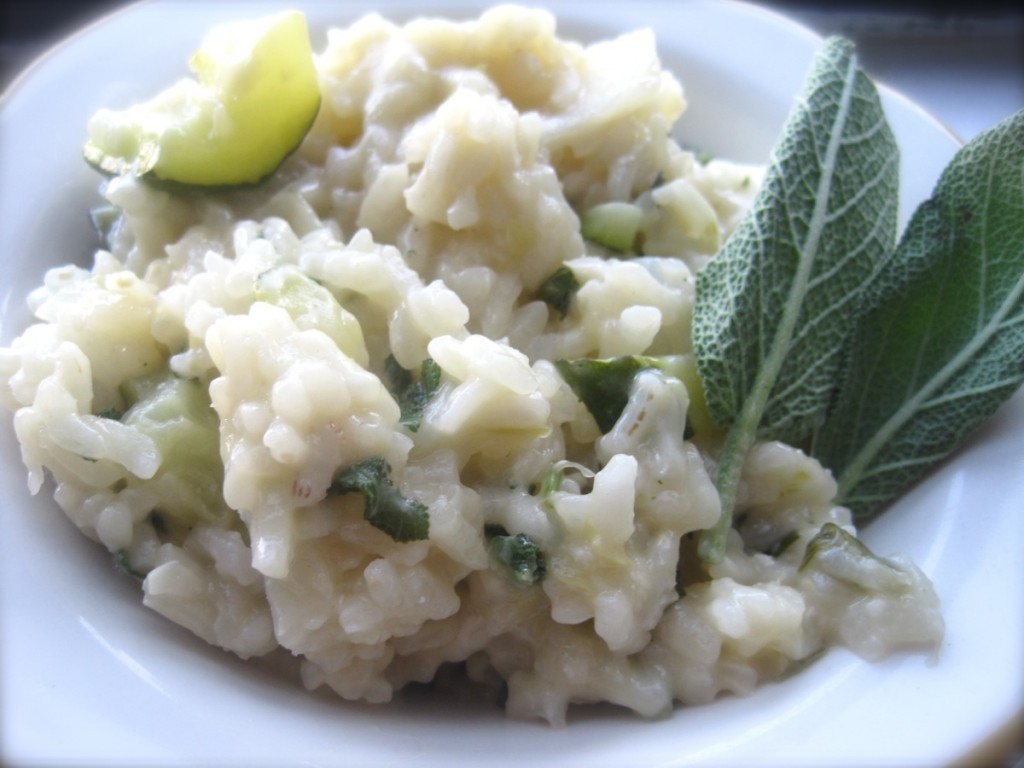 Vegetable Risotto with Sage & Parmesan*
*modified from this recipe in Cooking Light, makes about 4 servings
-about 1 container low-sodium chicken or vegetable broth
-1 TB Smart Balance butter
-handful scallions, chopped
-2 cloves garlic, finely chopped
-1 1/4 c. Arborio rice
-½ c. dry white wine for cooking (I substituted water since I was out)
-2 TB finely chopped fresh sage
-1 c. freshly grated Parmesan cheese
-1 medium zucchini, chopped
-1 small yellow onion, diced
-juice of ½ lemon, freshly squeezed
-salt & pepper to taste
1. Bring broth to a simmer in a medium pot, and keep warm over low heat. In the meantime, melt butter in a large pan over medium heat. Add in scallions and garlic; cook for 3 minutes, stirring frequently. Then toss in your chopped onion and zucchini.
2. Add rice and salt; cook for 1 minute, stirring constantly. Add in wine (or water) and mix until liquid is mostly absorbed, stirring constantly. Now, add in your broth, 1/2 cup at a time, stirring frequently until each portion is absorbed before adding the next (about 20 minutes total).
3. Once liquid is absorbed, stir in lemon juice and chopped sage, and cook for another few minutes. Remove from heat and mix in parmesan cheese until thoroughly melted.
~Season with salt & pepper to taste
Enjoy!
XoXo,