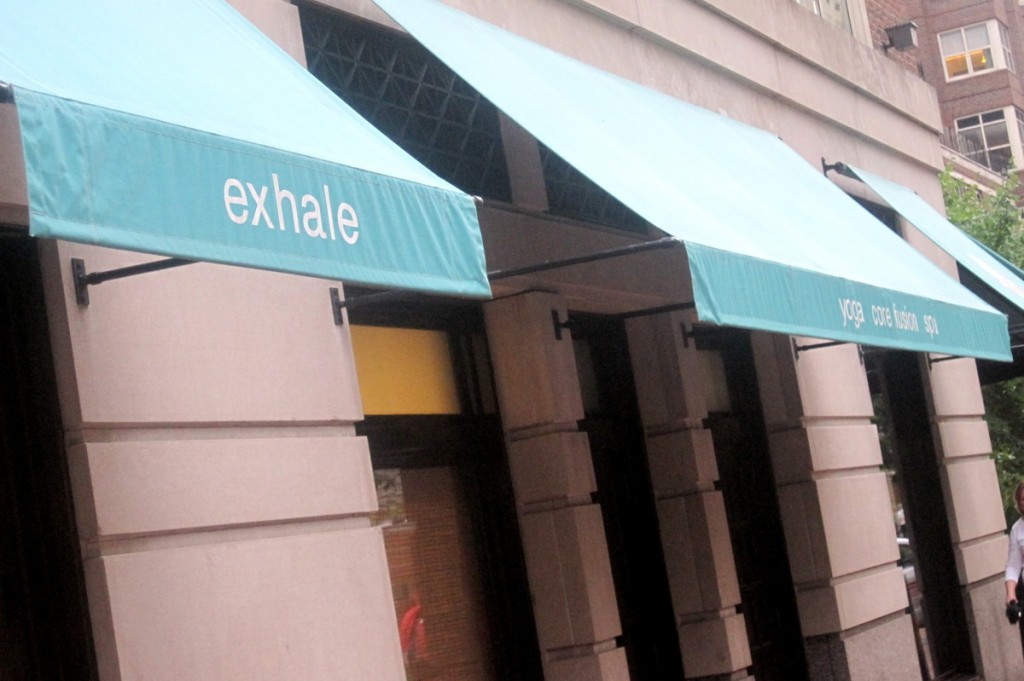 If you've been reading my blog for a while, you know that I am a huge fan of Core Fusion DVDs. Once I became hooked on Core Fusion Body Sculpt (and made my obsession loud and clear), creator and mastermind behind Core Fusion Fred DeVito was nice enough to send me both Thighs & Glutes and Bootcamp as well. Just as expected, I fell in love with each and every workout I tried. I loved the variety, the intense toning benefits, and all the other physical changes I could see in my body.
So when Exhale Spa in Boston's Back Bay invited me to take a live Core Fusion class, I jumped at the offer. A real, live Core Fusion class, for me? How could I possibly decline?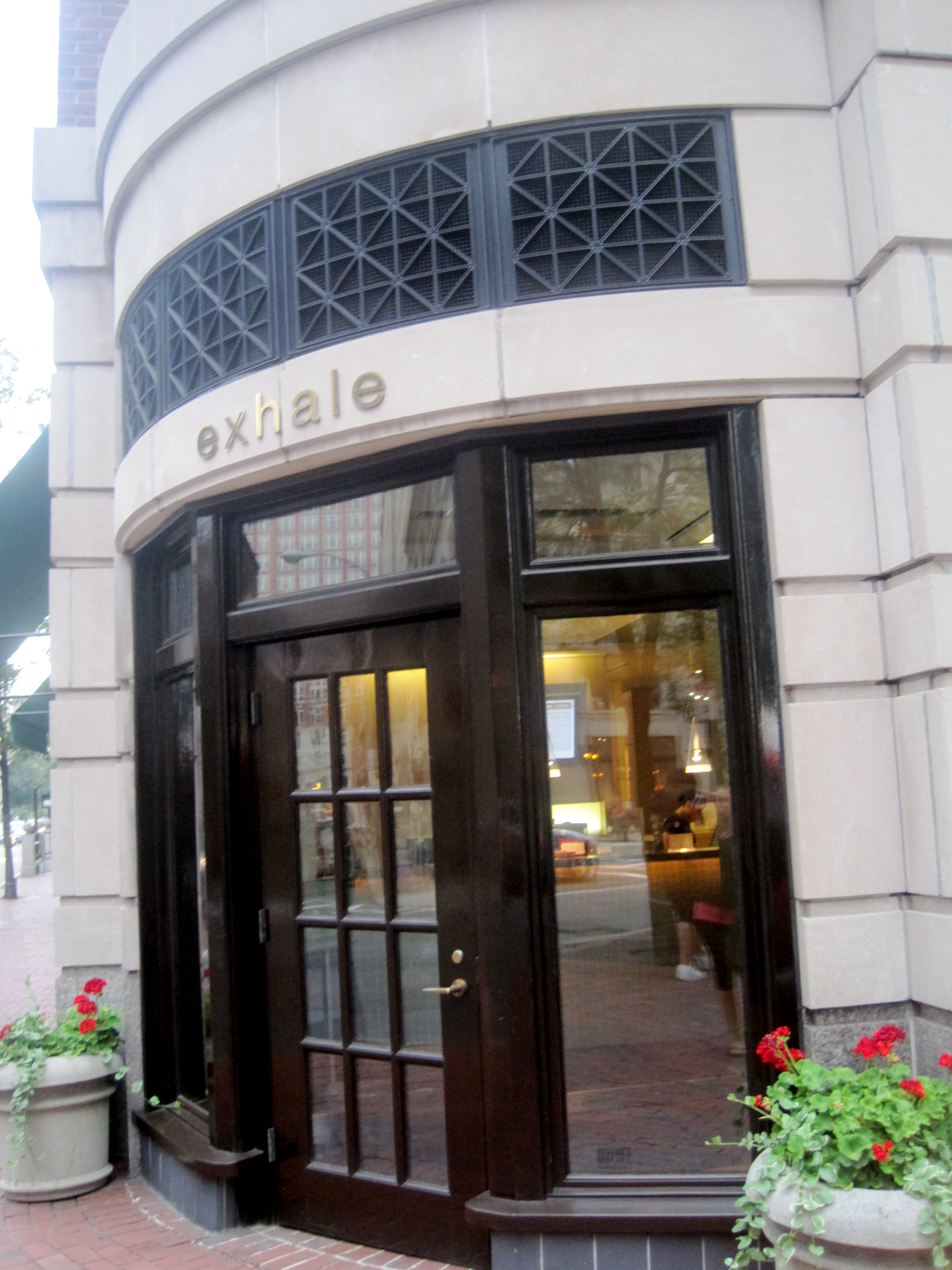 The minute I walked into Exhale, I felt like I was in another world…on some kind of serene spa getaway. "Wow, now I can see why people rave about this place," I thought to myself. As I waited for the Director of Guest Experience to give me a personal tour, I was immediately offered a cup of hot tea and water to sip on. If that's not customer service at its best, I don't know what is.
As I toured the building, I "oohed" and "ahhed" my way through each step I took. Everything was just so…beautiful and I was loving every minute of it. The staff members were friendly, the studio space was bright and clean, and even the bathrooms were impressive. They were fully equipped with lockers, a Eucalyptus steam room, robes and slippers for guest comfort, showers, changing rooms, and pretty much any beauty essential you could think of. Yes, they even had shower caps, spray-on deodorant, RAZORS, and delectable lotions all for me (and you).
Then came the workout: a real live Core Fusion class. Let me tell you, it was not for the faint of heart. It was tough, and  it was challenging, and my thighs were shaking 90% of the time, but I loved every minute of it because I pushed myself. At first I was intimidated by all the other perfectly-sculpted women in the room, but the instructor, Denise, made the class comfortable and fun. She energetically led the group through a series of arm, thigh, gluteus and abs workouts, all while correcting our form and pushing us to hold the poses a little longer, try a little harder. And that I did.
I must say, a live Core Fusion class was much more challenging than the DVDs, mostly because you get the benefits of having an instructor face-to-face to push you and correct your form. I was proud of myself for completing a full hour-long Core Fusion session, even though at times I wanted to give up. There's no doubt about it that you get a full body workout, and that to me is worth the money.
After my sweat session, I robed up like a queen and hit the Eucalyptus steam room, followed by a nice, long shower. I then used every single beauty product I could get my hands on, and finished my spa experience with a cup of hot tea. I was in heaven.
I highly recommend taking a class at Exhale Spa to anyone who wants to challenge themselves, all while reaping the benefits of a blissful spa experience. I most definitely will be back, but in the meantime will continue to practice the Core Fusion DVDs at home. But I must admit: If it were up to me, I think I'd live at Exhale Spa. Any place that provides a full-body workout followed by pampering at the spa is golden to me.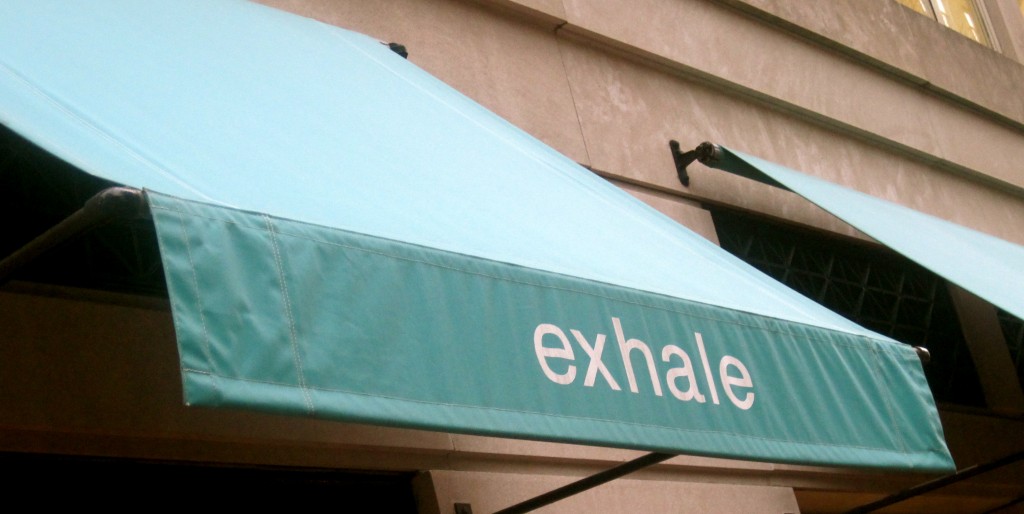 Interested in trying Core Fusion yourself? Snag the Exhale: Core Fusion Collection for only $20.49 on Amazon. This includes the Body Sculpt (my favorite), Thighs & Glutes and Pilates Plus workouts.
Have you ever taken a class at Exhale Spa? What was your experience like? Have you tried any of the Core Fusion DVDs yet?