There is nothing like a tuna melt that brings that warm, fuzzy feeling to my soul (and my taste buds). The best part about tuna melts is you really can do so much with them. Gone are the days of bland tuna, mayo & American cheese, as there are now so many endless combos. Tonight I put together what I had left in the fridge to create this killer tuna melt combination. The best part? It contains absolutely NO mayo, yet still tastes just as decadent. Enjoy!
Open Faced Tuna Melt with Dill Havarti & Apple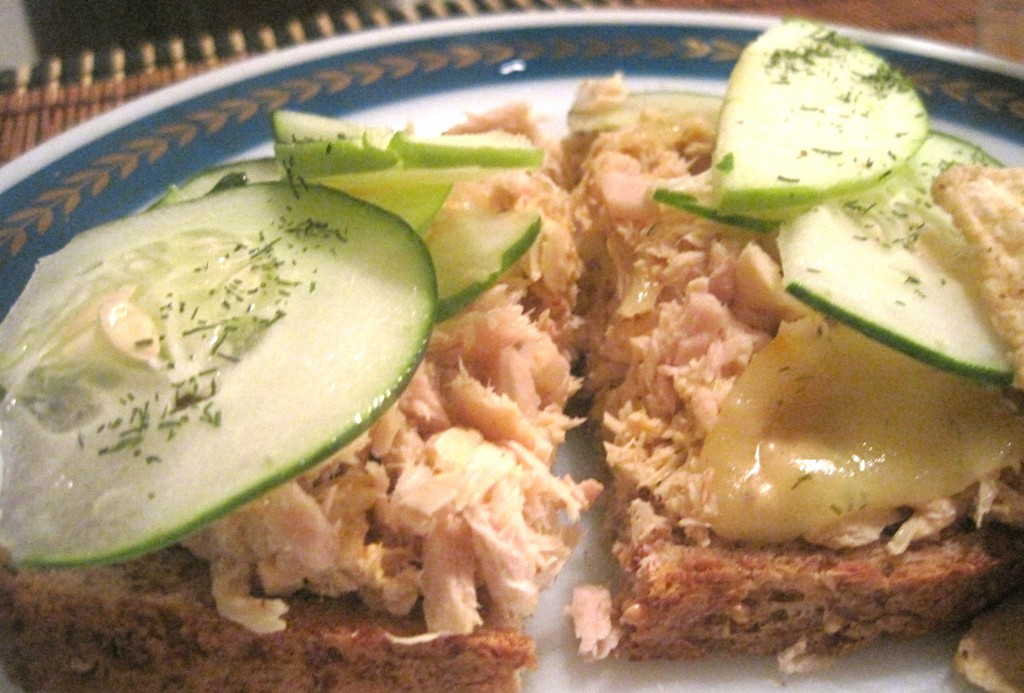 What Ya Need:
1 can low sodium solid tuna in water, drained
1 slice plain Ezekiel bread
1/2 TB garlic Dijon mustard, or flavored mustard of choice
about 1 oz. dill havarti cheese, sliced
1/2 granny smith apple, sliced thin
1/4 c. cucumber, sliced thin
few shakes of dill, dried
1. Combine tuna with mustard and mix well. Spread onto bread, and top with sliced dill havarti cheese. Toast until cheese is melted, and bread is crispy.
2. Top with apple and cucumber slices, and season with dill to taste.
~Serve with low-sodium tortilla chips and leftover apple slices.
What's your favorite tuna melt variation? If your not a fan of tuna, what is your go-to, no-fail sandwich?