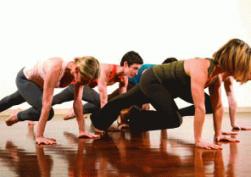 you'll be sure to feel the burn with these mountain climbers
[source]
As you know, I'm a huge fan of trying new things. As long as it won't kill me, I'm usually willing to try something new. This morning, I decided to take advantage of my membership at Exhale Spa and give Core Fusion Cardio a go. So far, I've tried Core Fusion Open, the Body Sculpt DVD, Thighs & Glutes, and Bootcamp but I had never dabbled with Cardio.
Let's just say, it was definitely worth my while. I highly recommend this upbeat, sweat-inducing class to anyone who's looking to challenge their body with a little extra spice! With everything from kickboxing movements to weighted lunges to hundreds of mountain climbers, your legs, thighs and arms will surely feel the burn.
I'm now going to dedicate every Tuesday morning at 7 a.m. to this heart-pumping cardio class. You can hold me to it.
I dare you to try something new today. What's one new thing you're looking to give a shot?
XoXo,