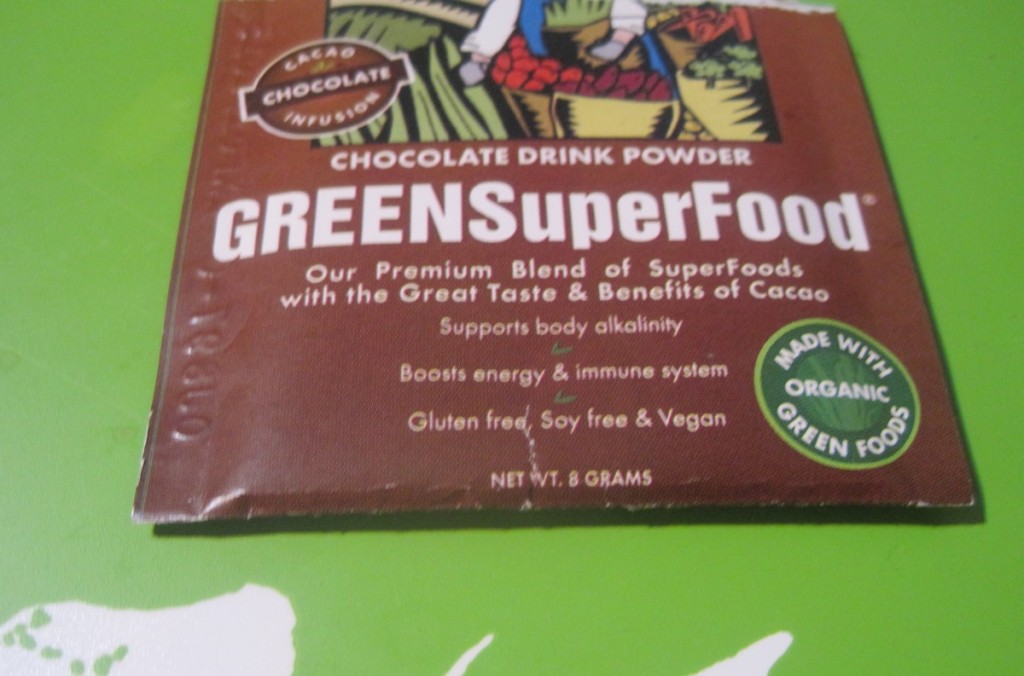 Yesterday, I took a trip to Whole Foods and decided to browse their Whole Body section. I was particularly interested in all the natural supplements and powders they had to offer, as I've heard so much talk about various super foods. I was overwhelmed and amazed with the many powders, supplements, and natural remedies I came across. While I was extremely tempted to go home with $100 worth of these miracle supplements, I decided to do a little research first. After all, I'm not made of money.
Instead, I picked up a few packets of a Green SuperFood blend made by Amazing Grass. You simply add the packets to milk or water, and in an instant you can enjoy a glass full of superfoods. Is there really any better way to start the day? I decided to try the natural green blend, as well as the chocolate flavor, which was absolutely delicious might I add. The blends contain a variety of natural supplements including organic wheat grass, barley grass, alfalfa, spirulina, spinach, chlorella, maca, acai, rose hips and green tea just to name a few.
Do these supplements sound foreign to you? I decided to do a little research myself to see what the best natural supplements on the market are, and what exactly they do to our bodies. Here are some of my top finds:
Maca – This adaptogenic root is famous for its natural effects on the body, from energy boosting to stress regulation. Most common in the powder form, this natural wonder can be sprinkled onto your morning oats, added into green smoothies and milkshakes, or even mixed in with yogurt and berries. Here are some of its many befits:
Increases energy
Ignites your libido, increasing sexual drive
Helps to enhance fertility in men & women
Regulates hormone levels
Can aide memory, learning and mental health
Promotes healthy teeth & bones (SMILE)
[source]
Spirulina: This natural supplement comes in tablet, flake and powder form. Containing protein, vitamins, minerals, Omega 6 Fatty Acids, chlorophyll and additional phytonutrients, it's no wonder this natural supplement has a great rap. Some of its many benefits include:
Supports a healthy immune system
Helps to aide digestion
Reduces fatigue and contributes to natural energy in the body
Helps keep appetite under control
Can reduce uncomfortable effects of inflammation
[source]
Chlorella – This green algae is packed with protein, minerals, vitamins and a number of essential nutrients. Here are some of its main benefits:
Helps to naturally detoxify your body
Boosts your immune system, keeping you happy & healthy
Helps regulate digestion
Can freshen your breath (um, a natural tic tac replacement?)
Helps to maintain a regular blood pressure
Acai – This superfruit is being raved about all over, from the Dr. Oz show to your local health food store. Pick up a bag of dried acai berries, powder or supplements to experience the befits yourself. Some of the main benefits include:
Promotion of healthy, natural weight loss
Increase in natural energy
Packed with antioxidants which help make you look (and feel) even younger than ever!
Antioxidants may also fight off diabetes, heart disease and even cancer
[source]
Have you experimented with these natural supplements? If so, which ones? What is your favorite way to incorporate them into your diet?