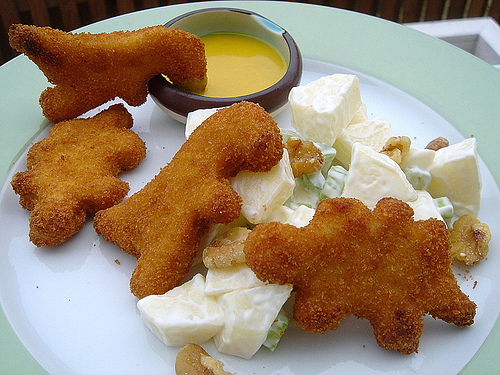 [source]
Craving these lil guys? Try this healthy substitute instead. You AND your kids will appreciate.
I have a confession: As healthy as I may be, there's something about those little Dinosaur chicken nuggets and boxed Mac 'n' Cheese that gets me every time. Every time I see my little cousins nibble away on their itty bitty dinos, I want to join in. I don't know if it's childhood memories or comfort food cravings that gets to me, but it is what it is.
But I'm well aware these little dino friends aren't the best for your health. In fact, the Tyson's brand for one is loaded with foreign, unnatural ingredients like rib meat, modified corn starch, sulfate, riboflavin, dried whey, caramel color, and methylcellulose. Yuck. What happened when chicken was just…chicken?
Anyway, when my craving hit last night, I decided to give this classic comfort food combo a makeover, and let me tell you it was definitely for the better. My remake came out tastier, crunchier and best yet: guilt-free. Feed this to your kids next time they want McDonald's, or stuff your face with it. No judgement. None at all.
Crispy Baked "Chicken Nuggets"
1 package boneless, skinless chicken tenderloins
1 c. almond meal
1 large egg mixed with 1 egg white, whisked together with a dash of water
1/4 c. fresh grated parmesan cheese
1 to 2 TB dried rosemary
1 tsp. oregano
1 tsp. parsley
salt & pepper to taste
1. Mix together herbs, almond meal, and parmesan cheese. Coat each piece of chicken in egg mixture, followed by "bread crumb" mixture. Spread evenly on a coated casserole dish.
2. Season in salt and pepper to taste, and bake for about 25 to 30 minutes on 350, or until chicken is crispy and tender. Turn off heat, and keep chicken warm in oven.
In the meantime, while chicken is baking…
Popeye's Boxed Mac 'n' Cheese
Box of Trader Joe's Gluten Free Rice & Cheddar Mac & Cheese
1/8 to 1/4 c. milk
about 10 oz. frozen spinach
1 clove garlic, crushed
olive oil, for cooking
salt & pepper to taste
1. Cook pasta according to directions. In the meantime sautee spinach in garlic and olive oil on medium-low heat.
2. Drain pasta and add in milk and cheese packet. Mix well. Mix together with spinach, adding in salt & pepper to taste.
There you have it. Serve chicken tenders with a side o' mac 'n' call it a night.
XoXo,