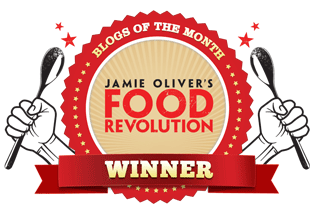 This morning I was beyond delighted to wake up to an email from Jamie Oliver's Food Revolution team, informing me that Healthy Chicks has been chosen as one of their blogs of the month. Not only do I get to be featured on their website for the month of December, but I get to "wear" this Food Revolution badge on my blog loud and proud.
I'd be lying to say I'm not absolutely ecstatic to be chosen as a featured blogger, as it is a huge honor. But it means more to me than a "title." I'm a huge supporter of the Food Revolution and all Jamie has done to get the world eating healthier, and start promoting a more respectable food industry. His mission in teaching people how to spend more time in the kitchen (and less time at the drive-through), cleaning up school lunches, and helping people fuel the bodies and soul with proper nutrients is absolutely phenomenal.
I believe Jamie is creating a real revolution, something that can ultimately change hundreds, thousands, even millions of lives and that all starts with just ONE person spreading the word. To be honest, that's why I'm currently enrolled at the Institute for Integrative Nutrition to become a Holistic Health Coach. I want to help people to help themselves. I want to teach busy mom's that they do have time to make a healthy lunch for their kids that doesn't entail of mac 'n' cheese or PB & J. I want to help people enjoy cooking in their own kitchens with their spouses/children/families using REAL, fresh ingredients. I want to support anyone who has ever battled body image issues, weight problems, or health concerns, and show them that it's NEVER too late to make a change.
Seeing Jamie Oliver take on the world one person at a time shows me that big things are possible, and that people out there are dying for help. It's time for America to make some big changes, and start fueling our bodies & minds properly. Can we do it? I think so. It's just going to take a little effort and a lot of determination!
XoXo,