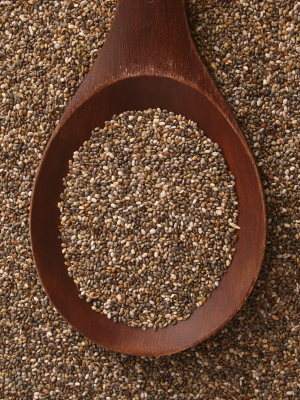 [source]
Lately chia seeds (not to be confused with the chia pet) have been getting extra attention in health magazines, news articles, and the wondrous world of the internet. But this ultra superfood actually traces back thousands of years ago to the ancient Aztec and Mayan Civilization.
So what is this so called chia seed, you ask? Meaning "strength" in Mayan, this seed definitely fits its profile. Loaded with omega-3 fatty acids, antioxidants, protein and dietary fiber, its no wonder this superfood has gained such popularity.
Here's a breakdown of the many health benefits* & perks of the chia seed:
*the health benefits were derived from this article on Natural News, general knowledge from endless internet research and my personal experience
Loaded with essential fatty acids, which help support our organs and keep us healthy
Contains a high amount of omega-3s (which are difficult to get in your average American diet unless you're pounding fish every day) for aiding digestion and keeping our hair, skin and nails beautiful, and also omega-6 fatty acids (which helps tremendously with inflammation). A power duo if I do say so myself! [If you'd like to read more about the differences in Omega 3's, Omega 6's and Omega 9's, click here]
Vegetarians, listen up! Chia seeds are a complete protein, with a whopping 23% per seed! You can easily incorporate them to any recipe, like healthy muffins, morning oatmeal, or even to top salads.
A super antioxidant source, which we all know can help protect against cancer and cardiovascular disease
They are an amazing source of fiber, perfect for those who follow a low-carb diet. They will also keep you full longer, as the seeds absorb water (forming a gel like substance), in turn keeping you full & satisfied longer. The verdict? Skip those nasty "diet" this and "diet" that schemes, and load up on chia if you're trying to meet your healthy weight goals. [Note: always talk to your doctor or nutritionist first before going on any drastic diet changes]
I love how versatile chia seeds are since they take on the flavor of whatever you add them into, without adjusting its natural flavor. For instance, add them into a fruit juice, yogurt, smoothie and they'll create fruity little bubbles, put 'em into your chocolate pudding and they'll taste like little chocolaty beads of joy. You get the picture.
They last forever! Seriously, the shelf life on these things is amazing. Plus, they can be stored at room temp, and eaten raw or soaked in water to form that gel like substance I talked about above.
ENERGY! I've been adding them into various meals lately (freshly made juice, oatmeal, cereal) or just eating a spoonful of the gel, and my energy has been amazing. Say goodbye to redbull and endless lattes; I think we've found a solution!
What are you waiting for? Time to get your chia on! Do you eat chia seeds? What are your favorite superfoods to experiment with in the kitchen?