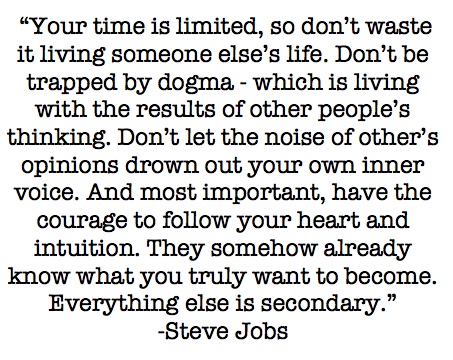 Lately, I've been having an internal battle with myself regarding success. There's no doubt I'm not living the conventional lifestyle of a 20-something. I don't work in Corporate America, I've never known what it tasted like to get a big promotion, or wear a suit to work.
I guess you could say I took the path less traveled. I quit my job to do what I love, am now attending school at the Institute for Integrative Nutrition to get my degree as a Holistic Health Counselor, and feel happier than I've felt in a long, long time.
As my dad always tells me, I'm an entrepreneur at heart and have always been that creative, do-it-my-way, less conventional type. With that said, it also means working hard for myself, keeping myself motivated (and holding myself accountable), oh and less benefits and a smaller paycheck (well, at least at first).
While that can get me down at times, I've realized it's my choice. Rachel Wilkerson just wrote an amazing post about this very matter, "Accept Your Success (and Lack Thereof) as Your Own Fault."[ It could not have come at a better time for me, and I highly recommend you read and join in on the discussion.]
My point here on this lovely Sunday is remembering you have control over the way you live your life. So, live your life the way you want to. If you bypass all the judgement/opinions/voices, you could find something really, really great. Perhaps a dream come true.