Remember when I told you guys I made a vision board with The Boy last month? Well, I decided to revamp it completely! You see, my first vision board was on a scrap piece of white-lined paper and it didn't give me enough room to really express every little thing I want in life. Plus, with all the focus lately on my new health counseling business Zesty Living, I've been thinking a lot about goals and what I want for myself.
That's when the vision board construction went down. For the past few days, I've been tearing witty words, motivating pictures, and inspirational phrases out of magazines, as well as surfing the web for ideas.
Voilà! This is the result: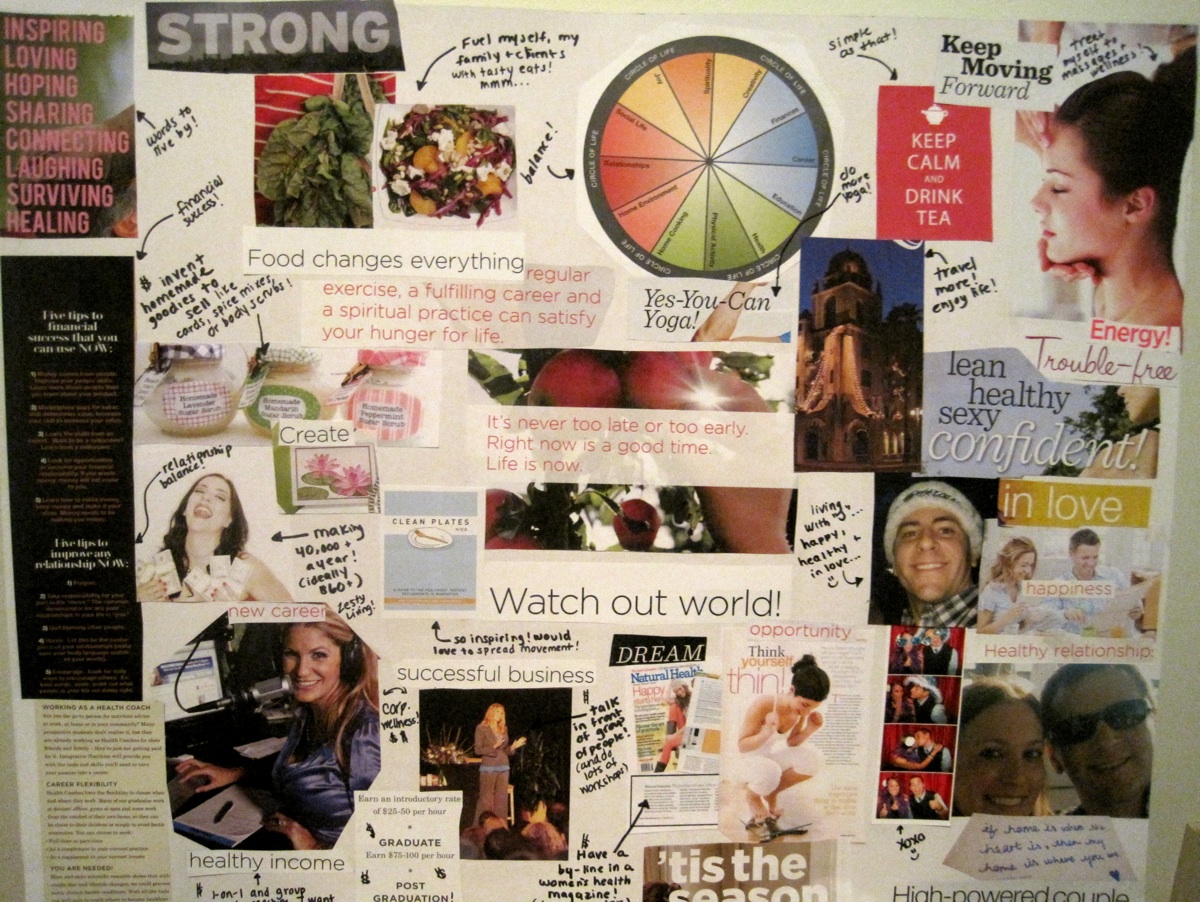 I decided to break it down into sections: career, relationship, and personal well-being.
Career/Financial:
Create and sell some sort of wellness product, be it inspirational greeting cards, all-natural body scrubs or innovative spice blends!
Be financially stable, with a comfortable salary that I can support myself with & not have to cringe every time I "treat" myself to something nice
Have a successful, positive, buzzing health counseling business a la Zesty Living with 1-on-1 coaching, group workshops, and (HOPERFULLY) some corporate wellness mixed in
Be published in a women's health magazine featuring an article on holistic health & wellness…a dream come true to have my own byline!
Speak in front of a group of people regarding health, happiness and finding balance
Relationship
Move in with The Boy in an adorable little Boston area apartment where we'll wake up together each morning, sip coffee, make tasty dinners, and stay up drinking wine and laughing our faces off!
Be a "power couple" both reaping the benefits of being successful entrepreneurs, making our own schedules and ultimately working for ourselves
Happy & in love
Personal
Feel more calm & at peace with myself
Do more yoga – practice regularly!
Have enough money to be able to treat myself to monthly massages, gym memberships, yoga retreats and other wellness activities
Travel more! (Oh, and be able to afford it and not feel bad about it!)
Trouble-free, energized, motivated go-getter
Super healthy, happy, fit & feeling my best self
Have a plethora of delicious, wholesome, all natural food to cook with each and every day
Have you ever made a vision board? What do you want for yourself this year? What positive steps are you taking to get there?