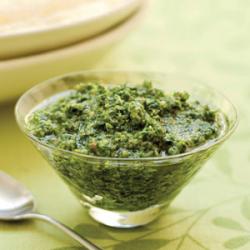 [source] Got leftover pesto hanging around the house? Try this easy peasy recipe!
Remember how I told you all that I'm a huge fan of experimenting with new recipes? Well, this afternoon my sister had the brilliant idea of making use of my grandma's homemade pesto we had stored in the freezer. (Sidenote: freezing pesto is a super practical way of making it last longer, while keeping it fresh and tasty. My grandma taught me a little trick to freeze in ice cube trays for individual servings.) Once I knew pesto was on the menu, my little brain started to ponder.
After a trip to Whole Foods, I decided we'd incorporate some all-natural chicken into tonight's meal. And peas. And penne. Alas, dinner was planned.
Here's what we used for tonight's easy supper*:
*makes about 4 servings
2 c. brown rice penne
1 large boneless skinless chicken tenderloin, all-natural & raised without antibiotics (organic is best – I got ours at Whole Foods)
1/2 can sweet peas, rinsed and drained
1/2 c. frozen spinach, organic
1/4 c. homemade pesto (may adjust according to taste)
1 1/2 TB olive oil
juice of 1/2 lemon
1 clove garlic, crushed
salt  & pepper to taste
1. Boil your water and cook penne according to directions. In the meantime, pat chicken until thin and then slice into small cubes.
2. Coat medium skillet with olive oil, and cook chicken on medium heat. Once slightly cooked, add in lemon juice, garlic, and pesto, coating the chicken thoroughly. Continue to stir.
3. Once chicken is tender & completely cooked, reduce to medium-low heat, mix in frozen spinach and peas and cover.
4. Drain the pasta and mix in with chicken mixture, making sure spinach is fully cooked.
~ Garnish with a dash of lemon juice, salt & pepper.
I loved how this dish came out, especially the way the peas added an extra bite to a traditional dish. Usually I'm the type to load on seasonings, olive oil, salt (guilty as charged), and parmesan cheese but this dish really had a powerful flavor on its own with the lemon juice and pesto combination.
Better yet, we had leftovers for once so I get to enjoy this meal all over again tomorrow. Perhaps, I will enjoy it chilled with a slight drizzle of olive oil for a quick 'n' easy lunch.
Have a lovely evening,