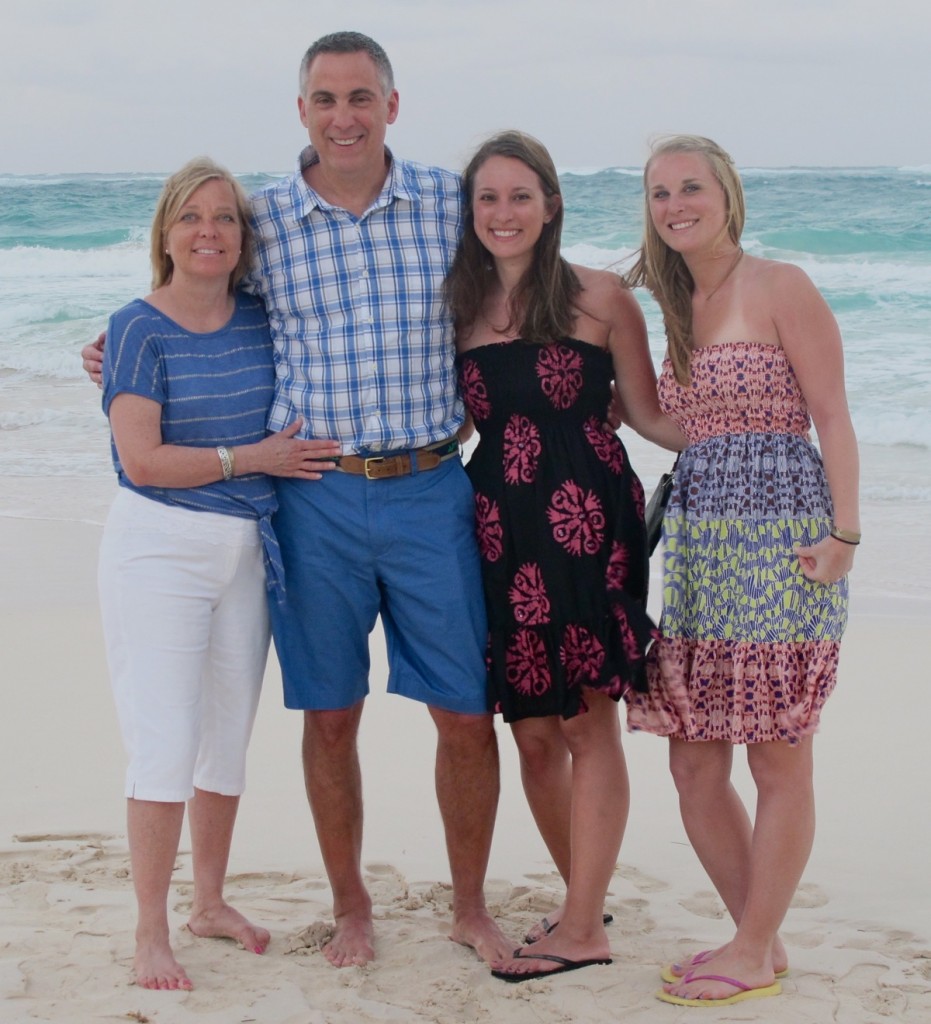 [mi familia]
Hola chicas! Pardon my Español, but I just returned from my 8-day excursion to Punta Cana and have been speaking in Spanish the past week. I've also been soaking up the sun, "un-plugging" (for the most part), exercising, wining and dining, sipping on fresh fruit juice, and for the most part, simply pausing to relax (something that I nearly forgot how to do).
While I'd be lying if I told you I wasn't just a little sad being back to reality, I can't complain about Boston's 69-degree weather. And though I'm not enjoying my itchy sun rash on my chest, I am itching to get back to business on the health coaching front (hint: I'm in the midst of planning my first wellness workshop for April) Oh right, and then there's That Boy I haven't seen in over a week too…
So while my vacation to paradise is now officially over, here are some little lessons I picked up while in the Domincan that'll hopefully stay with me as I return to my busy, go-go-go, anxious-at-times city girl self.
1. A little movement goes a long way: I am proud to say that first thing every morning at the crack of 7:30 a.m., my entire family head out for some sort of exercise. One day I went for a slow run with some Zumba afterward, another day I hit the gym for weights and the treadmill (which I think I may have a newfound love for), mid-week I geared up for a long, sweaty run on the boardwalk ocean-side, and I even tried a morning yoga class (which was very bizarre and nothing like any yoga I've ever done before to say the least) The point is I did something, more particularly something that made my body and mind feel good. Heck, I don't remember the last time I exercised 6 days in a row and actually enjoyed it.
Back to Reality Tip: Even if you're not busting your a*s off in an hour-long bootcamp, don't have the energy to go for a 5 mile run, and "can't" make it to the gym, something is better than nothing for your energy, your mind, your body, and those feel-good endorphins we all know and love. Get moving, even if it's walking to your favorite restaurant instead of taking a cab.
2. Make smart Choices in the Morning: Have you ever had one of those days where one thing goes wrong and suddenly you're entire day unfolds into a disaster right before your eyes? Or what about those days where you decide to grab a sugar-laden muffin with a frap or a white, starchy bagel with loads of butter for breakfast because you're running late for work, and as a result your energy levels are 'off' the entire day?
Why not do the opposite? While I was on vacation, I made sure to get a healthy start to the day so I would make better decisions throughout, like a domino effect of sorts. This would also allow a little extra wiggle room for afternoon treats (poolside chips and guac, flatbread pizzas), wine (lots of delicious wine) and a savory dinner.
It's also one of the reasons I chose to workout first thing in the morning to give my body the healthy kick it needed to jumpstart the day (and get me out of my super comfy bed).  It also encouraged me to go for a hearty, wholesome but filling breakfast (see #3 for details)
Back to Reality Tip: Morning exercise plus a wholesome breakfast are great ways to start the day off on the right foot, and make healthful decisions all day long. I'm sensing some long morning runs in my near future…
3. Moderation Not Deprivation:
Rewind 8 years ago on vacation, and my meals would look a lot like this: eggs, homefries, pancakes, bacon, bread, sausage, and French toast for breakfast (I mean, free food, I must pile up!), burgers and fries or chicken fingers for lunch, and some sort of larger-than-life pasta dinner…with more bread…and extra butter. In my mid-teen years, I had not learned how to control. Then a few years ago, I was quite the opposite: think skipping meals, not allowing myself that piece of bread (even if I realllllyy wanted it) and ordering salads for every meal. It was deprivation to its fullest definition.
Flash-forward to now and I've finally learned how to find my balance; that is eating in moderation without depriving myself from what I really want. My mantra: Why deprive my body (and my tastebuds for that matter) from something it really craves and/or needs? Also at the same time, why binge on something that I'm not even going to really enjoy, or will make my body feel like crap?
Therefore I pick & chose my battles (i.e. indulgences) while on vacation. For breakfast, I'd have something like a thin slice of bread spread with cream cheese, parsley, and lox with some greens drizzled in herb-infused olive oil and freshly squeezed juice OR a two-egg omelet made with chopped  veggies and a little cheese, a strip of bacon, and a side of fresh fruit or salad.
Lunch would be a big salad piled high with my favorite veggies, olive oil and lemon dressing, and a side or some sort of protein be it chicken or fish. I'd also put a little scoop of anything that looked extra satisfying to me, like some golden garlic potatoes, a baby scoop of chocolate ice cream, or a slice of bread and butter if I wanted it.
Dinner was my most indulgent meal, although I tried to listen to my body and stop when I felt full. The portions were much smaller in the Dominican, so I never felt too stuffed or bloated, though I definitely had my moments. My favorite was by far the Italian-themed restaurant, where I ordered a mushroom spinach salad, roasted chicken, and then the chef brought over a small plate of gourmet fettuccini Alfredo that they prepare from scratch right at your table. Heaven.
With an all-you-can-eat buffet including everything from French toast and pancakes to fried EVERYTHING (including fried cheese), French fries, burgers, and unlimited meat and cheese, I think we did pretty good considering the circumstances.
Back to Reality Tip: Learn to listen to your body, and read into its signals that are telling you "I'm hungry" or "I'm stuffed" or "__ would make me feel really good. Give into your cravings when you know it's something you really want (like homemade tiramisu, a lobster roll from your favorite restaurant, or a glass of wine with a small slice of cheese.) But know your limits, and learn to differentiate cravings and eating out of boredom.
4. Take a Chill Pill & Be Happy: I was the happiest and most relaxed I've been in a long time this past week. Most of that had to do with how at ease I was with myself. With no electronics or cell phone by my side 24/7, I was able to just be and that brought me to a state of utter bliss.
The hydrotherapy (including a series of steam room hot/cold shower, sauna with color therapy, ice room, and warm mud room) and massages we had during our "spa day" also didn't hurt. Nor did the extended-exposure to the sun (with sunscreen of course!)
Back to Reality Tip: Do something every day that's for you and only you, whether it's writing in a journal, getting a massage, or reading for 15 minutes before bed. Also, aim to get at least 10 minutes of pure sunshine each day for the powerful effects of vitamin D including calcium absorption, protection from certain autoimmune diseases, and full out happiness.