Today is one of those days where I found myself pressed for time in the kitchen, let alone to breathe in general. With work at 6 a.m., then straight to a meeting with a client for a health coaching session, and hours of freelance writing in Starbucks, I knew I wouldn't be home for dinner until at least 8:15 p.m.
However, I didn't want to let my action-packed day get in the way of my dietary choices, as I know very well that the more wholesome and balanced the meal, the better I feel overall (mind, body, & soul).
As you know, I'm usually a huge fan of 100% home-cooked, all-natural meals for ideal nutritional benefits, but today I had to be a little flexible due to the time crunch. Instead of settling for ordering in (or dining out), to-go sushi, or bland pasta, I chose to make the most of what I had on hand with a little help from Trader Joes.
Here's what made my plate: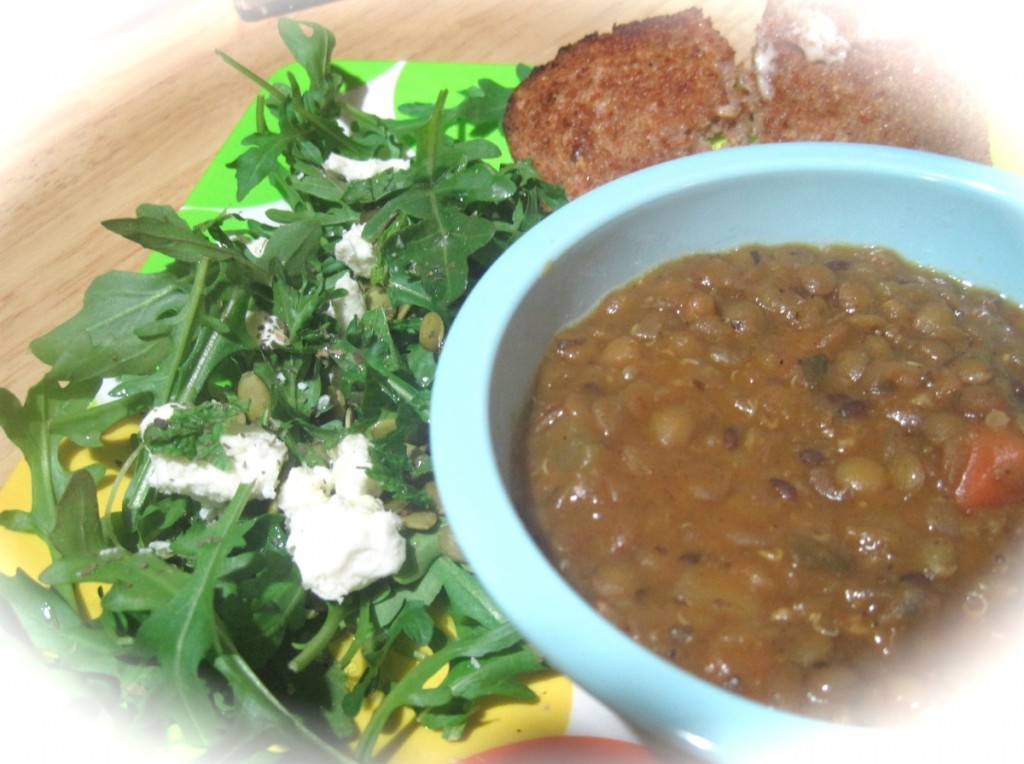 1. Salad with organic arugula + extra virgin olive oil + fresh lemon juice + feta + fresh mint + dried basil + raw pumpkin seeds
2. 1 c. Trader Joe's Lentil Soup with Ancient Grains (delicious vegetarian/gluten free blend of lentils, quinoa and amaranth in a wholesome broth)
3. Piece of low-sodium Ezekiel bread toasted with Grade AA Natural butter from Whole Foods + Himalayan Pink Salt
For a lazy evening, this trio came out pretty darn fabulous, not to mention nutrient-packed and 100% satisfying. You see, sometimes it's worth skipping the admittedly tempting takeout as a 'rescue' and simply making the most of what you have.
Stay tuned for more healthy tips on making quick 'n' easy dinners when pressed for time!
XoXo,