For the majority of the time, I prefer to simply do it myself in all aspects of life given my ability to do so. That being said, I will always pay money for a good-quality manicure, and try as I might, I will never perfect my mom's famous Chicken Divan recipe.
Last week, I concocted my own Sugar Body Scrub for the first time. While I am a huge fan of beauty products and anything that smells good when it comes to bath supplies, I am not a fan of the harmful ingredients that often come along with them like parabens, added colors, and other chemicals. In my mind, if you can't pronounce it or don't recognize it, why put it on your skin, and ultimately in your body? (Same goes to food as well.)
I wanted to craft something that was simple, rejuvenating and smelled good so I chose to use Lemongrass Essential Oil I bought from Whole Foods for its fresh, earthy properties ideal for springtime. In addition, Lemongrass can be used  for a number of health benefits including  aiding sore muscles, boosting confidence and even acting as a natural deodorant! I also added in a touch of Pure Vanilla for its incredible aroma and natural soothing properties.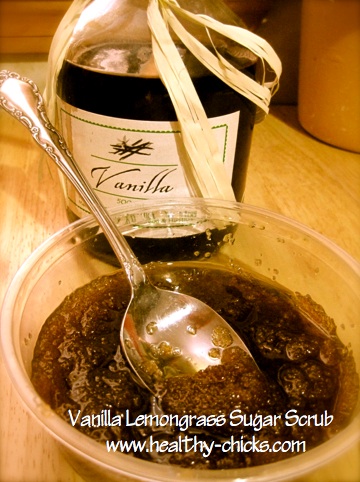 Simple Lemongrass & Vanilla Sugar Body Scrub
1 c. raw sugar

1/2 c. extra virgin olive oil, cold pressed

1 TB pure vanilla

Few drops Lemongrass Essential Oil
To Do: Mix the raw sugar and olive oil together with a wooden spoon. Once well blended, add in the vanilla and Lemongrass drops. Store in an air-tight container or jar.
Apply a small amount to dry or wet skin, smooth on thoroughly and then rinse off for a refreshing, relaxing skin detox. It works wonders for exfoliation, resulting in incredibly silky hands, feet, arms and legs.