I'm usually not a nutrition bar fan, as most are really not nutritional at all. In fact, many contain more sugar, ingredients, and added chemicals (think: sugar additives) than a candy bar. EEK!
That's why I'm always a huge advocate in reading the label. What's the sugar content? Can you recognize those ingredients you're eating? If not, I'd say your best bet is to skip it.
While I have my doubts about many of these bars out there on the market, ever since the Boston Marathon I've fell in love with the Truebar by Bakery on Main. These bars come in six delightful, flavor combinations (Apricot Almond Chai, Coconut Cashew, Fruit and Nut, Hazelnut Chocolate Cherry, Raspberry Chocolate Almond, and Walnut Cappuccino, with their slogan being "I've Got Nothing to Hide." And in fact, they don't.
I love that the ingredients are clearly listed on the label, without any marketing scams or hidden ingredients. Not to mention, all the bars are certified gluten free, Kosher, non-GMO, and both dairy and casein free, so they make for a great snack with those both young 'n' old with food allergies. A  bonus? They're low in sodium, contain no transfats or cholesterol and are made with low-GI ingredients to help keep blood sugar spikes to a minimum, thus controlling your appetite better.
The staff over at Bakery on Main was kind enough to send each of the bars to sample.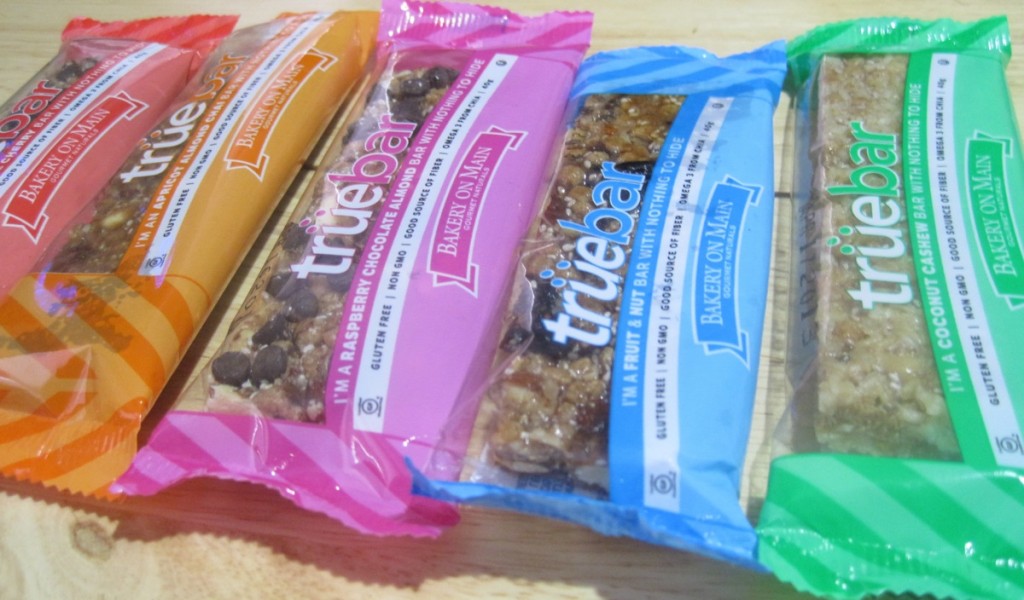 I have to say I enjoyed the Coconut Cashew the most, as I'm a sucker for coconut and it reminded me of a macaroon: absolutely delicious.
Overall, I'm a fan of the Truebar. While the ingredients aren't "perfect" (some have a little much sugar for my liking with added soy) and I'd rather indulge in raw nuts, whole grains and real fruit and vegetables, these bars make for a great choice for those on the go, especially when compared to their competitors.  Because let's face it, many people are BUSY and STRESSED and when you combine those two, it often leads to poor choices when it comes to your diet. Having a more natural bar like this on hand would definitely be a positive step in the right direction!
You can learn more about the company, based locally in Connecticut, here.
Disclosure: I was given products to sample, but all opinions on this blog are my own.