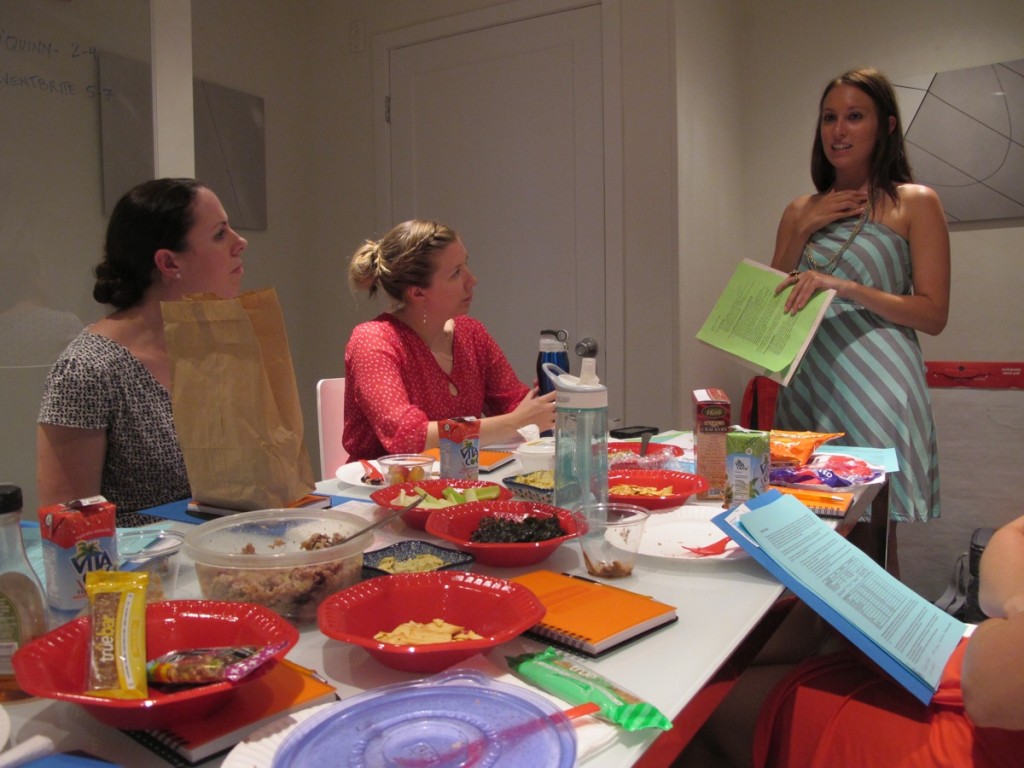 Yesterday evening, I hosted my very first Zesty Living wellness workshop, Get Real (About Food) for a small group of ladies at Oficio on Newbury Street.
While I was slightly nervous during the week leading up to the event, everything went as smooth as can be and I've never felt more confident in the work I am doing and growing my  business. I truly feel I have finally found my calling, and am doing the work I feel most passionate about. It also didn't hurt that I had the support of my wonderful friends and my sister, who captured pictures and videos (and helped me lug all of my heavy bags!).
While you can read a bit more about the event description here, I wanted to share a few highlights from the evening with you.
As attendees trickled in, I had appetizers on the table to snack on like Mediterranean Snacks lentil crackers, Trader Joe's Roasted Seaweed Snacks, organic sliced celery & carrots, and artichoke hummus.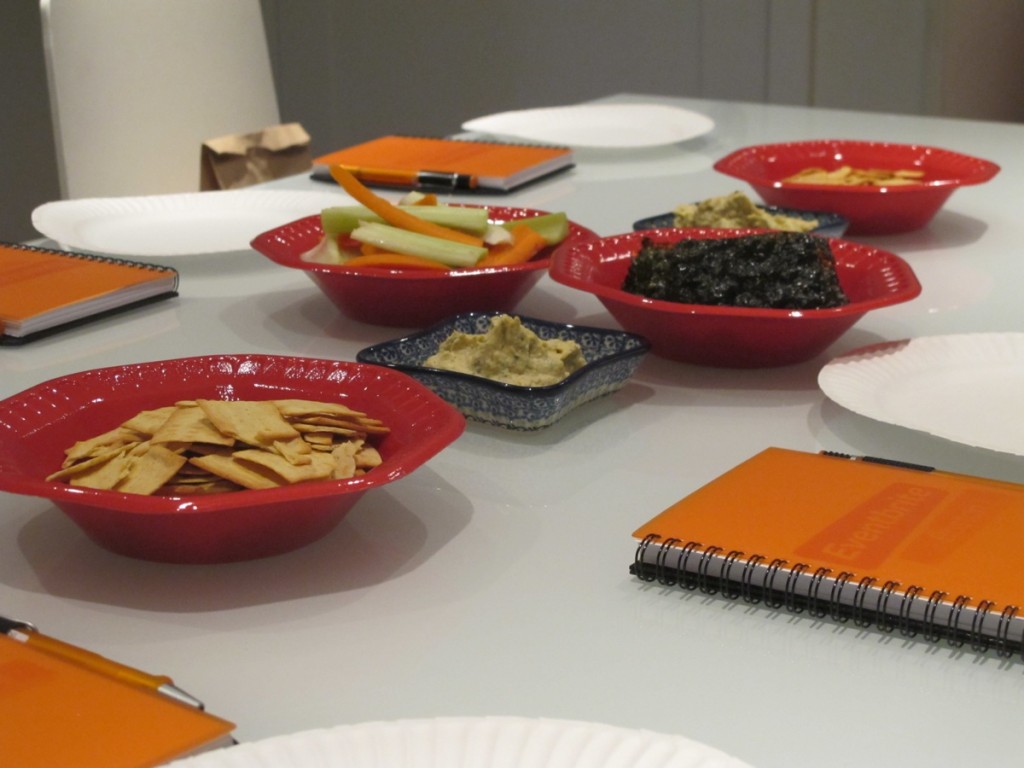 To break the ice, everyone went around the room to share their #1 guilty pleasure or greatest health concern, which ranged from late-night pizza to Mike's Pastry's Amaretto cannoli.  I then shared my personal story of how I escaped a lifetime of dieting to where I am today (happy, confident, and 20+ pounds lighter) all thanks to loving and appreciating my body, and just as importantly: eating real food.
I kicked off the workshop by discussing the top 12 food additives to steer clear of, many of which are frighteningly enough found in most packaged foods today! This includes things such as artificial sweeteners like Aspartame (which is appallingly found in Dannon Light & Fit yogurt), MSG, artificial colors (straight up synthetic chemicals), partially hydrogenated oils (hello trans fat!), and genetically modified organisms (GMOs), all of which have numerous detrimental side effects.
Everyone was completely shocked by some of the statistics, many saying they'll think twice next time they're grocery shopping. I then went into a discussion of my "Top 7 Healthy Foods That Aren't Healthy," offering up healthier, more natural alternatives for each. I covered everything from Diet drinks like Crystal Light and Diet Soda (both containing numerous artificial sweeteners and colors hence drinking CHEMICALS), foods with health claims (low fat! sugar free! all natural! made with 'real'ingredients!) to reduced fat/nonfat foods and wheat products claiming they're "made with whole grains."
For each topic, I gave a number of real-life examples, stressing the importance of READING THE LABEL and knowing the ingredients you're putting into your body. For instance, did you know Skinny Cow ice cream contains high fructose corn syrup, a highly refined sugary substance derived from corn starch that's linked to diabetes and obesity? Or that Vitamin Water is actually owned by Coca Cola and was sued for advertising their product as healthy, even when it contains over 30 grams of sugar, essentially sugar-induced water? Oh, or how about the fact that most veggie burgers out there contain over 60 ingredients, many of which aren't vegetables at all?
While these factoids may seem shocking, it's unfortunately the truth. When sugar-laded breakfast cereals like Lucky Charms have health claims all over the box, and fake packaged cheeses, breads, and snacks stock 99% of the supermarket, we know we are in  HEALTH CRISIS.
Throughout the session, I shared healthier alternatives for the group to try including Vita Coco Coconut Water, a homemade Quinoa & Wild Rice Salad, garlic & basil goat cheese from the Copley Square Farmer's Market with Mary's Gone Cracker's herb crackers, a variety of Truebars and KIND Bars, and almond butter with sliced organic apples. I guess it's fair to say I feed my people well!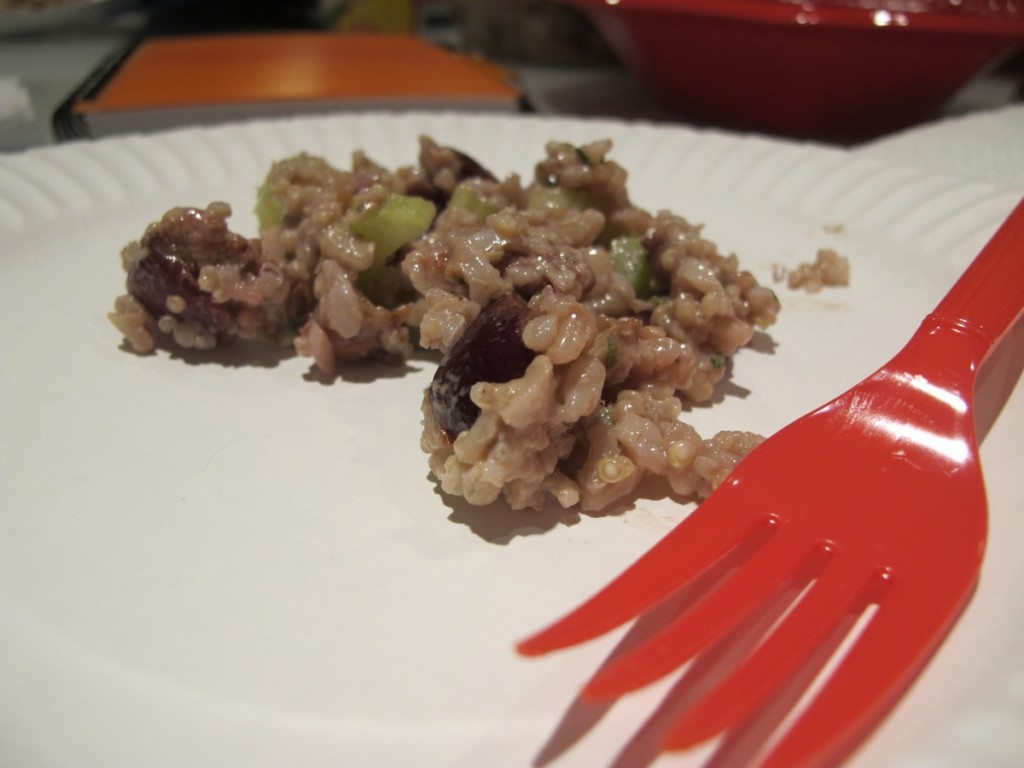 [quinoa & rice salad with goat cheese, celery, cherries and toasted pecans]
After our discussion, I shared my personal tips on how to eat real food in a society where real food is hard to come by, including one of my favorites: eating whole fruits and vegetables that don't come in a package and shopping from local farmer's markets. We then concluded the workshop with a quick Q & A session, where I answered any last minute questions that weren't covered during the evening.
Each attendee left with a little brown goodie bag including:
Vita Coco Coconut Waters
Exhale pass for a comp Core Fusion or Yoga class
a variety of herbal and green teas
Truebars
Kind Bars
organic chocolate
An Eventbrite notebook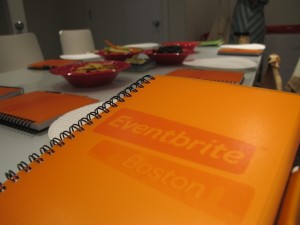 I can say with 100% confidence (and a huge grin on my face) that the event was a success. I look forward to hosting additional workshops in the Boston area, and will keep you posted on my next one in July! Big thank you to Eventbrite for inviting me to take part in their Week of Wellness in Boston.
To learn more about my program, or to sign up for my newsletter, visit my website or contact me for more information.
What's your diet like? What are areas you wish to improve on? Do you eat REAL food?