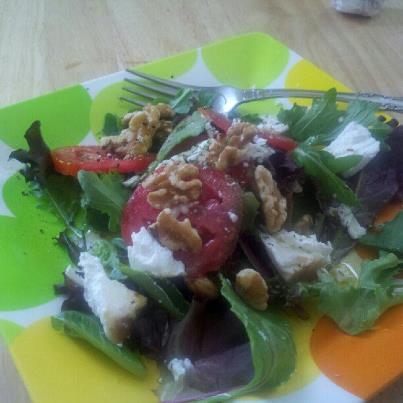 I whipped this recipe up for lunch this afternoon when I was in a rush to catch a train. It's such a delightful combination, providing cooling effects with summer vegetables like leafy greens, tomato and cucumber with a savory touch from the walnuts and soft, goat cheese. A summer classic.
Goat Cheese Summer Salad
1 c. leafy greens like spinach, arugula and kale
1 tsp. extra virgin olive oil
1 TB apple cider vinegar
juice of 1/4 lemon, fresh
1 small roma tomato, sliced
1/4 c. cucumber, chopped
1/8 c. walnuts, chopped
1 oz goat cheese
Mix vegetables together, and then add in lemon juice, apple cider vinegar and olive oil for dressing. Top with salt and pepper to taste.