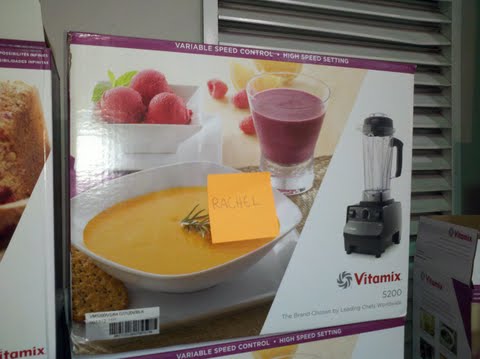 Every woman has something that they can justify spending their money on. For some it's new shoes, a watch or even a car, but for me it's anything to do with my health. That's why I dropped $450 + on a Vitamix last weekend at the Natural Living Health Expo in Sturbridge, MA.
Normally, I'd think it would be crazy to spend over $400 on a blender, but you see the Vitamix 5200 is no ordinary blender. Rather, I consider it an investment for my health.
You see, I have been a lover of green smoothies and juices for a while now, and no machine could do the trick. I'd sacrifice nutritious skin and fiber that would get eaten up by my juicer, or have to use 1,000 carrots just to create a cup of liquid. Not to mention the number of times I'd press blend and nothing would happen. I was losing hope.
Then entered the Vitamix. I had been dreaming of owning this machine for some time now, but I just didn't think it was in my budget. However, it took just two minutes watching the live demo at the health expo, and I was sold. The super-friendly gentleman running the demos showed us how to make a delicious green smoothie, cashew ice cream, and even smoking hot tortilla soup, all in just minutes. I was completely flabbergasted.
I want this machine. Scratch that. I need this machine.
I looked over at The Boy and told him I was going to do it. In a matter of minutes, I found myself signing the copy of my receipt as I stared at my beautiful new baby. I felt like Ralphie on A Christmas Story when he finally gets his Red Ryder BB gun for Christmas; I simply couldn't stop smiling.
So far, I've been more than pleased. Last night we made Potato Spinach soup with chicken, which we kind of butchered the recipe a bit so it was just "OK." But today I made my first green smoothie with kale, carrots, celery, blueberries, banana, a bit of milk, macca powder, and cinnamon and it was to die for. When I flipped the switch to "high" and saw the veggies and fruit get crushed in a split second, creating a beautifully smooth purple concoction, I knew I'd found my match.
Stay tuned for more antics from a proud Vitamix owner…
Note: Looking to purchase a Vitamix of your own? As an affiliate, I can offer you free shipping (a $25 savings) on your order by clicking on the image below. Enjoy!