I first fell in love with pesto when I studied abroad in Italy one summer during college. Nothing compares to the delicious blend of basil, walnuts, garlic and freshly shaved parmesan cheese. While I love pesto, I don't cook with it as much as I'd like to because a.) I'm not a huge fan of store-bought varieties and b.) making your own can be quite a mess. (Side note: I will most likely be making my own more now that I own a Vitamix!)
For those of you who enjoy pesto, but aren't in the mood to battle with your food processor, this recipe is for you. Instead of making a pesto sauce, I combined all the ingredients into my pasta dish to create the same flavors in half the time. Oh, and it's gluten free friendly!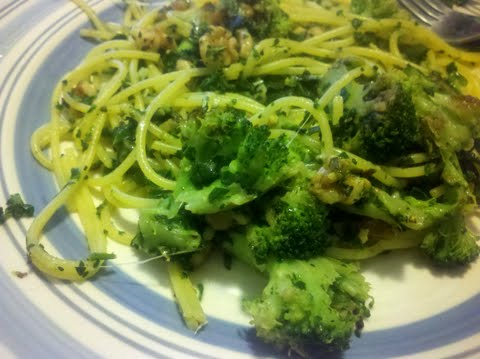 Quinoa Pasta with Lazy Girl's Pesto
Makes two servings
1 to 1 1/2 c. quinoa pasta (you can substitute brown rice pasta if you'd like)
2 cloves garlic (I use more because I'm a huge fan of garlic)
1. c frozen broccoli
1 c. frozen spinach
2 TB coconut oil
1/4 c. freshly grated parmesan cheese
2 TB walnuts, chopped
approximately 1 TB dried basil
sea salt & pepper to taste
1. Cook the pasta according to directions. In the meantime, coat skillet with coconut oil on medium heat. Add garlic and sauté for about a minute.
2. Mix in frozen broccoli and spinach, and cook for about 5 minute, or until vegetables are cooked through. Add in basil, walnuts salt and pepper.
3. Once pasta is cooked, drain and mix into vegetable mixture. Slowly stir in parmesan cheese until melted, and enjoy.
Feel free to play around with the vegetables, by adding in tomatoes, asparagus, mushrooms or onion. OK, I'm off to finish some work, watch some television, and then hit they hay early. I'm running ELEVEN miles tomorrow for my half marathon training, so I want to make sure I'm carbed-up and well rested.
XoXo,