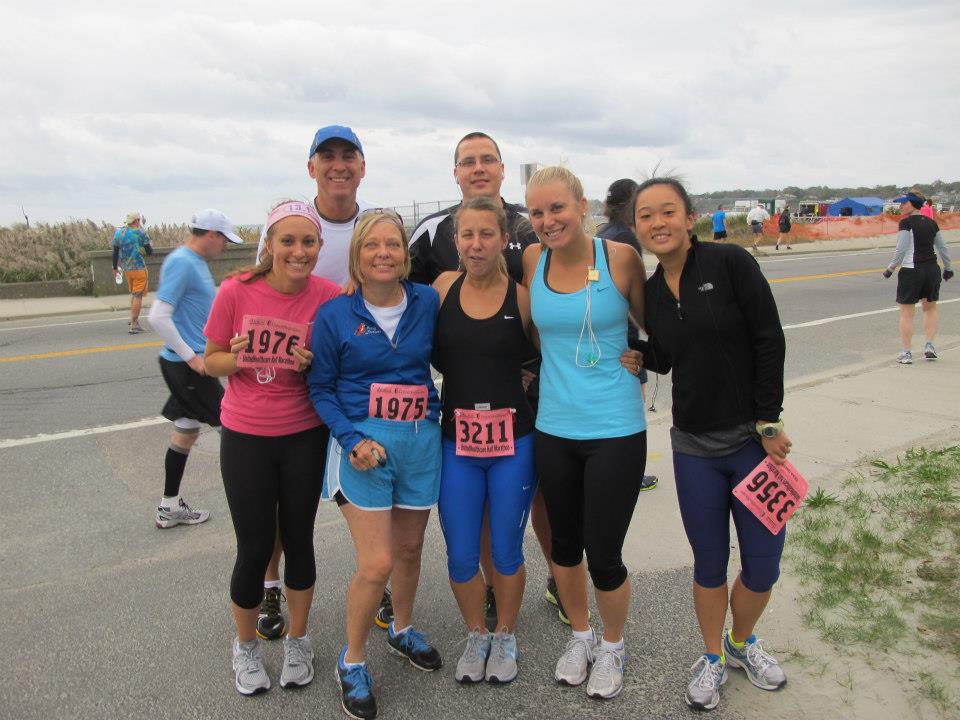 [the clan – me, dad, mom, cousin & husband, sister, and friend]
This past Saturday, my family and I woke up at in the wee hours of the morning at 5 a.m. to drive up to Newport, Rhode Island. The day of the Newport United Healthcare Half Marathon had finally come. It was hard to believe that it had already been one year since last year's half marathon in Newport, which is now becoming a family tradition of sorts.
But this time was different than all the rest. This time I was determined to push myself, to run hard, to get after that PR. During my training runs, I realized something that I hadn't known before: I could run faster. I am strong. I can do it. You see, I've always sort of held back and ran happily in my comfort zone during all my prior runs. I didn't want to risk burning myself out too soon, and then not being able to finish a run, especially on race day. However, once I realized that I could pick up my speed and find a comfortable stride, I realized I wasn't giving myself enough credit as a runner.
My first half marathon was in April 2011 in NYC, and I crossed the finish line at 2:09:10. Then, six months later, I ran my second half marathon October 2012 in Newport in 2:06:30. This time, I had my heart set on running strong and hard, and I finished in 2:00:05.
Not only did I shatter my personal record by more than SIX MINUTES, but I almost broke my secret goal of two hours! And, according to all of our running watches, the race was actually a bit longer than 13.1 miles (13.27 according to my watch) so in that case I broke two hours by at least a minute. I'm going to say I did it (even if it's not officially official), because at least I did in my heart. Plus, what's five seconds anyway? One less water break and I'd have done it!
It felt amazing to run hard, and feel strong while crossing that finish line. It felt even more amazing seeing my family and The Boy cheering me on (and snapping photos) as I sprinted in. That's what it's all about after all. That feeling you get when you finish and can look back and say, "I did it. I really did it." Nothing beats that feeling.