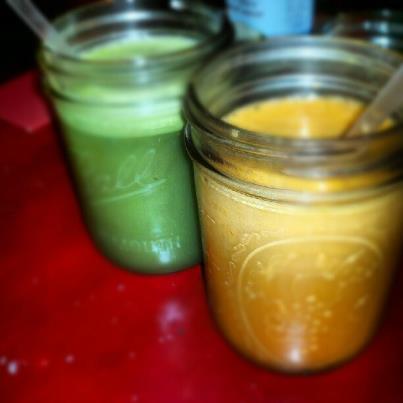 [colorful juices at Life Alive!]
Good morning ladies. I gave my blog a makeover yesterday: a facial, hairdo, the works! How do you like the new look? I've been looking for something a little more clean and fresh, that still shows off my fun, girly style and I think I found just that.
Last night, I met my friend Megan to celebrate her engagement! We started with hot yoga at Prana Power Yoga in Central Square for a Prana 2 Music class, which was an incredible 75-minute sweat fest. I loved the music, energy and general vibe of the class. Everyone was so concentrated on their particular practice, without any judgement or too much critique (I hate when the entire class is the teacher "fixing" your posture although I do appreciate some direction).
I set my intention for my practice to be ROCKING MY BUSINESS and wishing my boyfriend safe travels on his upcoming trip with his mother.  His mother has been battling Early Onset Alzheimer's for the past seven years, and with numerous medications and treatments she has continued to get worse. That's why my boyfriend decided to take matters into his own hands, and is going to take her to the Living Foods Institute in Atlanta, GA for a 17-day intensive holistic program including colonics, massage, spiritual cleansing, detox, and a boatload of raw, living foods. I have high hopes that this treatment is going to help his mother heal and slowly get some of her independence back. You can read more about his trip here, or donate if you choose.
OK, back to last night. After yoga, I took Megan to Live Alive since she's never been and I knew she'd fall in love. Live Alive is a beautiful organic cafe located in Central Square, with a number of healthy, feel-good dishes. We both ordered demi warm plates (the Lover for me, the Healer for her) and some fresh juice (Thrive Alive and Jive Alive). I always feel so relaxed and zen at Live Alive, and would go there everyday if it was up to me. I'm glad Megan felt the same!
Now, for a FALL SPECIAL announcement: I am running some specials for my business Zesty Living, on both 3-month and 6-month programs and my Healthy Grocery Store Tours (for those in the Boston area). Program specials expire 10/31 and store tours must be booked by 11/11. For more information, or to sign up for a FREE initial health consultation, visit my website.
Have a wonderful day!
Rachel