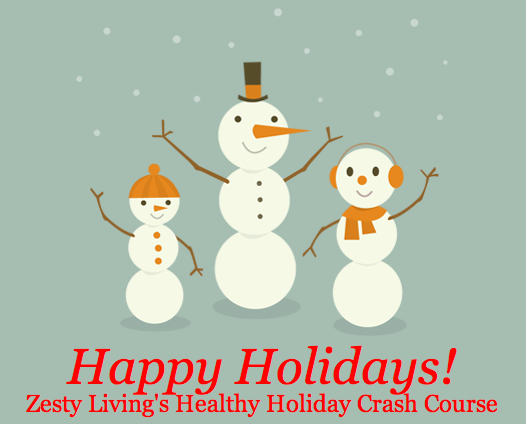 The weather outside is frightful and the fire is so delightful, but for some reason your holiday season is turning out to be complete chaos. From running around like a chicken with your head cut off to find the perfect gifts for your kids to the temptation and guilt that comes from work cocktail parties, you're likely feeling completely out of control, and you're not alone.
Survive the holiday season without gaining a muffin top (and completely losing your mind) with Zesty Living's Healthy Holiday Crash Course.The course begins the first week of December, as I hold your hand and coach you throughout the holiday season.
Your December Holiday Crash Course includes:
One initial 30-minute power session to discuss your goals, dietary restrictions, and health concerns with simple tips to get you started right away (Over the phone)
Weekly emails every Monday (4 total) with recipes, tips, handouts and articles to keep you on track
A healthy holiday shopping list to jumpstart your success!
Unlimited email support to guide you along the way
One 60-minute phone session upon completion of course to discuss improvements, Q & A, and anything on your mind!
BONUS: FREE one-hour healthy shopping tour (limited to Boston area) OR workout DVD
Topics covered in this course include: Healthy Holiday Shopping, Easy & Delicious Party Recipes, Taming Your Sweet Tooth & Craving Control, Self Care & Stress Reduction, and Staying Motivated & Setting Your Intentions for the New Year.
Sign up for your Holiday Crash Course today for a special price of only $89. Consider it my holiday gift to you. Email me at rachel@myzestyliving.com or visit my website Zesty Living to learn more.
P.S. Stumped on what to get that special someone this holiday season? Consider purchasing a high-speed Vitamix blender to make energizing green smoothies, heart-warming soups, and more all season long! Followthis link or enter code 06-00 7907 at checkout to recieve FREE shipping (a $25 value). I'm in LOVE with mine, and know it'd make the perfect gift for someone you love…