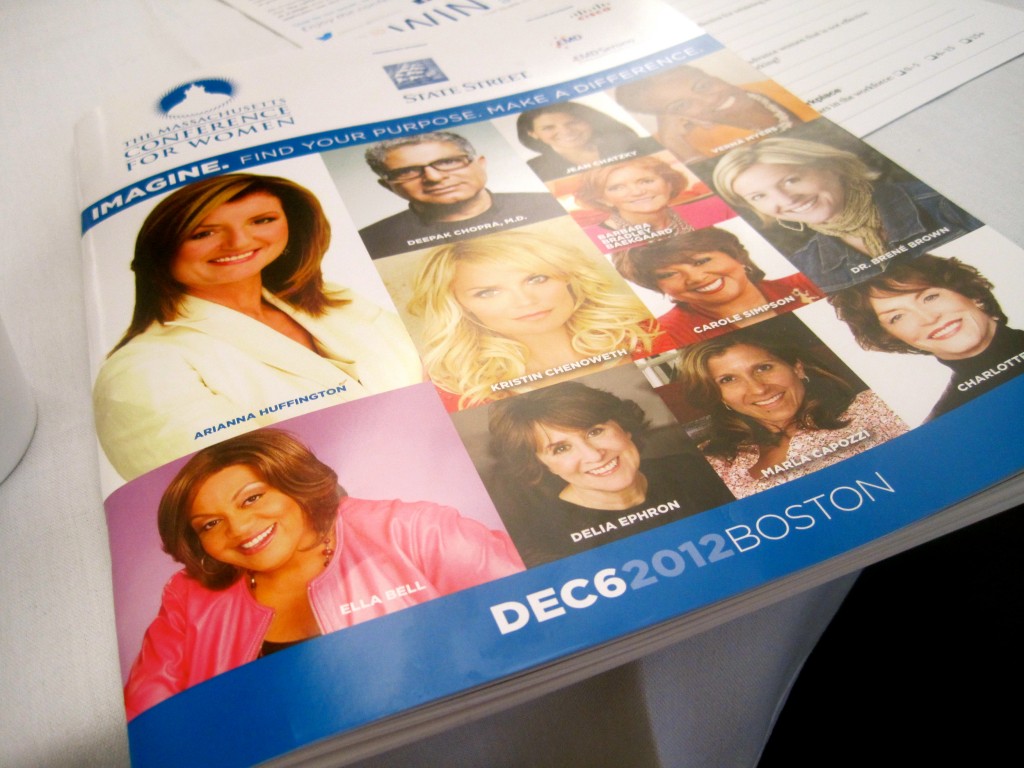 Yesterday, I was fortunate enough to attend the Massachusetts Conference for Women at the Boston Convention Center, in a space filled with 8,000 inspiring women, thanks to my blogging partnership with Harvard Pilgrim's "Count Us In" initiative. This enabled me to simply enjoy the day, take notes and breathe everything in.
My day started at 8 a.m. when I arrived for registration, coffee and continental breakfast, followed by keynote speakers including Dr. Brené Brown, and the fascinating spiritual guru Deepak Chopra.
Then, it was  a morning of action-packed learning including Personal Development Sessions "Five Seconds to a Healthier and Happier You" with relationship expert/bestselling author Mel Robbins, and "Using Your Professional Skills to Make a Difference" with panelists Renee Connolly (VP of EMD Serono and Board Member of Mass Conference for Women), Charley Johnson (president of Pay it Forward Foundation), Sharon Reilly (founder of Women's Lunch Place) and Doreen Rigby (Executive VP of Global Operations, State Street Corporation).
During our lovely lunch (fresh salad with toppings like feta, chicken, olives, peppers, tomatoes and mini carrot cake muffins/truffles for dessert) we heard from a number powerful women including Ariana Huffington (President of the Huffington Post Media Group), Emmy and Tony Award Winner Kristin Chenoweth (who actually sang two of her beautiful numbers and had the whole room in awe with goosebumps), and co-founder of Vera Bradley, Barbara Bradley Baekgaard herself.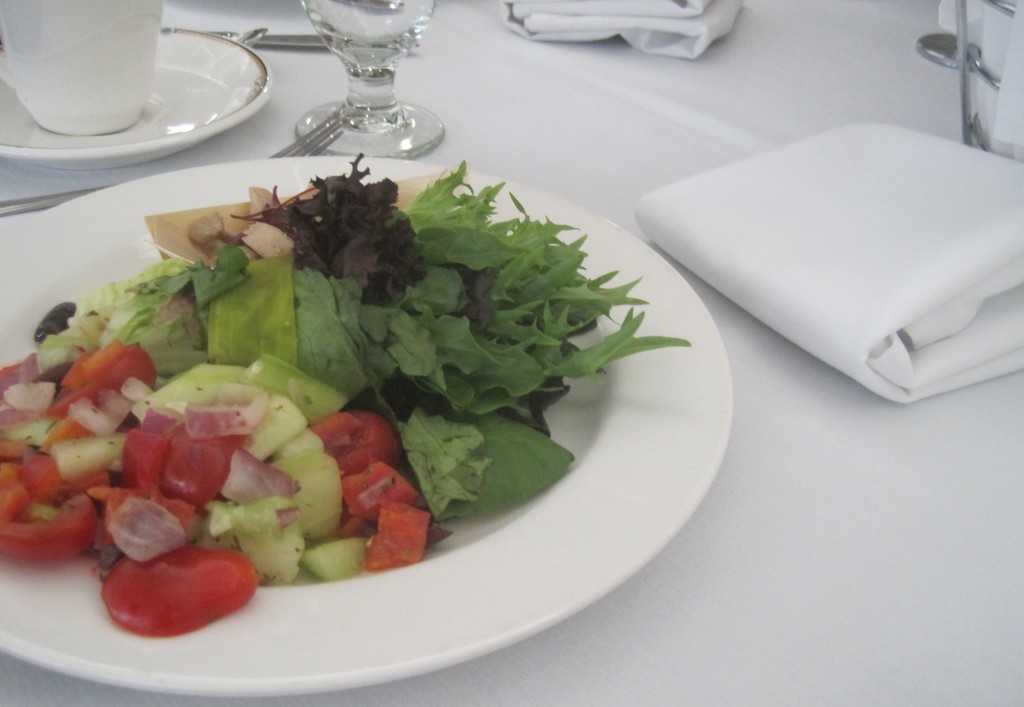 I finished out the rest of the afternoon networking with some incredible women, walking around the Health Pavilion and Career Pavilion (filled with brands from Rebook and Olivia's Organics to nonprofits like yogaHOPE and Big Sister Association of Greater Boston), and wrapping up the evening with  Spark & Hustle Small Business Boot Camp's "Pitch It!"
While it's nearly impossible to wrap up everything I learned in a blog post, I wanted to share with you 11 valuable lessons I took away from the conference. But one thing is clear: that was hands down one of the most empowering days in my entire life. Hands down.
11 INSIGHTFUL TAKEAWAYS
1. VALUE YOUR RELATIONSHIPS: According to Charlotte Beers, who was named "The Most Powerful Woman In Advertising,"It's not about the work; it's about the relationships you make." As women we're naturally inclined to compete and become envious of one another, but instead we need to come together and build meaningful, powerful relationships for true success.
2. RELISH IN THE COMPANY OF PEOPLE YOU ADMIRE: Marla Copozzi, leader of McKinsey & Company's global innovation practice, put it perfectly: "Spend time finding other people who can make you feel great." There's nothing quite like the power of others.
3. LET YOUR INNER GODDESS SHINE THROUGH: The ever-so-inspiring Dr. Brené Brown explained that "the millisecond you decide to step into your power, you open yourself up to all kinds of stuff." She also reminded us that it's OK to be vulnerable, and that our vulnerability is a measure of our courage. "Show up, take risks and be really clear about your values," she added.
4. WE NEED A WISDOM BASED CULTURE, according to Deepak Chopra.
5. IF YOU HAVE AN IDEA, DO IT IN FIVE SECONDS OR LESS: Mel Robbins, relationship expert, bestselling author and host of A & Es Monster-In-Laws, explained that we have just five seconds to take action before our brain kills the idea. Thus, we must realize that our lives can change in five seconds, so be sure to seek out small opportunities in each day! A few things you can do to start: (1) don't hit the snooze button because that's starting your day procrastinating (2) never check your phone in bed because that sets the day up as overwhelming when you're not even vertical yet (3) Name two things you want to get done each day for YOU (4) Find a 30 minute block of time to schedule your "to-dos."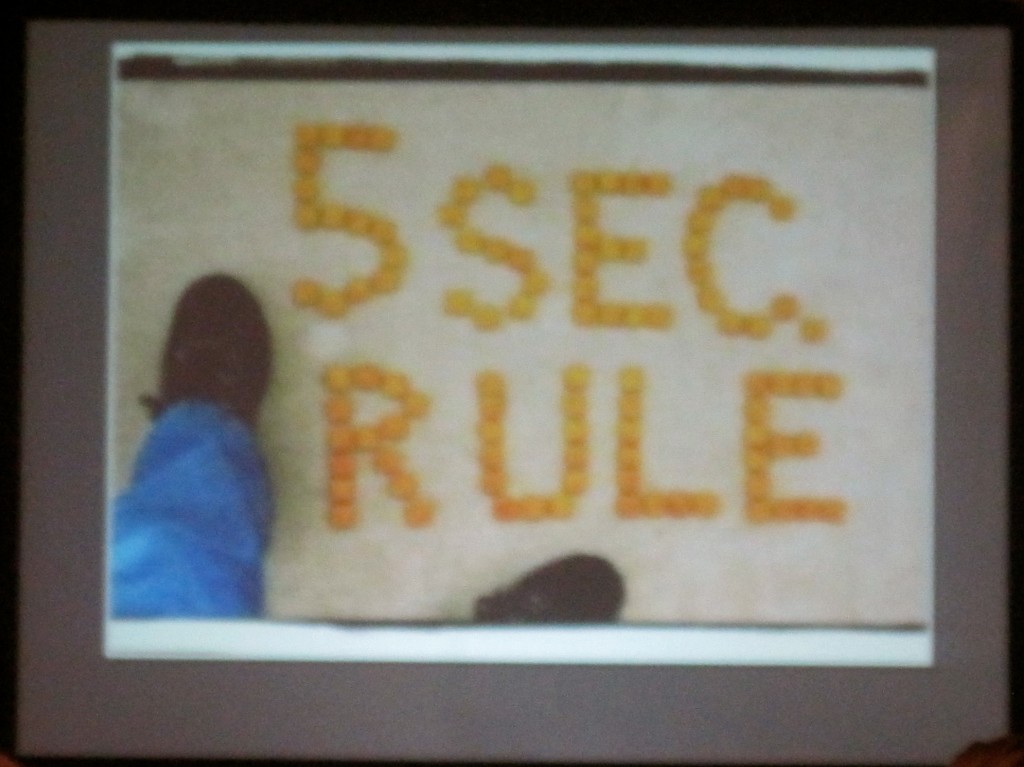 6. GET IN FRONT OF PEOPLE: Mel Robbins mentioned that at these kinds of conferences, women tend to stick to their social networks, shying away from meeting new people or putting themselves out there. This happens every day. We hide behind our laptops, our iPhones, our books, our music instead of communicating with people. She encouraged each and every one of us to make it a big goal to get 25 business cards while at the conference. I am proud to say I collected 21. I was not afraid. I put fear behind me, and simply started a conversation with a stranger. And you no what? Not as scary as it sounds.
7. DO SOMETHING GOOD EVERY DAY: President of the Pay it Forward Foundation, Charley Johnson, explained that people often only give back around the holidays, by donating to food drives during Christmas or Thanksgiving once or twice a year. However, he challenges us all to do something good every day, even if it's the little things like holding the door for someone, holding back from flicking someone off in the midst of road rage, or stopping yourself before picking a nasty, loud, screaming fight with your family.
8. JUST DO IT: Barbara Bradley Baekgaard, co-founder of Vera Bradley, said that if you have an interesting business idea (yes, her Vera Bradley bags once started as just an idea), JUST DO IT. "Don't worry about dotting every i and crossing every t," she said. When she started her company, she had no money at all and had to borrow $200 from her husband, but she believed in her idea. Now look where she is.
9. SELLING YOURSELF TRUMPS ALL: Barbara Bradley Baekgaard's quote from her father says it best: "Sell yourself first, your company second and your product third." Did I  mention Barbara was one of the nicest, most humble woman there? In fact, she gave each attendee an adorable Veera Bradley change purse to take home!
10. BE BRAVE, EVERY DAY. I can't even believe that I'm saying this, but I actually stood up in front of a room of 100+ women with a MICROPHONE and pitched myself & my business. "My name is Rachel Chemerynski from Zesty Living Health Coaching and I motivate women to de-stress, gain energy and ultimately get their inner zesty back through personalized one-on-one coaching. I work with clients both locally in the Boston area, by phone or through Skype. I'd like to invite you to sign up for a free initial health consultation with me today." BAM. It felt amazing. The only advice the critics (or "sharks" I like to call them if you watch Shark Tank) was to use powerful words, such as "empower" instead of "motivate." That one brave thing I did lead to three incredible conversations, 8 business card exchanges and a powerful discussion with one of the hosts (hopefully future mentor) who told me to call her any time, and that I'm going to completely rock it! I think I'm still on a high.
11. IMAGINE: Imagine was the theme of the conference. So go ahead and imagine what you want your life to be like, and then go out there and get it. On this note, Kristin Chenoweth urges us to listen to that little voice inside your head and those gut instincts because more often than not, it's right.
What was your favorite piece of advice? What do you hope to work on both in your personal life and career?
Note: I have partnered with Harvard Pilgrim on this sponsored post but as always, the thoughts and opinions expressed are my own.