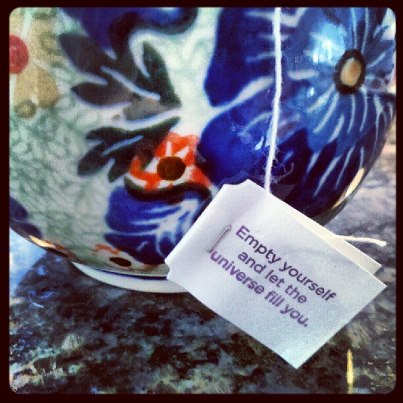 I'm a firm believer in horoscopes, karma, fortunes and having faith in general. That's why I get giddy every time I unwrap a yogi tea bag before brewing. If you're not familiar with yogi tea, each and every tea bag has some words of wisdom, a fortune if you will.
And this morning my fortune read: Empty yourself and let the universe fill you.
I must admit, I had to think about this one for a bit to see what this message truly meant for me, for my lifestyle. Empty myself and let the universe fill me?
For me, it means to empty yourself from all those negative thoughts that hold you back and bring you down, and let the universe fill you up with positive, feel-good energy. After all, if you put good energy out there, the universe will be on your side.
I think a lot of us struggle with negative, glass-is-half-empty thoughts every now and then. One way to "shush" these thoughts is by practicing positive affirmations on a daily basis, something I try to instill in my clients during my health coaching program.
The practice of positive affirmations is simply telling yourself positive, pick-me-up things, that eventually become a part of you once you believe them as truth.
Here are some examples to get you started:
*I am beautiful, just the way I am.
*My body is strong, and enables me to get up and move on a daily basis
*I desserve to be successful
*I am happy and living a fulfilled life
*I love myself more than anything or anyone
*I can do anything it is that I want to do. This is my life.
What are some positive affirmations you would tell yourself? What are some little ways you can let go of negative energy, to make room for the universe to work its magic?