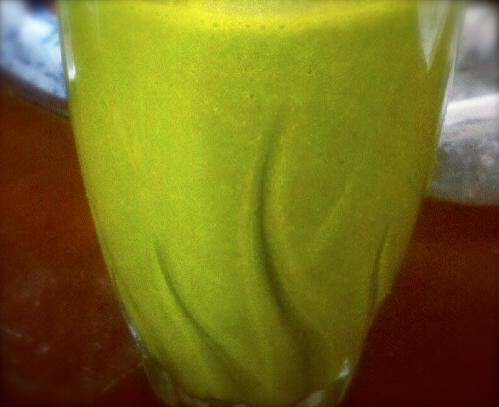 Good morning Healthy Chickies, and Happy Day-Before-New-Year's-Eve. Since I'm still getting over some sniffles from the holidays, I've been trying to eat (and drink) with my health in mind, paying extra attention to the foods that are going to fill me up and make me feel strong & healthy.
This morning, I whipped up a health-boosting green smoothie in the Vitamix, carefully choosing ingredients that'd work on my side as I knock this cold to the ground.
Hope you enjoy!
Health Boosting, Anti-Inflammatory Green Smoothie
Serves 2
About 1 c. unsweetened coconut or almond milk
3 large handfulls baby spinach (fill to about 3/4 of the blender): high in vitamin K and A & rich in cancer-fighting antioxidants
3 carrots – rich in antioxidants like Beta Carotene
3 celery stalks – high in vitamin A & C, boost immune system and have been used to help lower blood pressure
2 cloves garlic – antioxidant, anti-inflammatory, antibiotic, anti-infection…need i go on?
juice of 1 small lemon – strengthen immunity, cleanse the stomach & liver, fabulous detox to name a few
1 large apple – good amount of soluble fiber and have also been known to reduce LDL ("bad cholesterol")
1 banana – potassium and bone health
1 TB ground flax seed – rich in Omega 3s for healthy skin, hair & nails and also improves digestive health
few pinches ground ginger – natural treatment for colds; reduces pain & inflammation
4 ice cubes
Blend in a high-speed blender like the Vitamix for about 30 seconds, and enjoy right away!
Note: If you are interested in investing in a Vitamix yourself, contact me with any questions about the machine. I can also give you a code to get FREE shipping (normally $25). Email me for more deets.