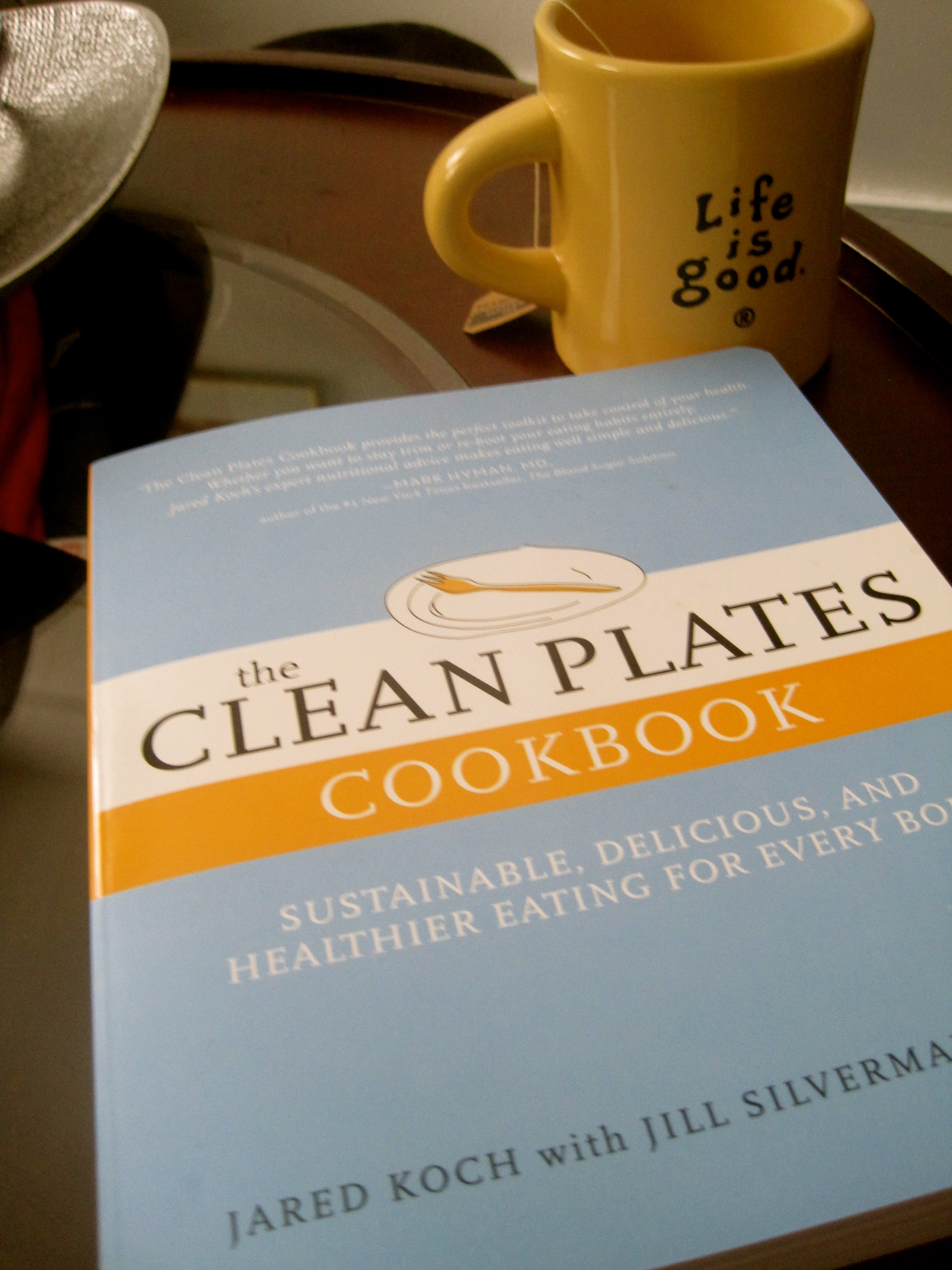 Good afternoon ladies, and Happy New Year's Eve! I hope you all have a magical evening celebrating life, and everything positive that happened for you this past year, while also celebrating the year to come. If you haven't already done so, you can read my newsletter on setting intentions for yourself in 2013 over here.
Clean Plates Cookbook: Background
OK, 'nough about me. It's time for a book review of Clean Plates Cookbook, written by Nutritional Consultant and Founder of Clean Plates Jared Koch with Cookbook Author Jill Silverman Hough.
I was particularly excited to read this book, as Jared Koch is not only a fellow graduate of IIN but he's also someone whom I admire greatly for his success as an entrepreneur in the wellness field.
Bio-Individuality
One of the main concepts that shines throughout the book is something we learned at Institute for Integrative Nutrition: bio-individuality, or that one way of eating doesn't work for everyone. While vegan dining may suit your best friend, you may thrive on high-quality, organic meats. Simply put, we choose what to put inside our bodies to make us feel our ultimate best. Jared explains this process further in Chapter 2.
Clean Plates Cookbook offers meals for literally anyone (no matter what their food preference), but there's one catch: they are all clean, meaning they're made using high quality, wholesome, natural ingredients. And I mean, who doesn't want that?
Real, Quality Food
I adore that all the recipes utilize REAL, quality food. If you've been reading my blog for a while, you know how I'm a real-food fanatic. What does real food mean? It means your great-grandmother would recognize it at the grocery store. It means you know where it came from. It means it wasn't artificially or chemically "enhanced" in a factory. Real food is pure. Then comes quality, meaning choosing fresh, organic and local food when you can for optimal nourishment.
80/20
In the first half of the book, the authors cover a number of healthy eating principles, including following a plant-based diet, everything you need to know about grains, nuts and seeds, and the basics of eating meat in moderation. However, even with all the wonderful nutritional information throughout the book, they still get that we can't be perfect all the time. That's where the 80/20 rule comes in. Make healthy, good-for-your-body choices 80% of the time, and leave 20% for those gotta-have-it "splurges." If you can train your body to crave healthy foods that you know are going to make you feel incredible, the 80/20 rule is easy to pick up on.
Variety of Scrumptious Recipes
Now comes the good part, the part you've all been waiting for: the recipes! The book is laid out into easy-to-follow sections, with recipes for Beverages, Eggs, Breakfasts & Breads, Snacks & Apps, Soups, Salads & Sides, Entrees, Desserts and Basics.
I for one have my eye on a number of the recipes, and can't wait to get my hands on the Potato, Leek & Spinach Frittata, Garlic Mashed Butternut Squash, Gluten-Free Chicken Meatballs and Cacao Cherry Brownies to name a few.
I love how all the recipes are clearly labeled as Vegetarian, Vegan, Dairy-Free, Gluten-Free, Naturally Sweetened, Raw, and Omnivore Friendly, making it easy to choose recipes that are right for your diet.
I would definitely recommend Clean Plates Cookbook to anyone looking to healthy-up their diet, or those who would like to break out of their comfort level in the kitchen and expand their recipe palates. Purchase your copy here, or learn more about Jared Koch's Clean Plates initiative here.