As hard as it may be to do so, I think it's vital to focus on the feel-goods in your life every day. At the beginning and the end of the day, I try to find a few things that I'm thankful for or blessed to have. They can be the little things, like being able to run 3 miles bundled up in the cold (even when you'd rather stay in bed) or the big things: the life-changing things.
Often this comes up during health coaching, when women feel as though they aren't "enough" or could be doing "better." I try to re-shift their thoughts and remind them of all the wonderful achievements they already have, to focus on all of the good (that you showed up for yoga, your glorious family, the home-cooked, nutritious meal you made for your boyfriend) and let go of all of the "bad" (that you skipped the gym, that your thighs are too big, that you didn't get what you wanted.)
Things I am thankful right now:
–That my dad survived a bad car crash the other night on the highway, even though the car was totaled: He spun out on ice and the car turned facing the wrong way, shut down and all the lights turned off (in the middle of the highway). As he saw a large van speeding toward him, my dad said that he thought that was it for him. He couldn't get out as the van would hit him, so all he could do was pray. Luckily, at the last minute the other car saw him and came to an abrupt stop, totaling the car. Even thought his car was totaled, he is alive and everyone came out with no injuries. That I am forever thankful for.
–That The Boy brought me a delicious bowl of steel cut oats with almond butter, cinnamon, flax seed and all the fixings, along with a cup of organic Equal Exchange Love Buzz coffee while I was catching up on some work. While we may argue occasionally or butt heads now and then (it's our first year living together) I am thankful for his everyday acts of love & that he appreciate living a healthy lifestyle like me. I also admire his ability to stay positive even through the really tough times he's been going through. He is a glass-is-half-full winner in my books 🙂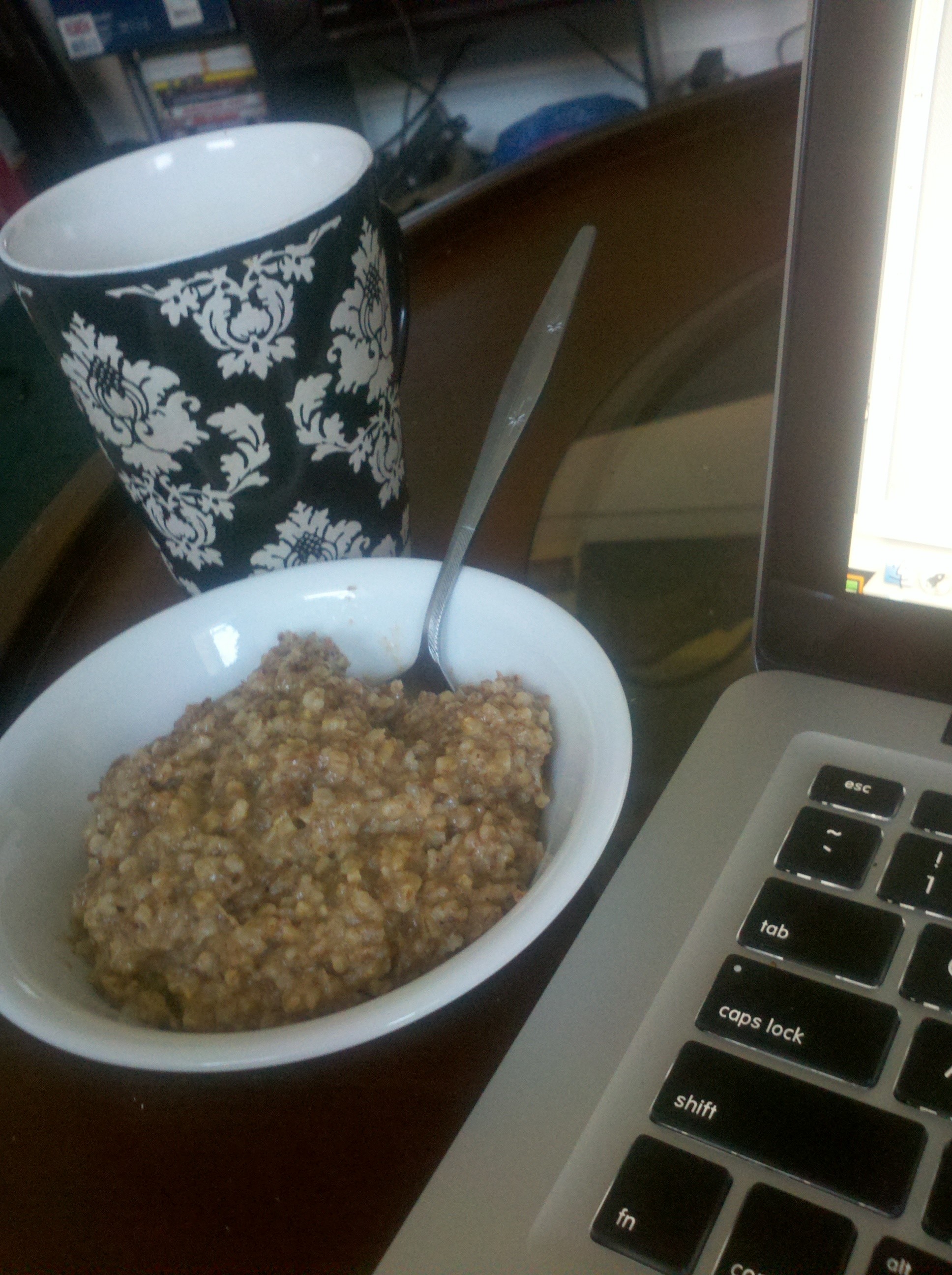 –That my body was able to carry me through a 90-minute invigorating hot yoga class at Prana Power Yoga in Central Square yesterday, and that I fought my desire to sleep in and instead do something nice for myself. I am also thankful for a beautiful song I discovered during the class: Places I know by Lykee Li. Her voice is angelic.
–That I can write well…and that it's finally starting to pay off in a big way!
-For my creativity & a new project under works that I couldn't be more excited about. I promise to share with you as soon as everything launches!
–For all my beautiful, inspiring friends & people who support me in my life like:
My lovely friend Kelley who treated me to a cup of French Press coffee and Sunrise breakfast sandwich at an adorable little cafe in Cambridge – Mariposa Bakery (all of their food is cooked there and most is organic & locally sourced). Kel is a beautiful friend (and fellow health coach) whose passion and soothing nature radiates! Our time together is always the best.
My best friend Morgan who sends me feel-good texts and cheer-me-ups all the time, and who is also my #1 venting gal. Whenever we need to let things off our chests, we meet up and know that we're both there for each other, 100% judgement-free. We just "get" each other perfectly. Yesterday she let me know how excited and proud of me she is…a message that came at the perfect time.
My old boss who sent me an email this morning to thank me for a delicious recipe I posted a couple months ago on my blog that he made for his family. He wanted to remind me that people are listening to my blog, and that I made a difference in his home. It was a wonderful email to wake up to. The reason I write, coach, and share all of this information is to make a difference in the lives of others. This right here makes me smile big.
What are you thankful for right now? Let it out…don't be shy!