Quinoa and I have quite the love affair. I discovered this grain-like seed a few years ago when I was dealing with gluten issues and haven't looked back since.
I typically enjoy quinoa at least twice a week and  unsurprisingly, it's quickly become one of my favorite kitchen staples. Really, I never go without it. In fact, we have three bags of it in our cupboards now. (Hey, you never know when you'll need it!)
Quickie Quinoa Facts
While many refer to quinoa as a grain based on the similarities, quinoa is in fact a seed.
It's 100% gluten free, making it a great choice for someone with Celiac's or a gluten sensitivity, or for those who don't digest gluten-heavy grains very well. As an added benefit, it's also very easy for most to digest!
It cooks up in about 15 minutes, making it my favorite go-to when I "don't have time" to cook as opposed to other grains like rice that can take up to an hour to prep
Quinoa is a complete protein, making it superb for endurance & energy!
High in B vitamins, iron and potassium to name a few
It's always good to rinse quinoa thoroughly in water (as with many grains) to remove the naturally occurring outer toxic layer (saponin). Many brands sell quinoa pre-rinsed but I always like to rinse again to be sure!
Six Ways to Enjoy Quinoa:
1. Throw together a Green Quinoa & Rice Bowl inspired by my favorite organic cafe Life Alive.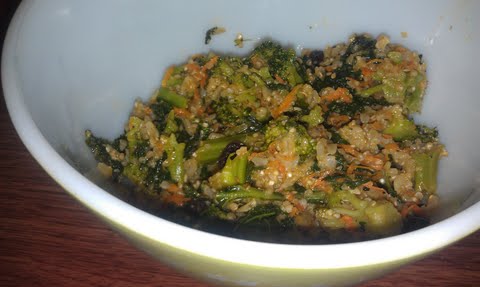 2. Use leftovers to add a healthy, protein-boost to your salad especially on those days you'd rather skip the meat. I eat salads most days for lunch, so am always looking for different "toppers." Quinoa pairs nicely with just about anything. Try it with spinach, cucumber, feta, sun-dried tomatoes, lemon and olive oil for starters. Then top with a tasty seasoning of choice such as Seaweed Gomasio by Eden Organic.
3. Swap out rice or another grain, and use quinoa to make these delicious stuffed bell peppers, or something more indulgent, like this healthy spin on mac & cheese from Iowa Girl Eats.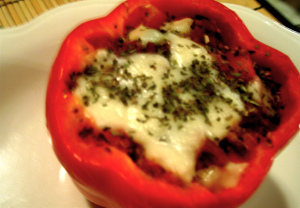 4. Create your own dish like this Veggie Quinoa with Asparagus & Goat Cheese. I love getting creative in the kitchen and crafting new and interesting recipes with whatever's in the fridge!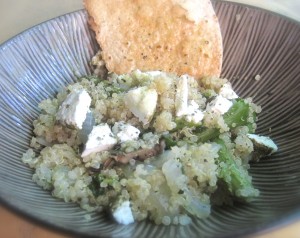 5. Incorporate into your vegetarian soups, especially during these cold, winter months. Quinoa pairs perfectly with lentil soup or even vegetarian chili. Try experimenting with your own recipes, or get inspiration from this Vegetarian Quinoa Chili from Two Peas & Their Pod.
6. Look for Quinoa in Other Ways: While I feel you get the most benefits from quinoa by consuming it in its whole form, there are so many great, healthy options out there that incorporate quinoa as one of their star ingredients. Take the Mary's Gone Crackers products for instance (I love their crackers and Sticks & Twigs), which incorporate nutrient-packed gluten free ingredients like quinoa, brown rice, flax and sesame.
Do you enjoy cooking with this super grain-like seed? What are your favorite ways with quinoa?