Good morning ladies, and happy Monday! I'm please to announce a very exciting giveaway on Healthy Chicks today involving both fitness AND fashion. If you're like me, you like to get down and dirty with your workouts and, well, sometimes that leaves you looking (and feeling) like a sweaty mess. Think: wet hair in your face, sweat dripping down your back, you get the picture.
But who said workouts couldn't be pretty too? With Sparkly Soul headbands, you can keep your hair out of your face and sparkle throughout your entire workout sesh. Not to mention, their gentle elastic headbands are designed with your comfort in mind,  minimizing slipping, too-tight headaches or hair damage.
I love all of the pretty colors they come in – from Kaleidoscope Pink to Apple Green – so you can pick and choose what color makes you feel your most sparkling self! I myself have the Gold thin headband, and just ordered another one in Charcoal. They're perfect for any fitness activity, from hot yoga and Pilates to kickboxing and long-distance running.
OK, let's get to the good stuff: I will be giving away ONE sparkly soul headband in the color and size of your choice! Because, let's face it, every fitness fashionista deserves to sparkle.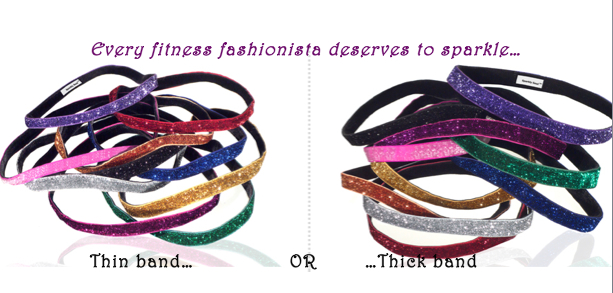 Giveaway deets:
1. Head on over to Sparkly Soul's website & let me know what COLOR and WIDTH (thin or wide band) you want & why! (Required)
2. Tweet this: Make your workouts sweaty & pretty with @Healthy_Chicks & @SPARKLYSOULINC 's Headband #Giveaway: http://healthy-chicks.com/2013/01/14/make-your-workouts-sweaty-pretty-sparkly-soul-headband-giveaway/" (Bonus)
3. Subscribe to my newsletter (top right of my web page) for weekly healthy tips & advice! (Bonus)
Note: Comment on this post separately for each task completed to up your chances in winning! Contest ends this Wednesday, 1/16/13 at 5 p.m EST.
Want to add more sparkle to your day? Like Sparkly Soul on Facebook, follow them on Twitter, or visit their web page for more sparkly goodness!