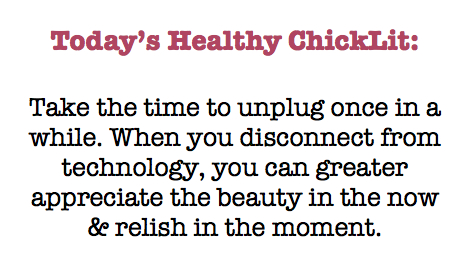 The other day, I entered the 13 in 2013 Pin-spiration contest, hosted by SheKnows. The contest required each contestant to pin 13 photos from SheKnows, signifying our inspirations for 2013.
You can view my entire board here, but I wanted to focus on of my greatest inspirations/intentions for the New Year: taking more time to unplug. While being a freelance writer, health coach, and blogger often requires me to be quite "plugged in" practically all day long, I am going to make it a point to take more time each day to disconnect and do "me" (and "we") things.
For instance, last night I shut down my laptop and threw my phone in my purse (on silent) to enjoy two hours of quality time with The Boy. It was so nice to chat about our days over Haru Sushi (a new fave!) 100% engaged in the conversation and present with each other. No emails. No twitter updates. No Instagramming our maki rolls. No texting my best friend. Just being…in the moment, in the now.
So go ahead and take a break from your iPhone, your laptop or whatever else it is that you're hooked on and simply appreciate the beauty around you, and relish in the moment. Not only is it good for your relationships, but it's essential to your wellness and happiness. I know it's tricky at first, but trust me: your nagging coworker and twitter friends can wait.
Do you take time to unplug? What do you do to help disconnect from technology, and savor the moment? P.S. Don't forget to enter my Sparkly Soul Headband Giveaway, which ends tomorrow evening!
Recommended Supplemental Reading: "In a Busy World, The Virtue of Doing Nothing" from the IIN blog.