I don't usually post grocery lists on my blog because:
a. I don't like to obsess too much over the what (what foods are the "best") but rather like to focus on the why (listening to your body & finding the foods that make you feel your best self)
b. My grocery lists change every week as The Boy and I both love experimenting in the kitchen
c. Grocery lists usually bore me. I'm more of a spontaneous, buy what's in season, analyze the sales, grab-and-go kind of gal. Don't get me wrong: I love lists and think they definitely have their place, but I don't typically go by a list when it comes to grocery shopping. I also don't like following recipes to a T either…where's the fun in that?
BUT, BUT BUT… today I am going to be posting my grocery list for the week because:
a. The Boy is gone for  a week and a half and I totally had too much fun doing some Single Girl Shopping tonight! (Is that normal?) I loved those days when everything in the fridge was mine and I knew exactly what was running out (no more eggs?) and what I had too much of. Of course, I have a blast cooking with my man, but I'm excited to see what I'll create in the kitchen the next 12 days when he's gone.
b. There were some great seasonal sales this week I want to tell you about!
c. I have a tons of health-boosting, affordable staples that I want to share with my lovely readers.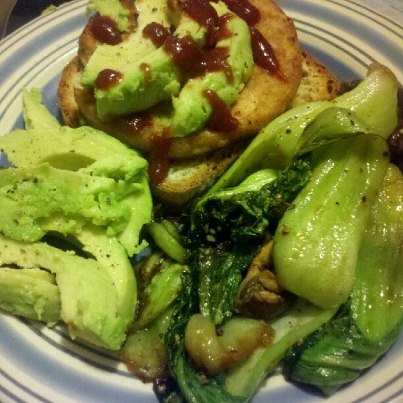 [tonight's din: an open-faced salmon burger topped with avocado and served with tamari & coconut oil sauteed baby bok choy seasoned with Seaweed Gomasio.]
The List
Cage-free organic eggs (a staple)
Baby bok choy (Great sautéed with tamari and coconut oil!)
Organic Mixed Greens (a staple)
Bananas (I add them to most smoothies and my a.m. oatmeal)
Organic grape tomatoes (love throwing them in salads, omelets, and stir frys!)
Trader Joe's Ancient Grain Gluten-Free Soup
Udi's Gluten Free Whole Grain Bread (I usually hate gluten free breads because they lack that hearty texture but they were all out of my favorite brown rice wraps so I decided to give this a try!)
Giant box of Clementines (on sale for a little over $5; will be perfect for snacking and salad-topping. Side note: clementines are great for those of you with sweet tooths!)
Big bag of sweet potatoes
Bag of Avocados (I put them in salads, smoothies, wraps, you name it. Such a wonderful healthy fat!)
Gluten-free Quinoa & Black Bean Chips (For when that crunchy craving comes on)
Trader Joe's Three-Layer Hummus (Red Pepper, Cilantro, and Original. Need I say more?)
Organic, all natural roasted turkey breast
Baby bella mushrooms (a staple…love mushrooms for their health-boosting, disease-fighting properties and taste)
Organic cucumber (add in salads, smoothies, wraps, you name it)
Baby carrots (for dipping in hummus or to toss in smoothies)
Already In the Fridge/Freezer:
All Natural Chicken Sausage, various flavors
Organic chicken, frozen (Leftovers from soup and previous meals)
Lemon & Lime Juice
Organic Celery
Unsweetened Almond milk
Organic apples
Kombucha
Yerba Matte Iced Tea
Essentials We Never Go Without:
Organic, Cold-Pressed & Unrefined Coconut Oil
Cold-Pressed & Unrefined Extra Virgin Olive Oil
Leafy greens (Spinach, Kale, etc)
Frozen organic broccoli
Frozen organic spinach
Frozen organic blueberries (great for smoothies!)
Onions
Tamari (delicious gluten-free soy sauce alternative!)
Vinegar (Balsamic, Apple Cider, and Rice)
Old-fashioned-rolled oats
Garlic
Lemons / lemon juice (love it in my water!)
Veggie or chicken stock
Raw nuts (my favorites are almonds, walnuts and cashews)
Raw, organic almond & peanut butter (Once Again is one of our favorite brands currently)
Ground flax seed
Superfood powders (like Cacao and Maca for smoothies!)
Any & all herbs and spices (you name it…we have 'em all)
Sea salt
Seaweed Gomasio (my favorite seasoning and great for sneaking in extra minerals!)
Organic Quinoa & Brown Rice
Brown Rice or Buckwheat Pasta
Gluten-free crackers like Mary's Gone Crackers
A life-time supply of tea (If you can't tell by my Instagram photos, tea is a must-have in our lives. We have about 15 boxes currently…I'm not kidding!)
Organic coffee
Something sweet (usually a dark chocolate of some sort)
Usually some kind of local cheese (although I'm cutting out dairy this month so not lately!)
So there you have it; now you can get a better sense of what goes on inside and outside my kitchen! I'm sure I'm forgetting some things, but you'll just have to come over if you really want to know everything we eat.
While we do a good amount of our grocery shopping locally or at the Harvest Co-op, Whole Foods or Trader Joe's, The Boy and I save a lot of money shopping online for organic, non-GMO food with The Green PolkaDot Box.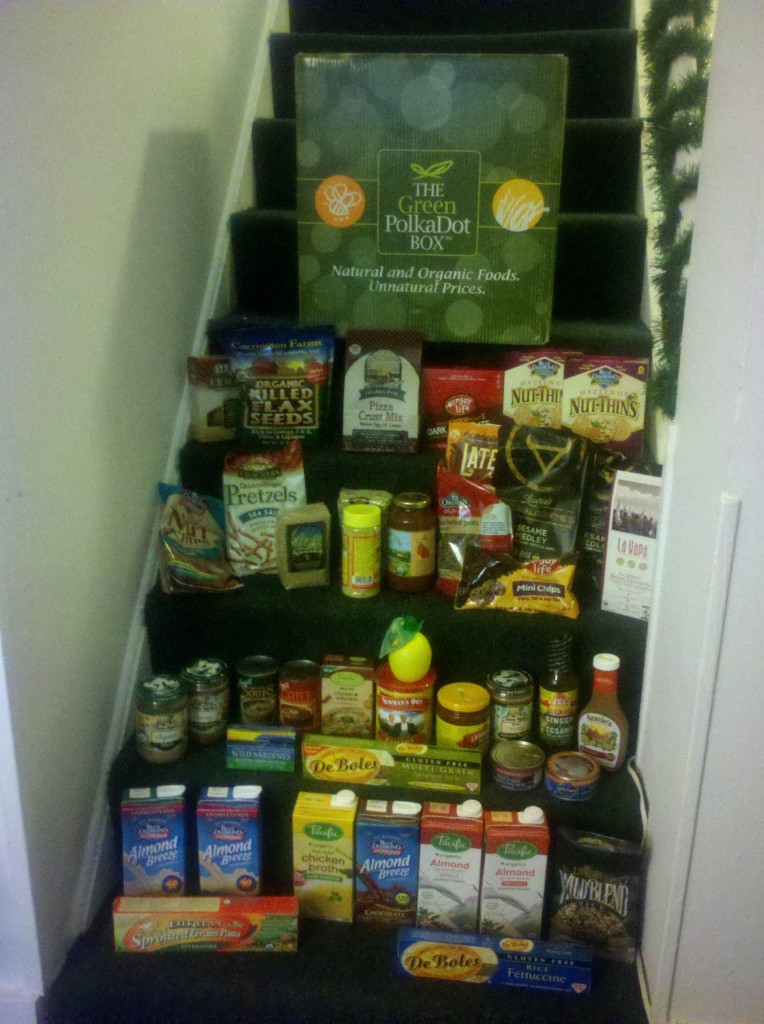 If you're wondering what it is or how you can sign up for a membership, shoot me an email and we'll hook you up with more info or maybe even a free membership 

You can read my boyfriend's inspiring story (he's a Founding Trust Member) on why we choose to eat this way over here.
Now it's your turn: what's on your list?