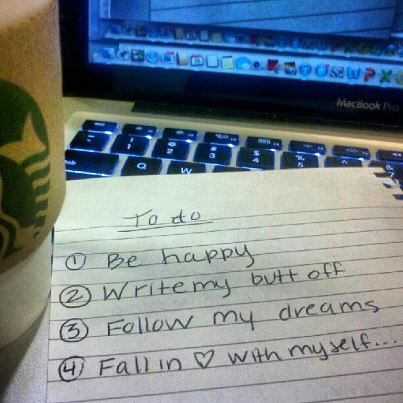 Good evening lovely ladies…hope you're all warm & cozy! I'm currently at Starbucks cozied up with a cup of hot Earl Grey with a steamed soy topper. It's my new favorite post-noon drink!
Today I wanted to dive a little deeper into the topic of intentions, also known as dream-catching or envisioning exactly what you want and then GOING AFTER IT.
One of my personal goals for 2013 is to take bigger risks business-wise (i.e. don't let fear hold me back from asking what I want). I know that I am talented, passionate and have what it takes, however sometimes I let that little voice inside my head take over and pull me  back.
Well, they'll be no more of that in 2013! While I think it's normal (and necessary) to go through a certain amount of self-doubt, I also think it's important to recognize that many of these things we tell ourselves aren't true. They are just little lies we tell ourselves to keep us safe and protect ourselves from danger i.e. rejection, failure, etc.
I have my mentor Coach Jenn Lee (for lighting a fire under my butt) along with  Gabrielle Bernstein (and her book May Cause Miracles) to thank for this new mindset, but most of that thanks goes to me (big hug to myself) as we ultimately change from within. And all of us (yes all of us!) have the potential to do the same. In fact your capacity to get what you want to move forward is already inside you…you just need to unleash it.
So far, this positive, I-CAN-DO-IT, passionately bold mindset has landed me a new gig, ignited my creative juices (like starting Healthy Chicks in the Community and a new product launch coming soon that I can't reveal yet!) and something I'm most proud of: expanding my wellness writing & having my articles published around the web.
You see, I love writing, went to school for Journalism and have so many ideas and stories I want to share with the world, so why was I holding back? Well, it was that Big Monster called FEAR. Once I pushed fear aside, I was able to see clearly and believe in myself a little more.
Here's a Roundup of Some of my January Pieces Published Around the Web:
"New Year, New Mindset," Coach Jenn Lee Blog
"Gabrielle Bernstein's 'May Cause Miracles': A New Year Must-Read for Abundant Happiness and Positive Change," SpaFinder
"The Skinny on Eating with the Seasons + 5 Foods to Help Your Body Thrive This Winter," SpaFinder
"6 Teas to Help Fight Winter Colds," SpaFinder
"The Clean Plates Cookbook: Clean, Delicious Eating for Vegans & Omnivores Alike," SpaFinder
"Eco-Lips: 5 Best All-Natural Lip Balms For Kissable Lips All Season Long," SpaFinder
What are some of your intentions? Do you hold back due to fear? What's holding you back from going after them?