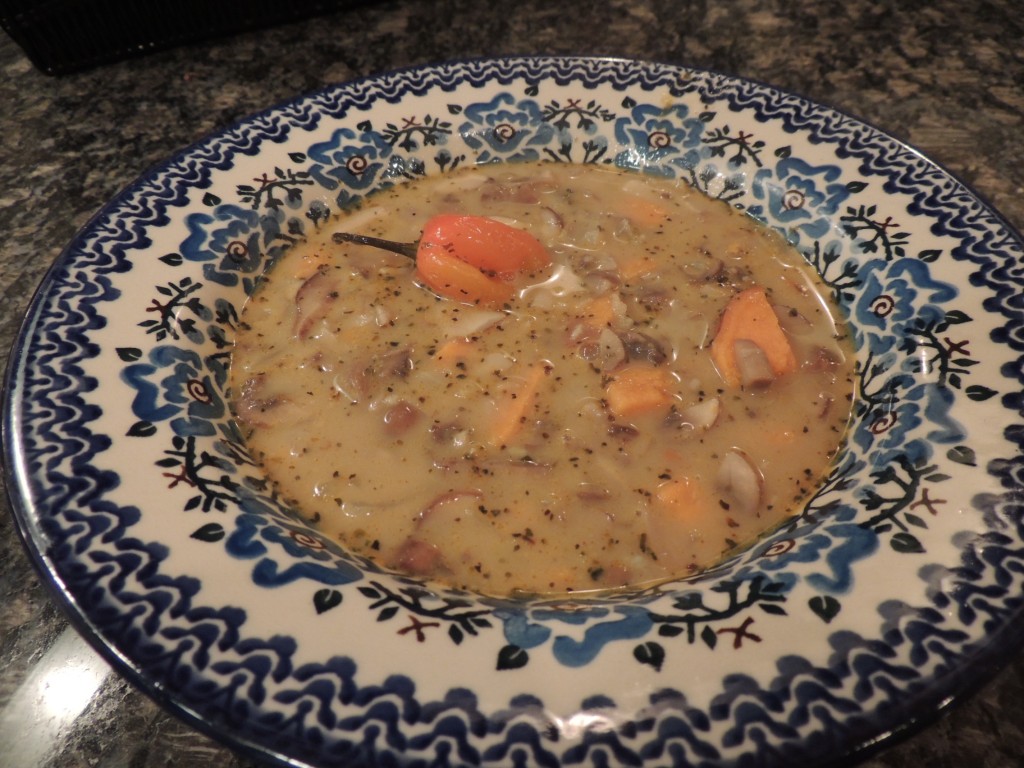 I have an over-the-top crush on soup. From thick stews and chowders to broth-based and bisques, soups make my heart melt.
There's noting like coming home to a hot bowl of soup in the winter, especially when it's homemade. It brings me back to childhood when I'd rush into the house from the bus stop to the heavenly aroma of parsley, dill and colorful vegetables. This meant my mom's homemade Chicken Noodle Soup was about to be served!
Unfortunately, most soups and stews found at the store or restaurant are loaded with cream, sugar, sodium and other additives to enhance the flavor. But for me, the natural ingredients in soup create enough flavor as they are.
Last week, I was itching for a hearty bowl of soup, but not necessarily the heavy ingredients that come with it. Therefore, I browsed through some recipes for a little inspiration and decided to create my own thai-style coconut mushroom soup with sweet potatoes. If you know me, I'm not a huge fan of recipes because I enjoy experimenting in the kitchen and playing with flavors! (I apologize in advance for my rookie recipe-writing skills since I rarely go by the exact tablespoon, cup or precise cooking method)
I particularly loved the blend of ingredients in this soup, not only for their flavor but also for their health benefits. Mushrooms have a whole slew of health benefits (including the potential to protect against Cancer) and sweet potatoes are among my favorite winter root vegetables especially since I enjoy eating with the seasons.
With no dairy, gluten or unhealthy additives, this recipe is savory and nutritious at the same time!
Wild Mushroom & Sweet Potato Coconut Soup
What You Need:
1 package baby bella mushrooms plus 1 package wild mushroom blend (a nice variety of shiitake, Oyster, etc), cleaned & diced
1 TB olive oil (plus 1 tsp. for sweet potato)
1 yellow onion, chopped
4 cloves garlic, crushed
1 can organic coconut milk (we used light but regular works too!)
1 carton organic chicken or vegetable stock
1 bay leaf
1 habanero pepper, whole
3 small sweet potatoes, diced
Soup seasonings: dried ginger, cayenne pepper, Chinese 5 Spice, tarragon & basil (a few generous shakes of each)
Blend of Chinese 5 Spice, Chili Powder & Black Pepper (to your liking – we used a few shakes of each to coat sweet potatoes)
Sea salt & pepper to taste
Rinse & then chop sweet potatoes. Drizzle with olive oil, and toss with sweet potato seasonings listed above. Roast on 400 for 25 minutes.
In the meantime, dice mushrooms and onions finely. Heat large saucepan to low heat, and add in garlic, olive oil mushrooms and onion. Stir for one minute, being careful not to burn the garlic.
Increase heat to medium; add in coconut milk and stir. Slowly mix in the chicken or vegetable stock.
Bring to a simmer and add in soup seasonings including the Bay Leaf and Habanero Pepper. Then reduce to low heat and cover for about 15 minutes. When sweet potatoes are finished roasting, mix those in as well. Remove from heat & cover until ready to serve.
What's your favorite winter soup recipe? Do you like following a recipe or creating your own "experiment" in the kitchen?