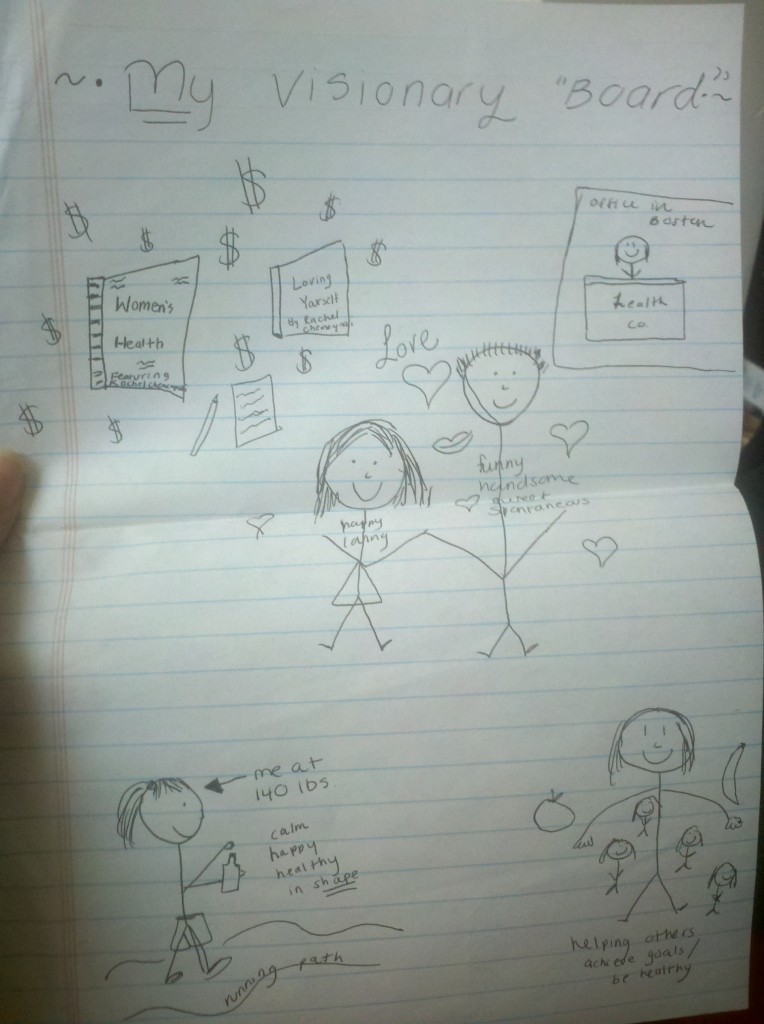 This afternoon, while flipping through some old books, I discovered a little folded up piece of white-lined paper. When I began to open it, I got shivers because I immediately knew what it was: My "Vision Board" from when I was 19 or 20. While it was five or six years ago, I still remember quite vividly writing out my first ever Vision Board (which I titled My Visionary Board) while spending some QT on Fisher's Island with my family.
If you can't see it well, I'll paint you a little picture for you:
Top Left: Photos of magazines, books, money, pens and paper with my name written in the byline of said books/magazines
Top Right: Me behind a table that says "Health Co." I wrote above "Office in Boston."
Middle: Me with Tall, Handsome Stranger with the words "happy & loving" over myself and "funny, handsome, sweet & spontaneous" over tall man
Bottom Left: Photo of me in a pony tail running with a water bottle, in which I wrote "Me at 140 lbs. calm, happy, healthy & in shape."
Bottom Right: Photo of me with an apple, banana and women around me with the words "helping others achieve goals/be healthy
Mind you, I wrote this in my late teenage years/early twenties when I was OVERWEIGHT & SINGLE. It was crafted BEFORE I MOVED TO BOSTON and WITHOUT any degree in health coaching or a health-related field for that matter. But THIS was my vision and I wrote it down loud and clear.
I now have various writing pieces published (as well as a self-published cookbook), my own health coaching business, a relationship with the love of my life (aka The Boy), a healthy weight for my body type (which actually happens to be less than I wrote on the paper) and a blog that supports a healthy, happy community for twenty-somethings.
Pretty spot on, don't ya think?
Now get out a piece of paper and a pen and write down your visions. Don't hold back in asking for everything you want out of life because you deserve it all. Big things can happen to you…you just have to dream it and believe it for it to come true!
Have you ever created a vision board? How have your visions changed over the years?