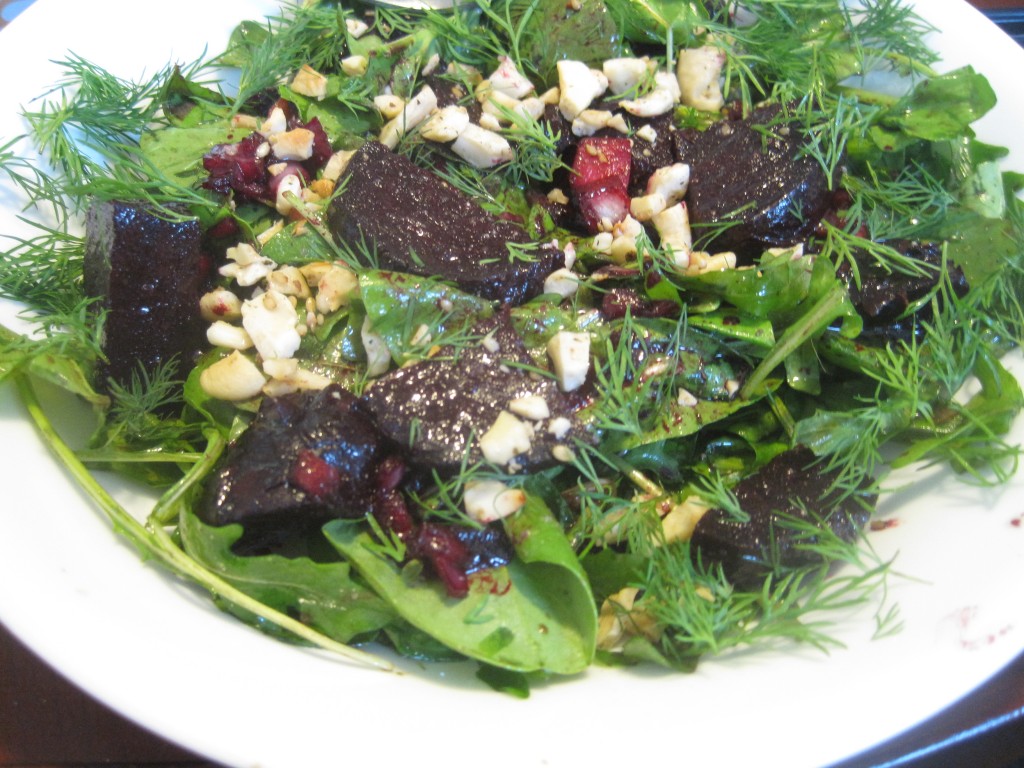 Confession: I used to be afraid of beets. The color and texture just freaked me out. I was afraid of beets in the same way I was afraid of mushrooms and tomatoes: I didn't think I liked them so I simply steered clear. My grandmother would constantly ask me growing up, "How do you know you don't like it if you don't try it?" And so I would. I'd try everything.
I owe much of my appreciation for food to my grandmother, who taught me to be willing to try new things and appreciate the different flavors. Now there are only a handful of things I don't like: salami, most beer (shocking, I know!), and chopped liver. That along with most packaged/microwavable meals because they simply freak me out.
This weekend, inspired by a recipe I found in Clean Plates Cookbook, I decided to play with the ingredients I had on hand and crate a fun salad full of color and fresh produce. And the star ingredient is, you guessed it, beets. Beautiful, glorious, naturally sweet beets. Think of 'em as nature's candy!
Roasted Beet, Toasted Cashew & Arugula Salad
This salad was adapted from Clean Plates Cookbook's "Mustard Greens Salad with Roasted Beets & Toasted Pistachios". It works great as an appetizer, small lunch or main meal when paired with grilled chicken or shrimp. Enjoy!
In the Mix:
-1 pound beets, washed & trimmed
-1 TB olive oil
-1/4 c. chopped cashews
-1 TB seaweed gomasio
-1 tsp. butter (for toasting cashews)
-fresh dill to season
-black pepper & sea salt to taste
For Dressing:
-1/4 c. sesame oil
-1/4 c. balsamic vinegar
-2 TB extra virgin olive oil
-1 tsp. pure honey
-1 tsp. stone ground brown mustard
-1 shallot, chopped
-sea salt & pepper to taste
1. Preheat oven to 400. Place washed & trimmed beets on baking sheet and quickly rub with olive oil. Roast for about 45 minutes, or until beets are cooked through (test with fork or knife). When finished roasting, set aside for cooling.
2. In a small bowl, whisk together oils, vinegar, honey, mustard, vinegar and salt and pepper to taste to prepare dressing.
3. In the meantime, heat skillet on medium heat with butter, and toast chopped cashews for approximately 3 minutes, stirring frequently to prevent burning. Add in seaweed gomasio and stir. Set nuts aside.
4. Remove skin from beets (with hands or pairing knife) and chop into small wedges. Move to a mixing bowl, and add in about one-third of the dressing.
5. In a salad bowl, mix arugula with leftover dressing. Divide into servings, topping each with soaked beets and cashews.
~Season with fresh dill, black pepper, and sea salt. I topped The Boy's off with some fresh feta as well! Add nutritional yeast if you'd like an extra "cheesy" flavor boost, but I'm telling you this salad is plenty flavorful on its own!
Do you ever cook with beets? What's one food you hated growing up & adore now?