Welcome back to another week of Healthy Chicks in the Community. For those of you who are new to my blog, every Thursday I spotlight a standout woman who embodies what it means to be a "Healthy Chick." This week, I am thrilled to introduce you to Meg, an adorable Canadian college student whose innate passion is making people feel good about themselves. With a similar passion myself I know her and I would get along perfectly! I'll let Meg take it from here…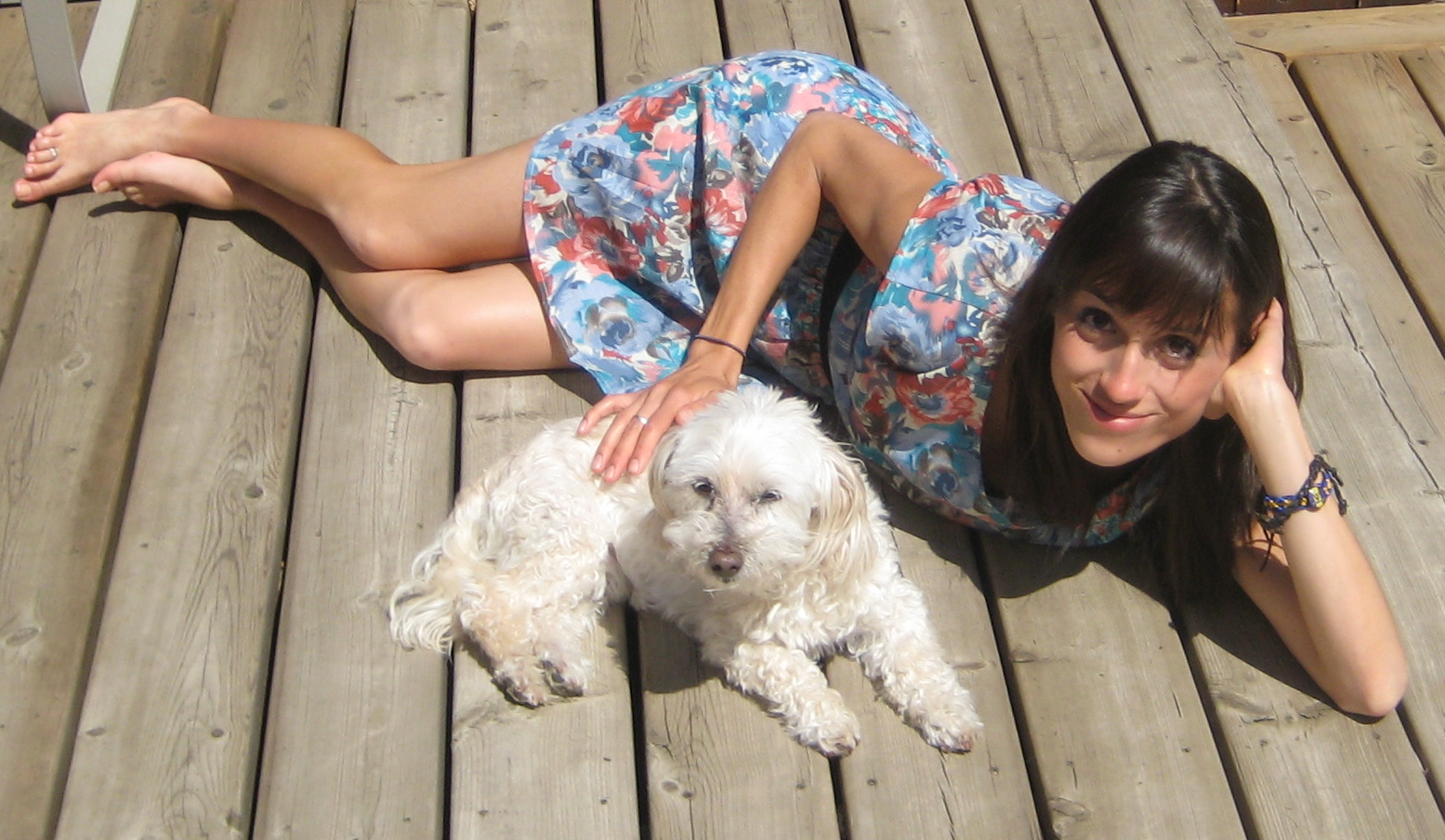 NAME/AGE: Meg Doll/21
BLOG/TWITTER: A Dash of Meg (http://adashofmeg.com)/@ADashofMeg
CURRENT CITY: London, Ontario, Canada
PHOTO TAKEN: In my backyard on my deck in Yorkton, SK, Canada where my parents live year round. I'm snuggled up to my dog, Cuddles, who passed away this summer a few days after this photo was taken.
WHAT YOU DO FOR WORK: Currently, I'm a student at Brescia University College, which is an affiliate college to the University of Western Ontario. In June, I will be graduating with a Bachelor of Science in Food and Nutrition. From there, I plan to use my education and passion for food and nutrition throughout my future and career. I'm not sure exactly what that career will be, but my degree opens many doors for me within the food industry. I also blog on a daily basis, which you could consider part of my "work!"
NUMBER ONE PASSION: Lifting people up! Not literally, even though that would be fun because I love lifting weights, but I love helping people feel good about themselves by helping them realize how amazing they are! I try to help people achieve this feeling on a daily basis and I also host High Five Friday on my blog every Friday which definitely provides people with that "feel good" feeling I want them to have! 🙂
I FEEL MY HEALTHIEST SELF WHEN I AM: Doing what I love, which means spending time with friends, family, and God, weight lifting, and eating good, real, wholesome food!
BUT I AM ALSO A REAL GIRL & SOMETIMES: Have "blah" days, but then I think about everything I have been blessed with and write a list of what I'm grateful for! That always helps my mood change from "blah" to "my life rocks!"
TOP THREE KITCHEN STAPLES: I'm always in the kitchen making something new, so this is a tough one, but if I had to pick, my top three kitchen staples would be… sweet potatoes, eggs, and avocados.
NUMBER ONE GUILTY PLEASURE: Staying in my pajamas for the entire day.
EXERCISE THAT MAKES YOU SHINE: Back squats! I love lifting heavy weights and ever since I started training with my personal trainer, the weights I am able to lift have sky rocketed! I can squat more than 1.5 times my body weight and I'm pretty proud of that!
FAVORITE COMFORT FOOD: Ice cream! A big bowl of ice cream.
MESSAGE YOU'D LIKE TO SHARE WITH OTHER HEALTHY CHICKS: Comparing yourself to others will never make you happy. We need to stop comparing ourselves to others and just be happy with who we are. We need to accept our "flaws" and love them; see them as beautiful characteristics. We need to embrace and take advantage of our skills and abilities and show the world how amazing we are!
If you'd like to be featured as one of my Healthy Chicks in the Community, or know someone who you want to make blush, email me for more deets. And remember, if you aren't feeling your healthiest self or are struggling to make positive changes, shoot me an email anytime to schedule your FREE 15-minute info session / sign up for one of my health coaching programs.