Good morning ladies, and happy Thursday! I'm so excited to announce this week's feature on Healthy Chicks in the Community, as she's a dear friend of my sister and someone I've always admired for her care-free, go-with-the-flow spirit. I'll let Courtney take it from here!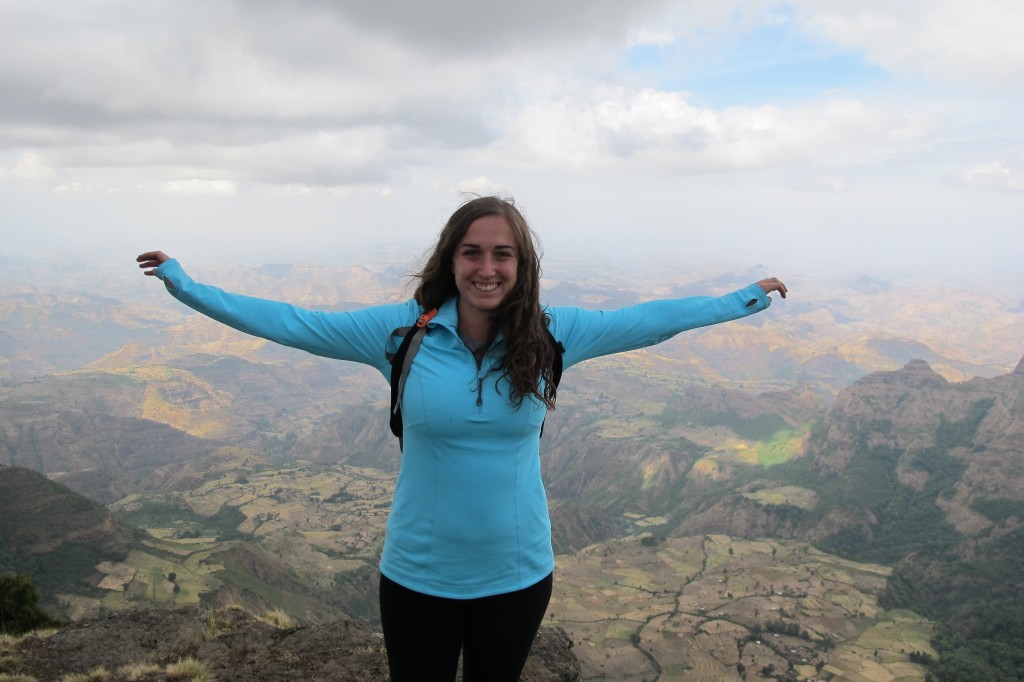 NAME/AGE: Courtney Smith, 23
BLOG/TWITTER (If Applicable): www.peacecorpscourtney.wordpress.com
CURRENT CITY: Woreta, Amhara, Ethiopia (an absurdly hot town in the Northwestern part of Ethiopia)
PHOTO TAKEN: This is me in the Simian Mountains, also known as the roof of Africa, at the start of a 3 day hiking/camping trip.
WHAT YOU DO FOR WORK: I'm a Peace Corps Volunteer in Ethiopia! I work in the education sector here, so I am assigned to a primary school.  I do teacher trainings, student and teacher English clubs, and will hopefully be working on female empowerment, leadership skills, and HIV/AIDS activities in the future!
NUMBER ONE PASSION: Traveling, without a doubt.  I love learning about other cultures and jumping in to new and exciting places.  There's so many people to meet and new things to see and experience – you just have to get out there!  If only I could find a job that pays me to just travel and hang out in new places…
I FEEL MY HEALTHIEST SELF WHEN I AM: Just finished with an early-morning workout, showered (I only get to shower every couple of days here), drinking a cup of coffee and reading a good book in bed.
BUT I AM ALSO A REAL GIRL & SOMETIMES: I eat WAY more than I should.  My parents used to tell me I had hollow legs.  I've never had good self-control when it comes to eating, and I love good food so much! Now that I'm here in Ethiopia, it's easier to control what I eat because there's so little variety and I get tired of eating the same stuff.  But when I get into a bigger city and get some good food, man I can go at it.
TOP THREE KITCHEN STAPLES: My kitchen here is a little different than the average American kitchen.  No running water, fridge, oven, or microwave! I have to shop locally, but sometimes I splurge on more expensive imported items.  I would have to say my staples are fresh local veggies, rice, and olive oil.  I eat stir-fry more than anything else!
NUMBER ONE GUILTY PLEASURE: In Ethiopia? I would have to say peanut butter tea.  I'm pretty sure its just water, a ton of sugar, and peanut butter – but its delicious! In America I'm a sucker for a giant ice cream sundae or pizza for breakfast.   
EXERCISE THAT MAKES YOU SHINE: I don't have many exercise options here – but I'm currently training for my first half marathon.  Waking up at the crack of dawn and watching the sunrise over the farms while I run is a great start to the day.  At home I love anything that gets me outdoors, whether it be a hike or taking my dog for a long walk in the woods.
FAVORITE COMFORT FOOD: I'm a cheese addict. It makes me happy; unfortunately it is next to impossible to find in Ethiopia.  I satisfy my cravings by getting lots of Mac n cheese sent over in care packages!
MESSAGE YOU'D LIKE TO SHARE WITH OTHER HEALTHY CHICKS: Do what you love! I'm making practically no money as a Peace Corps Volunteer right now, but I'm the happiest I have ever been.  Sure, work is beyond hard, but the few times I do succeed, I feel so rewarded.  On rough days I wish I wanted to do something different – but I know this is all I have ever really wanted to do, even though its taken me away from my family and friends.  Don't be afraid to take chances and step out of your comfort zone – it's the best way to learn about yourself and grow.