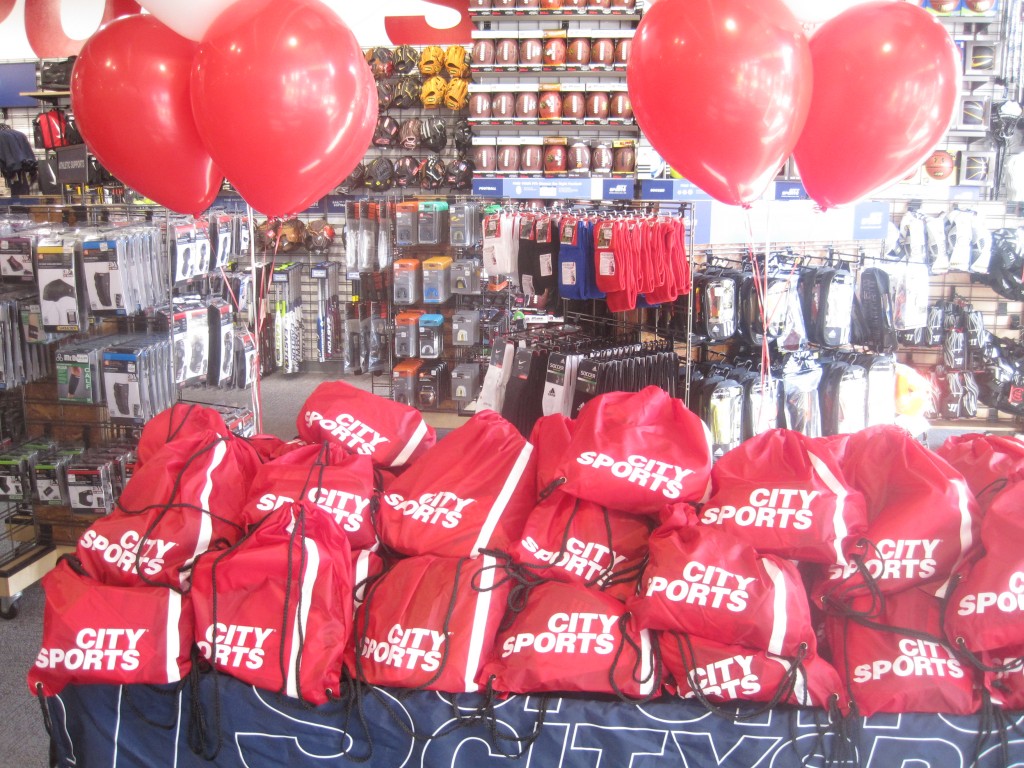 This past Saturday, I was invited to celebrate City Sports' grand opening at their new Chestnut Hill location, which also happens to be City Sports' 30th Anniversary month. (Happy Birthday City Sports!)
While the party didn't officially start until 10 a.m., I got there at 9 a.m. for a private media event beforehand. I coincidentally ran into another blogger friend on the way there (the adorable, super-fit Jess from Little Miss Runshine), so we walked to City Sports together. We were shocked upon arriving, as the line was already down the sidewalk! Apparently, some had been standing out in the cold for hours.
After all, the first 100 customers were to receive a City Sports goodie bag filled with giftcards and sweet giveaways from City Sports and Nike. Plus, one lucky duck would find the grand prize in their bag: a free pair of shoes each month for the entire year! (I'd take that over the Golden Ticket any day.) Oh yea, and did I mention former New England Patriot Matt Light would be making a special appearance? I don't blame these City Sports fanatics one bit for getting up early for the event; heck I'd do the same!
Luckily, we got to "cut" the line so we could take a grand tour of the store, ask any questions we wanted and get to snapping some pics. Everyone at City Sports was so unbelievably friendly, and I never felt so welcome. After a quick intro from PR rep Erin, we were handed over to City Sports' Digital Marketing Specialist Ben Eld who took us under his wing the rest of the morning. Ben was super knowledgable about the store layout, fitness and products/gear, so I felt lucky to be by his side to ask any lingering questions and learn more about the City Sports culture.  He pointed out some pretty cool features about the Chestnut Hill store including: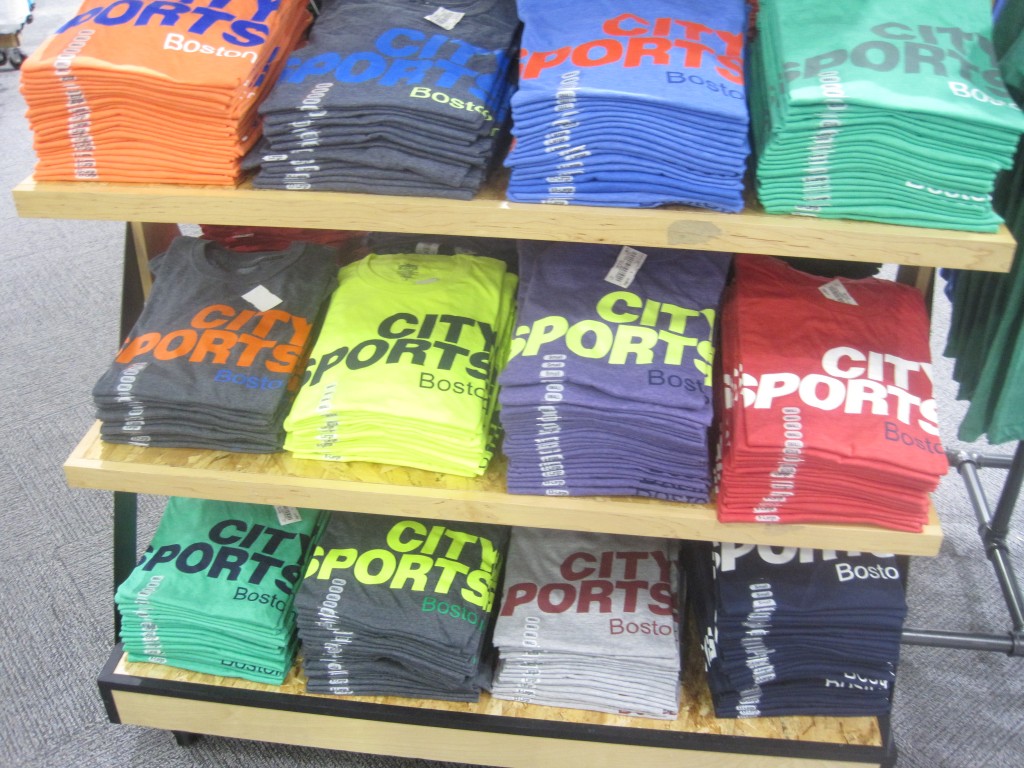 An indoor track (the first in Boston area and second at any City Sports store) so that runners can test out their shoes before they buy, without mucking them up outdoors. I thought this was one of the best features of all, and a genius idea at that!
The Women's Lifestyle section with comfy & casual everyday wear, as well as an updated pant wall and an entire area dedicated for yoga! My recent yogi self swooned with joy! I want. I want. I want.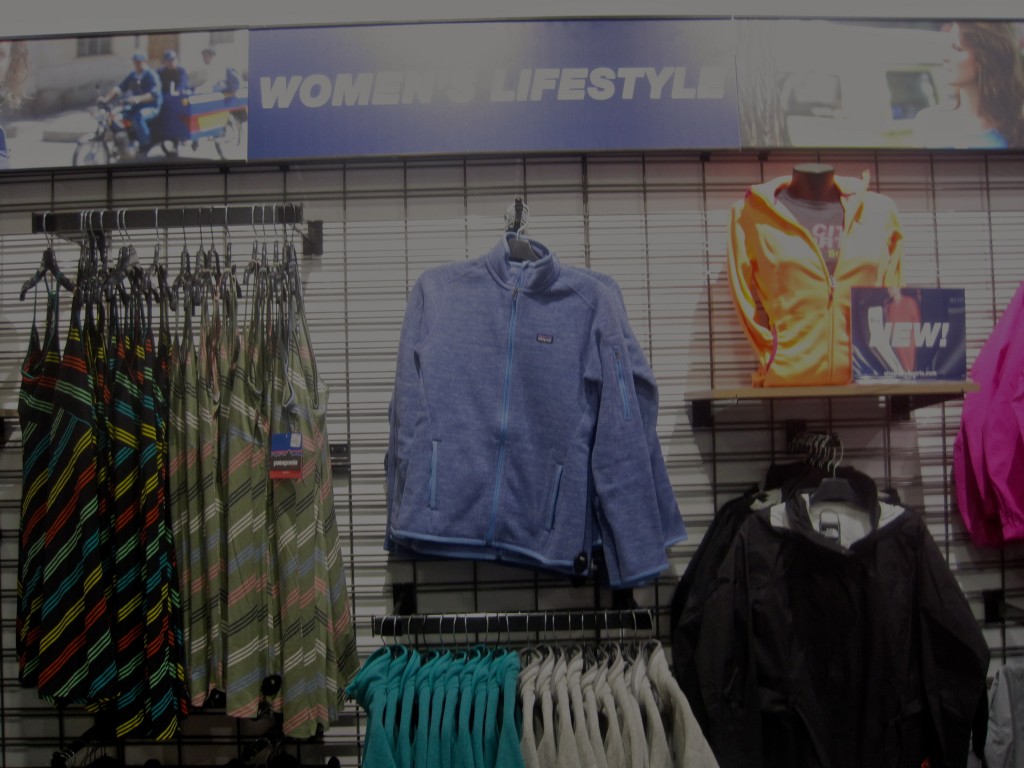 Racquets galore! With a special department dedicated to racquet sports, experts will provide demos and string racquets in-store!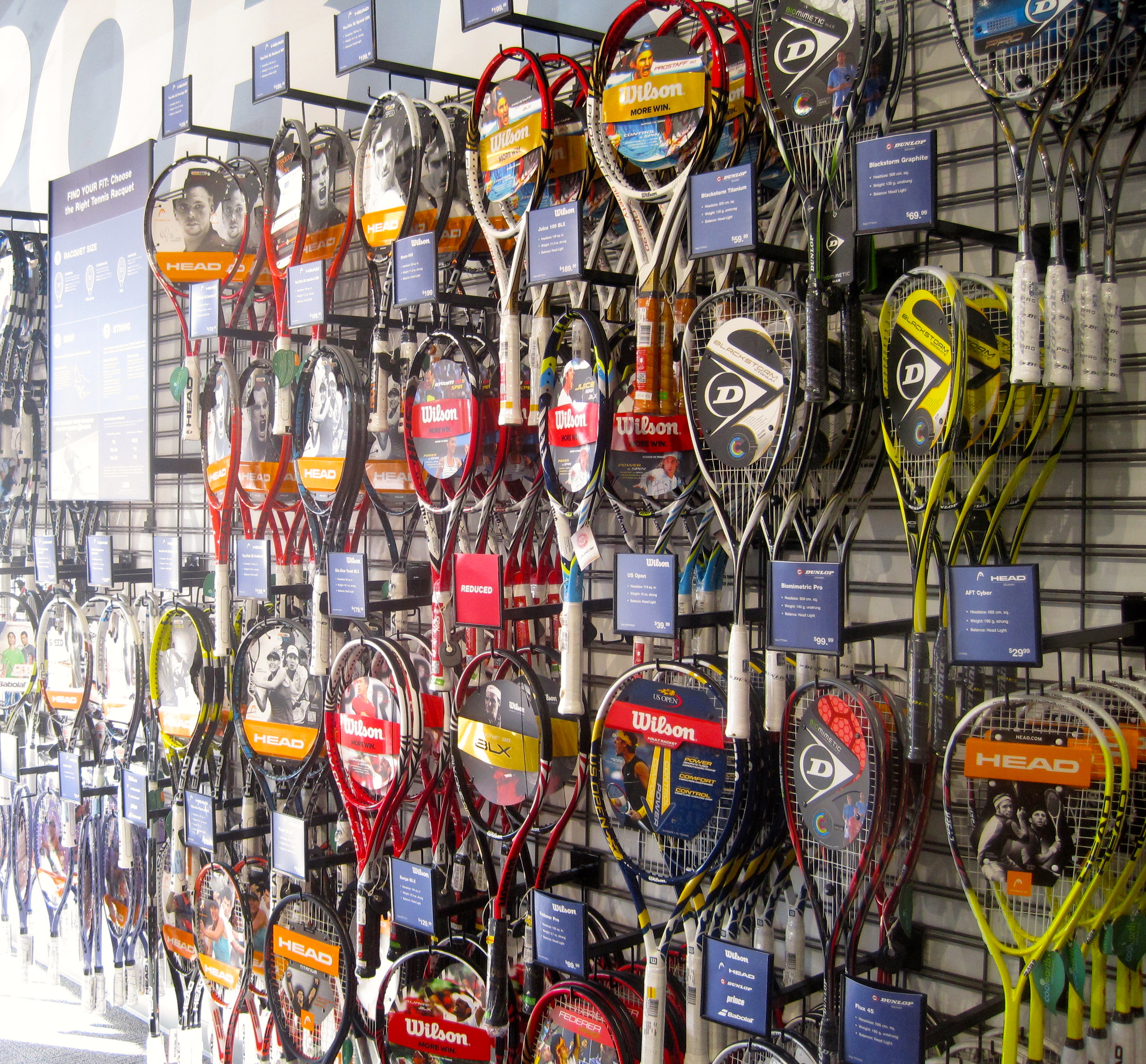 And arguably the most impressive of all: 300+ styles of fabulous footwear. Seriously, whoever won the free shoes for a year is in for a treat!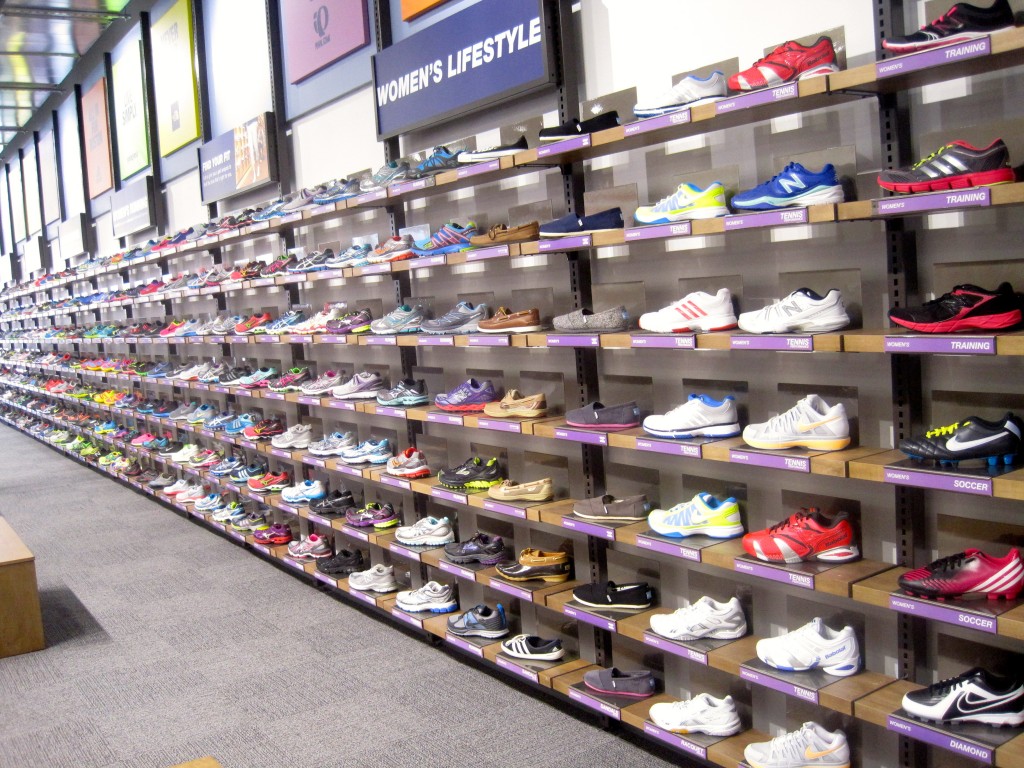 It was about this time that I fell in love with these super-trendy, PINK Nike Flyknit Lunar 1+ Women's Running shoes, an Editor's Runner's Choice. With adaptive lightweight support, soft cushioning, and incredible breathability, these shoes are a runner's dream. Specially knit with Nike Flywire cables, they claim to "fit your foot like a sock." You can watch the video to learn more about the shoe here. Sign me up!
Jess and I also did our fair share of goofing around, like trading spaces with the DJ…
[right photo cred: Jess]
Oh, and stuffing our faces with Pinkberry Strawberry & Mango froyo…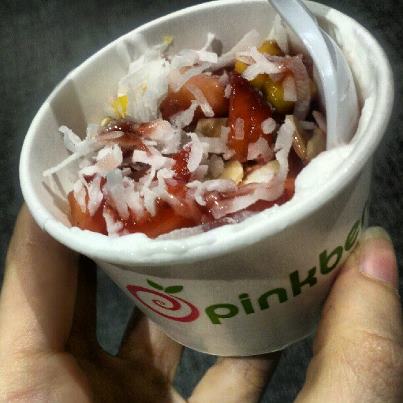 Additional festivities for the morning included a complimentary 5K Nike Fun Run, raffles, meet-and-greet with Matt Light, and refreshments. I also got to meet the guys behind Boston Fitness Magazine, a new magazine dedicated to everything fit & healthy in the city!
As I head out the door, I was handed a super-generous gift bag filled with fitness goodies which I couldn't be more grateful for.
The bag included:
A bright City Sports tee (that I've already worn on a run!)
A navy City Sports headband
SNAP Infusion "Supercandy" packets
A City Sports key chain
A City Sports giftcard
A day pass to Sports Club/LA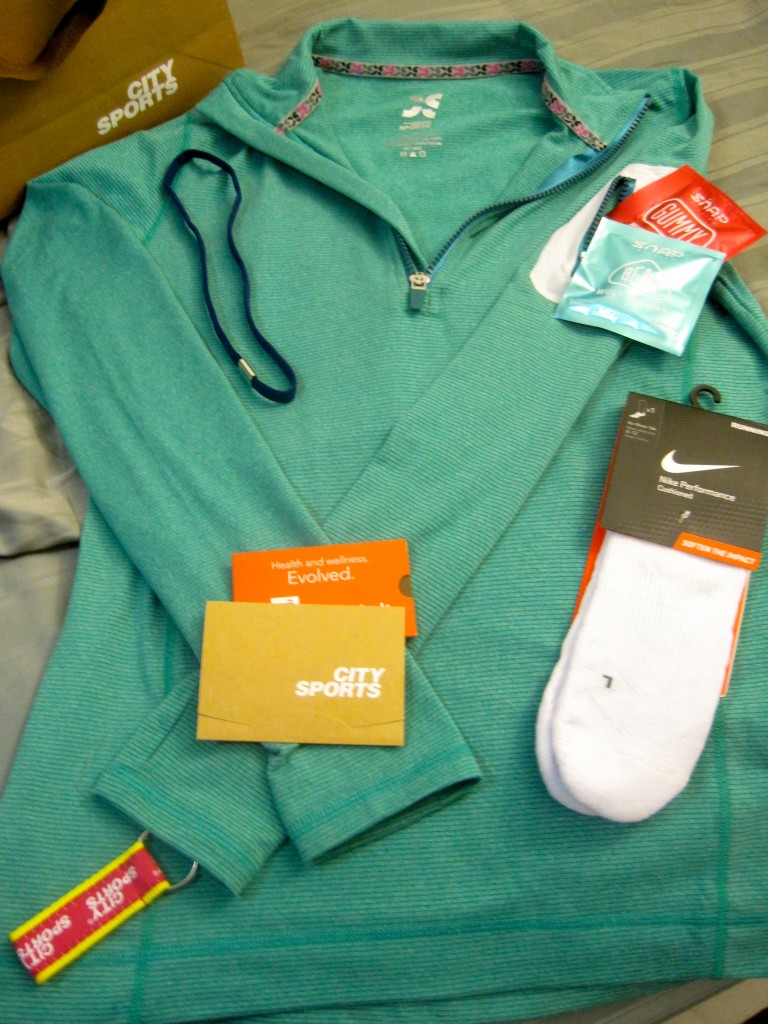 Big thank you to City Sports for hosting an incredible, memorable event! I left feeling inspired, motivated and excited to  be living in a city with so many like-minded, fit and healthy people. I can't wait to get my run on with the City Sports Back Bay Run Club, which meets every Tuesday at 6 p.m. at the Back Bay location. Who wants to join me?