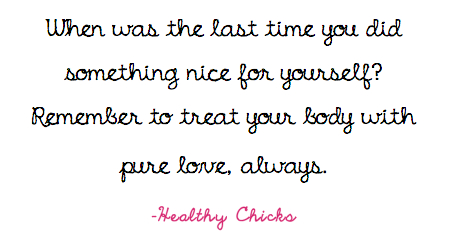 If you're new to my blog, each and every Friday I post a Friday Flashback, taking you on a journey back into my past life. Why? Well, because I've been there and can totally relate to body image issues, dieting struggles and all the other things in between.
This week, I want to touch upon how we treat our bodies. During my prime time of diet-obsessed living and calorie counting, I completely disrespected my body.
I filled up on toxic, chemicalized "diet" foods that promised to make me skinny (at least, according to all the magazines and advertisements) and ate or drank my feelings away. I abused myself in the mirror (telling myself I am fat, I am not pretty enough, I am not good enough) and abused myself in the gym by overworking it and forcing myself to exercise (even when I didn't want to or when my body was saying "No! Enough!") I listened to what the number on the scale said, instead of what my body was telling me loud and clear.
I remember being so hungry: for real food, for love, for the answers. Unfortunately, I was starving myself by loading up on both toxic foods and toxic relationships alike. And if I ever decided to "treat" myself & go all out? (I put "treat" in quotes because my treats really weren't treats at all) Forget it! I'd spend the rest of the weekend consumed with guilt and attacking myself for being "bad."
It's safe to say, I was not treating myself with love (far from it). In fact, I was treating my body with hatred, fear and guilt and quite frankly it didn't feel good.
Flash forward to now, and I've learned that our bodies are one of the most powerful and beautiful tools we have. Now why would we treat something so miraculous so poorly at times? I want you to be honest with yourself and ask, "When was the last time I did something truly nice for myself?" Can you answer that question with 100% confidence?
I challenge you this weekend to throw all your self-sabotaging thoughts out the window and pay attention to what your body is trying to tell you. Put the scale, rules and guilt on the back burner and bring a lil love to the spotlight. Know that it's OK to be "bad" once in a while, and break the rules. Trust that your body will give you the answers you need, leading you to the truth. And remember, no matter what, treat your body with pure love…always.
When was the last time you did something kind for yourself? How do you treat your body with love? Are you stuck on dieting and self-sabotaging thoughts? I'm here for you! Please feel free to email me or schedule a FREE 15-minute info session to learn more about my health coaching programs/ to see if we'd work well together. My programs are designed to help women like me live to their fullest potential, break free of diet-obsessed living, and learn to use REAL food & self-care as n.o.u.i.s.h.m.e.n.t.